Disturbing Details Discovered In Anna Nicole Smith's Autopsy Report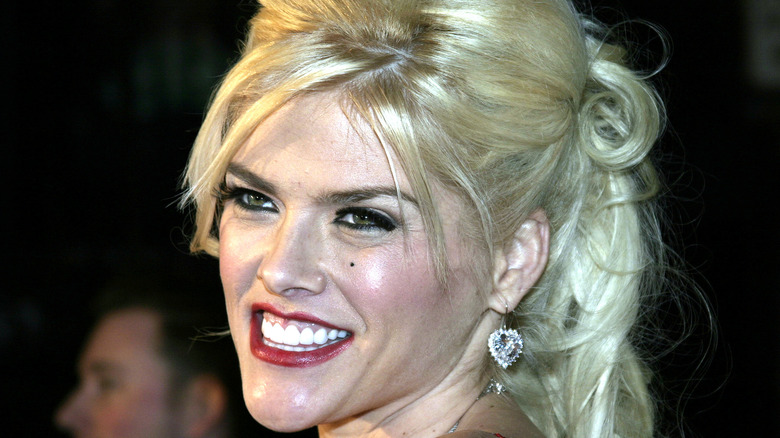 Tinseltown/Shutterstock
Model-turned-actress Anna Nicole Smith was a head-turner from the moment she catapulted to stardom after appearing in popular Guess ads in the early 1990s. She was also 1993's Playmate of the Year, and her rise to fame was followed by acting roles as well as a stint in a reality TV series (via IMDb). The star from a small town in Texas was born Vickie Lynn Hogan in 1967 and grew up poor. When she was just 17 years old, she married her first husband, Billy Smith, who was a cook at the fried chicken restaurant where she worked. They had a son named Daniel in 1984, but the marriage ended in divorce.
Smith's big break in show business came after she sent photos of herself to Hugh Hefner, and that led to her appearing in Playboy magazine and eventually being named Playmate of the Year. Next, she transitioned into the film world, nabbing a few roles like in "Naked Gun 33⅓: The Final Insult" with Leslie Nielsen and "The Hudsucker Proxy," which starred Tim Robbins and Paul Newman.
As her star rose, she was compared to the likes of classic beauties such as Marilyn Monroe and Jayne Mansfield. Smith also made headlines when she married 89-year-old oil tycoon J. Howard Marshall II in 1994. Marshall died soon after the wedding, and Smith spent years waging court battles for a share in his estate (per Biography).
Tragedy strikes Anna Nicole Smith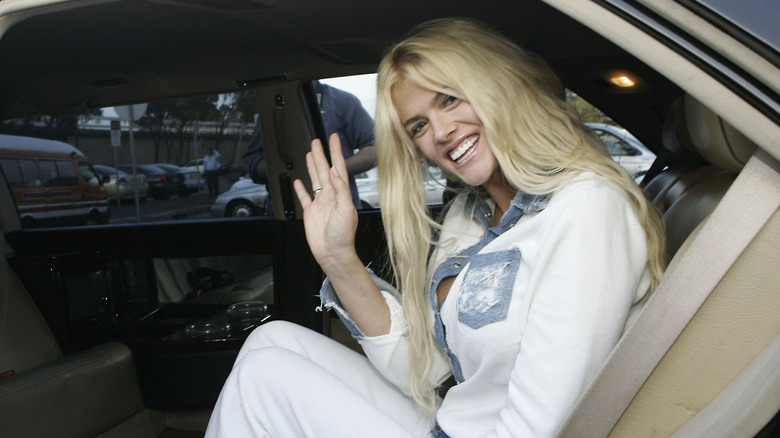 Patrick Riviere/Getty Images
Anna Nicole Smith's career moved toward reality television and product endorsements in the early 2000s. She remained a tabloid fixture, something she actually enjoyed, even once telling The Washington Post (via Biography), "I love the paparazzi. They take pictures, and I just smile away. I've always liked attention. I didn't get very much growing up, and I always wanted to be, you know, noticed." Her penchant for becoming tabloid fodder continued in 2006 when she gave birth to a daughter named Dannielynn. This was followed by widespread media speculation over who the father was, as her ex-boyfriend, Larry Birkhead, and her lawyer, Howard K. Stern — and even Prince Frederick von Anhalt, the husband of actress Zsa Zsa Gabor — claimed the title. A paternity test would eventually confirm Birkhead as the father.
Smith seemed unstoppable at the height of her stardom, and for more than a decade, that held true — until tragedy struck. In September of 2006, her 20-year-old son, Daniel, died of an accidental drug overdose. The following February, in 2007, the 39-year-old star was found unconscious in her room at the Seminole Hard Rock Hotel & Casino near Hollywood, Florida, per CNN. She was later pronounced dead at a local hospital, and the results of an autopsy the following month determined she had also died of an accidental prescription drug overdose. The autopsy revealed that Smith had nine prescription drugs in her system, as well as a non-prescription drug and several supplements, ABC News reported.
Anna Nicole Smith ingested a lethal drug cocktail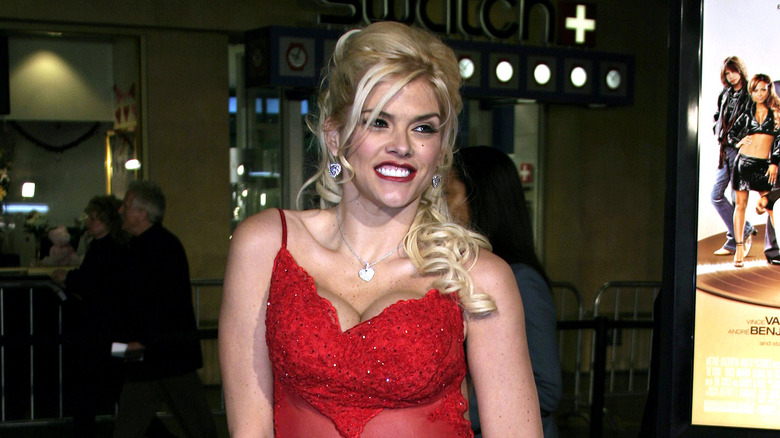 Tinseltown/Shutterstock
When Anna Nicole Smith first died, there were whispers that she was so heartbroken over her son's death just months before that she took her own life. But Seminole Police Chief Charlie Tiger soon put that rumor to rest. "We are convinced, based on extensive review of the evidence, that this case is an accidental overdose with no other criminal element present," he said at a news conference announcing Smith's autopsy results on March 27, 2007 (via CNN). Still, the sheer number of drugs in her system was hard to ignore — she had ingested a lethal drug cocktail that included a dozen different medications either before or at the time of her death (via ABC News).
The Broward County Medical examiner at the time, Joshua Perper, confirmed that in addition to the prescription and non-prescription medications, Smith also had three antidepressant or anxiolytic drugs in her system. According to CNN, toxicology reports also found human growth hormone and chloral hydrate — a sleeping drug. The combination of this massive amount of drugs basically shut down her respiration and circulation systems, Perper said. "She didn't suffer," he noted. "She went to sleep."
But the most disturbing fact about Smith's death is that her autopsy revealed she had been receiving shots of either the growth hormone, B12 vitamins, and/or prescription drugs. And when a needle punctured an abscess in her buttock, bacteria was allowed into her bloodstream and caused a high fever shortly before her death. Perper believes if Smith had received treatment for the fever and infection, she probably would have lived (via CNN).
If you or anyone you know is struggling with addiction issues, help is available. Visit the Substance Abuse and Mental Health Services Administration website or contact SAMHSA's National Helpline at 1-800-662-HELP (4357).