This Was Rose McGowan's Experience In The Children Of God Cult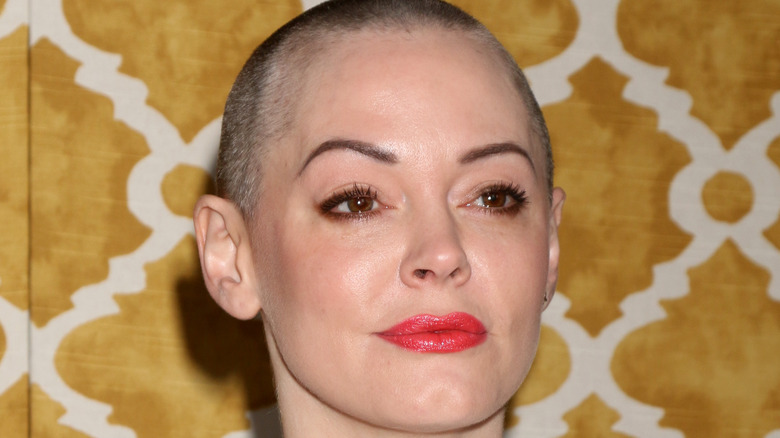 Shutterstock
Rose McGowan has never been one to be silenced or turn from her demons. She was among those who spoke up against convicted rapist Harvey Weinstein and helped spur the #MeToo movement into existence. She has also spoken up about the abuses she suffered at the hands of Marylin Manson, saying he "brainwashed and manipulated [her] into submission," per Newsweek. But the actress, who often plays in horror and grindhouse-related films like 2007's "Planet Terror," is a longtime survivor of abuse. As a child, she was born into the Children of God cult — a free-love hippie dream gone horribly wrong that still exists to this day as The Family International.
As a child, McGowan recalls her "idyllic" earliest years growing up in "pastoral settings" like the Florentine countryside where she was born, People reports. At the same time, she felt different from her peers. "I came out of the womb waving red lipstick," she said, in contrast to the "dressed-down" look adopted by her cult "sisters." When she looked at them, she thought, "I did not want to be like those women. There were basically there to serve the men sexually."  
For the first nine years of her life, McGowan grew up in the Children of God commune, originally formed in 1968 as Teens for Christ by preacher David Brandt Berg, who died in hiding in 1994. While the cult grew to 10,000 members during the 1970s, girls as young as nine or 10 were targeted for sex, per the BBC.
A hippie dream gone horribly wrong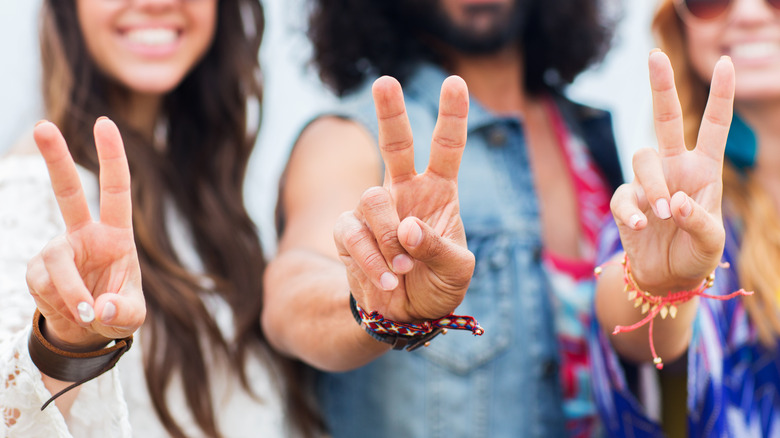 Shutterstock
Rose McGowan wasn't the only celebrity reared in the Children of God — award-winning actor Joaquin Phoenix was born into it, too. Neither of them, though, blame their parents. Phoenix said to ET Online, "Cults rarely advertise themselves as such. It's usually someone saying, 'We're like-minded people. This is a community,' but I think the moment my parents realized there was something more to it, they got out." In a similar fashion, McGowan said on Interview Magazine, "My father ran the Italian chapter, and from the outside it would be considered strange, but if you grow up in it, it's normal ... I suppose all children are at the mercy of their parents."
Members were recruited into Children of God by a tactic dubbed "flirty fishing," which involved ordering women in the group to recruit men through sex, Newsweek cites. Members who didn't comply were themselves tortured and raped, which is exemplified in the case of the 14-year-old runaway who was "held in solitary confinement on no less than three separate occasions" for resisting. In the process, the Children of God — who by then were attracting the attention of the FBI — "actively encouraged incest, child abuse and rape" when it wasn't turning a "blind eye" to what was happening within its bowels.
McGowan, though, made it out before any of that happened to her. "I was not molested because my dad was strong enough to realize that this hippie love had gone south," he said.
A harrowing escape by night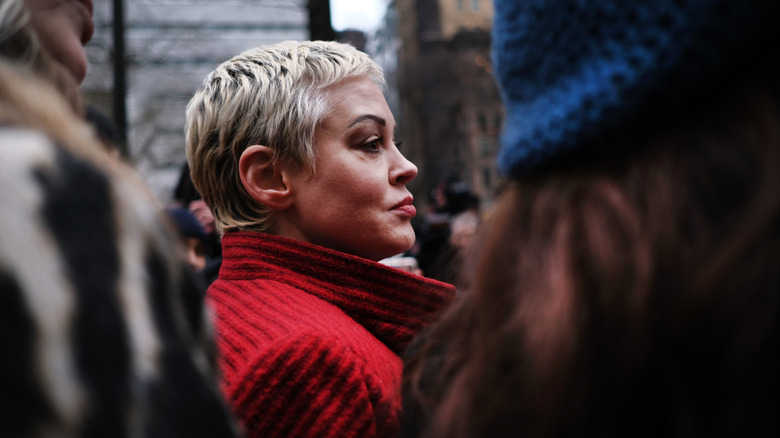 Spencer Platt/Getty Images
Rose McGowan was nine years old when she and her father escaped Children of God, and she described the ordeal in Newsweek: "We had to leave on the sly. My dad, Nat [her stepbrother], Daisy [her stepsister] and I escaped with my dad's other wife in the middle of the night. I remember running through a cornfield in thunder and lightning, holding my dad's hand and running as fast as I could to keep up with him." She continued: "We hid in an old stone house and had to boil pots of hot water to take baths. [The cult] sent people to find us. I remember a man trying to break in with a hammer." For his part, Phoenix recounts his parents learning about "flirty fishing" and responding, "F*** this, we're outta here," Esquire quotes.
Not all members of Children of God were so fortunate, as SF Gate reports. Ricky Dupuy committed suicide after being ordered to rape a 10-year-old girl, "Josh" (last name undisclosed) shot himself in the head three years after escaping, and the son of founder David Brandt Berg himself, Ricky Rodriguez, committed suicide and murdered another group member. On and on it goes.
McGowan acknowledges how fortunate she was to escape, saying, "There's a trail of some very damaged children that were in this group... As strong as I like to think I've always been, I'm sure I could have been broken. I know I got out by the skin of my teeth."