The Truth About The Hells Angels' Friendship With The Beatles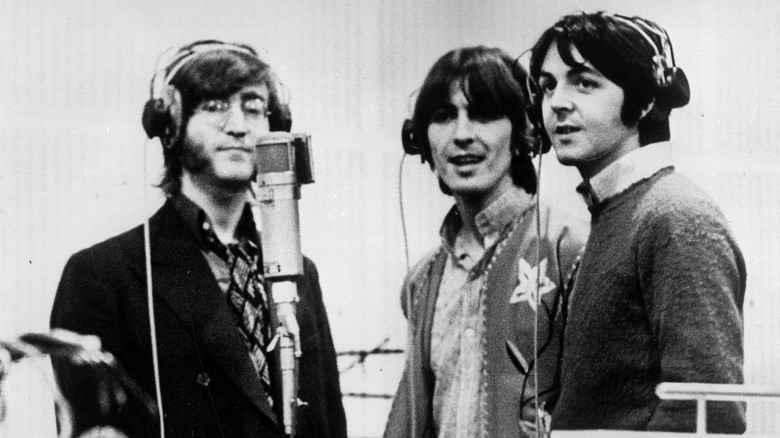 Keystone Features/Getty Images
When it comes to the Fab Four, you'd typically assume that John Lennon would be the Beatle most likely to bring trouble to his own front door. The songwriter was a famous loudmouth — his comments about Christianity nearly ruined The Beatles' tour of America in 1966, per Rolling Stone – who also developed the reputation for being the most experimental, the most darling, and the most gung-ho of the four musicians when it came to creativity, business, and his private life.
But in December 1968, it was George Harrison — typically known as the quietest and most timid of the group — who got not just The Beatles but the whole of their company, Apple Corps, into a sticky situation that instantly became one of the weirdest moments in the Beatles story. Lennon invited the Hell's Angels, America's most notorious biker gang, to visit them at their offices in London's Savile Row.
As you probably already expect, it didn't go too well.
The Hells Angels made Apple their home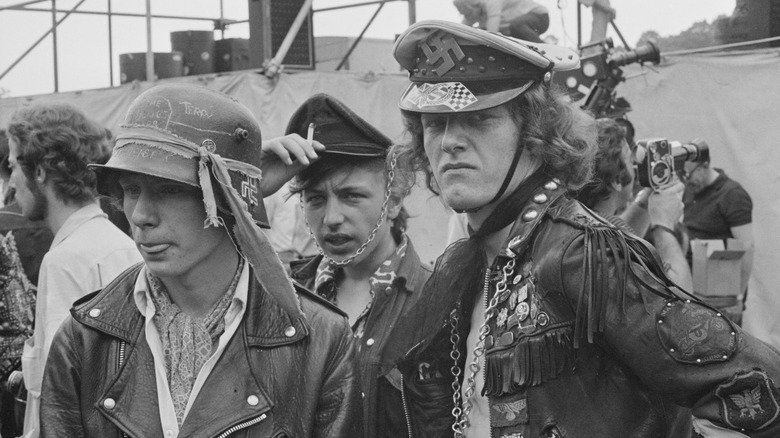 Evening Standard/Getty Images
According to Rolling Stone, on December 4, 1968, employees at Apple Corps received a message from George Harrison telling them bluntly that the notorious Hells Angels would be arriving imminently at their London offices. "There will be 12 in number complete with black leather jackets and motorcycles," he said. "They will undoubtedly arrive at Apple and I have heard they may try to make full use of Apple's facilities. They may look as though they are going to do you in but are very straight and do good things, so don't fear them or up-tight them. Try to assist them without neglecting your Apple business and without letting them take control of Savile Row."
Harrison had first encountered the outlaw gang the previous fall while working as a producer for the musician Jackie Lomax in Los Angeles (per Beatles Bible). In the end, fewer bikers than expected showed up due to being unable to secure visas because of past convictions. But those who did arrive certainly did "make full use" of Apple — they basically moved into the building and spent their days terrorizing the company's employees. Their encampment climaxed during Apple's lavish Christmas party, when angry, hungry bikers tore a 43-pound turkey to pieces and John Lennon, dressed as Santa, narrowly missed taking a punch from a biker called "Frisco Pete."
Harrison didn't even turn up. "I didn't go because I knew there was going to be trouble," he explained to Rolling Stone.