Disturbing Details Found In The Heaven's Gate Victims' Autopsy Reports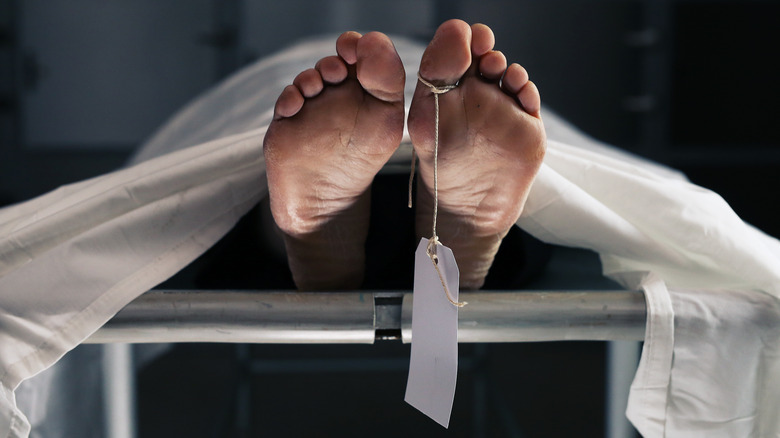 Skyward Kick Productions/Shutterstock
In March 1997, the world stood agape at a macabre scene that had played out in a southern California cult compound. Authorities had found the lifeless bodies of 39 victims of a mass suicide orchestrated by a cult called Heaven's Gate, all with matching track suits, tennis shoes, and plastic bags over their heads. People were horrified and, needless to say, full of questions.
As authorities investigated the incident, we found that the members of Heaven's Gate had believed that they were leaving their earthly "containers" to be with God, an alien who just happened to be passing by on the tail of the Hale-Bopp comet at the time. The coroner's report found that they had laced apple sauce with barbiturates and paired it with vodka and hydrocodone to make sure it got the job done. And, according to Rolling Stone, the autopsies revealed even more chilling details about how the Heaven's Gate cult committed its spectacular mass suicide.
The Heaven's Gate victims died over the course of several days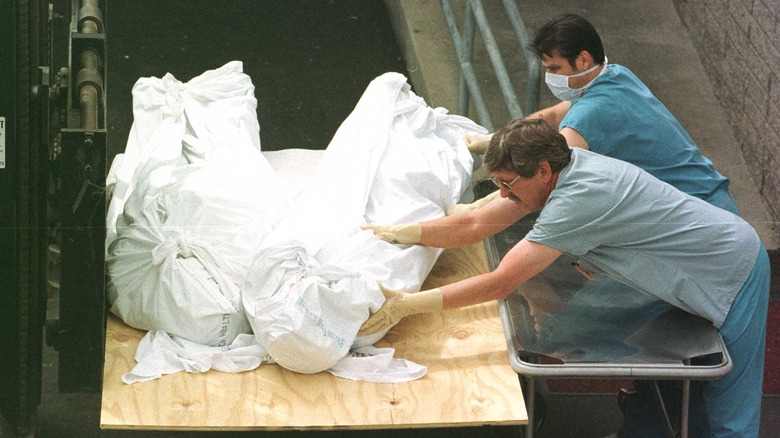 Marcel Derweduwen/Shutterstock
Medical examiners were not only able to determine what the members of Heaven's Gate used to commit suicide, but also the methodical way they did it. They found that the suicides began on Sunday, March 26, and that they were carried out in several stages. The entire process took about three days.
In addition to the information from the autopsies, CNN reports that a document found in the compound labeled "The Routine" clearly outlined how the suicides were conducted. It apparently consisted of two successive groups of 15, each assisted by a group of eight others who helped with tasks like putting plastic bags on their heads and covering their bodies in purple shrouds. A final group of nine was left to complete the Routine. Cult leader Marshall Applewhite, or Do, as he was known within the cult, was among the last, though interestingly not the very last to go.
Poisoned applesauce and liquor may have been the last foodstuffs the Heaven's Gate members ingested, but their ritualistic last supper was eaten a couple nights before the Routine began. According to the L.A. Times, before committing mass suicide to hitch a ride with God on the tail of a comet, the brothers and sisters of Heaven's Gate took their last earthly repast at a Marie Callender's in Carlsbad, California, where they all dined on turkey pot pies and iced tea.