The Tragic Death Of Sonny Chiba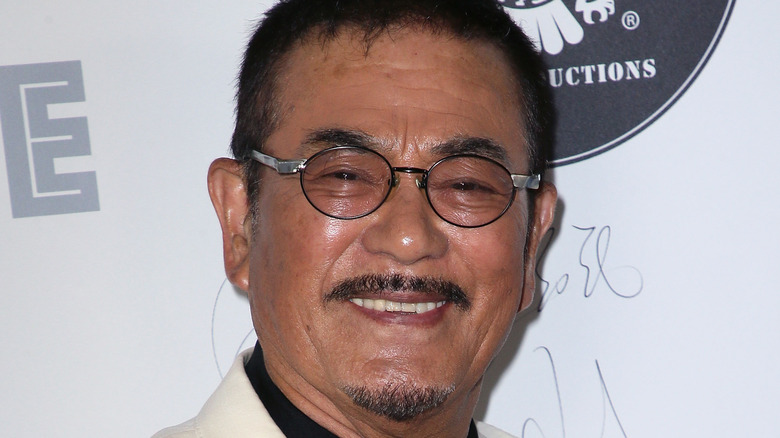 David Livingston/Getty Images
Japanese actor and martial arts expert Shinichi "Sonny" Chiba died on Thursday, August 19, 2021. He was 82. According to The Japan Times, the action star who was called the "Bruce Lee of Japan" died from complications of COVID-19. Chiba contracted the disease toward the end of July, and was hospitalized on August 8 after his pneumonia worsened.
Known in the United States for his roles in movies like "Kill Bill" and "The Fast and the Furious: Tokyo Drift," Chiba had a long, successful career as an actor, beginning in Japan in the 1960s with spy thrillers and superhero series. His big break into the silver screen came with the 1974 film "The Street Fighter," which was released internationally, including in the United States. He is most well-known in the western world for his role as sushi chef and former sword maker Hattori Hanzo in the 2003 Quentin Tarantino film "Kill Bill." Fun fact: this character was actually an allusion to the character Chiba played in the 1980s Japanese series "Shadow Warriors."
Sonny Chiba earned black belts in six different martial arts
Sonny Chiba's real name was Sadaho Maeda. He was born on January 22, 1939, in Fukuoka, Japan. According to Variety, he began his martial arts training at the age of 18, while studying at the Nippon Sports Science University. He trained under karate master Masutatsu "Mas" Oyama, and by 1965 he had earned his first-degree black belt. In 1970, Chiba founded the Japan Action Club, where aspiring martial arts actors went to train. In 1984, he earned his fourth-degree black belt in karate. But that wasn't the only martial art in which he had attained such mastery. Chiba had black belts in judo, ninjutsu, shorinji kempo, goju-ryu karate, and kendo, as well.
Quentin Tarantino wasn't the only western artist to be inspired by Chiba's impressive talent and career. Rolling Stone notes that RZA from the Wu-Tang Clan released a song in 2018 titled "Sonny Chiba," and "John Wick" star Keanu Reeves considers Chiba to be his action movie idol. The six-time black belt and silver screen legend will be missed, but his influence will undoubtedly live on in those he inspired.