Will The Beatles: Get Back Feature New Music?
Icon And Image/Getty Images
If you're a Beatles fan, you're probably aware of the good news-bad news announcement from last month. While Peter Jackson's "The Beatles: Get Back" won't be premiering in theaters on August 27 as originally planned, the documentary will be streaming exclusively on Disney+ on Thanksgiving weekend, with three two-hour episodes set to air on November 25, 26, and 27, per Deadline. "The Beatles: Get Back," as its title suggests, will focus on the sessions that took place in early 1969 as the Fab Four were working on what would turn out to be among their final recordings. And unlike Michael Lindsay-Hogg's "downer" of a 1970 documentary, "Let it Be," "Get Back" will focus more on the good times that John Lennon, Paul McCartney, George Harrison, and Ringo Starr shared in the studio, as noted by uDiscoverMusic.
Given that many of the outtakes from those sessions appeared in the "Anthology" box set back in the mid-1990s, one of the draws of "The Beatles: Get Back" is the fact that the docu-series was pieced together from close to 60 hours of yet-unseen video footage and 150 hours of unreleased audio that was originally recorded for the "Let it Be" documentary. And while many people have seen clips from the band's now-famous rooftop concert, this farewell performance will finally be seen in its entirety once "Get Back" drops on Disney+ later this year. But what can viewers expect as far as previously unheard and unreleased Beatles songs are concerned? 
There will likely be some new music heard in The Beatles: Get Back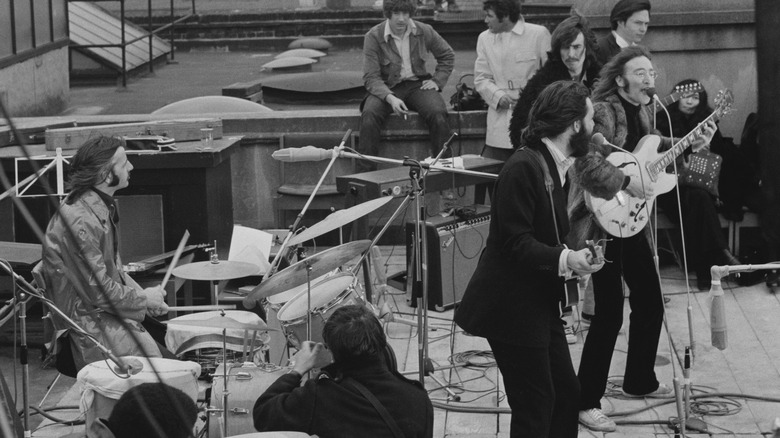 Evening Standard/Getty Images
The Beatles' 1969 recording sessions were marked by a lot of tension behind the scenes, and that's what makes the "Let it Be" documentary so hard to watch, even five decades after its original release. Despite that turmoil, there were several interesting outtakes to emerge from those sessions, and just as noted above, many of them have since been heard on "Anthology" — as well as various publicly available bootleg recordings. However, uDiscoverMusic wrote that there is still a lot of unreleased Beatles music out there, which means there's a good chance that viewers will get to hear some new stuff when "The Beatles: Get Back" arrives.
As of this writing, further details on these hitherto unheard songs are still scant. But the publication pointed out that there were several tunes that didn't make the cut for "Let it Be" (the album, not the documentary) that eventually were included in the Beatles' solo projects. For example, John Lennon was already working on "Gimme Some Truth" and "Oh My Love" during the 1969 sessions — two years before they appeared on his 1971 album "Imagine." Paul McCartney's composition "Teddy Boy" turned up one year later on his solo debut "McCartney," and George Harrison's "Isn't it a Pity" and "Hear Me Lord" were likewise included on his first post-Beatles album, "All Things Must Pass," also in 1970.
In short, there's a chance that at least some of the "new" songs are actually early versions of Beatles solo recordings. Either way, "The Beatles: Get Back" is shaping up to be a fascinating docu-series, new music or none.