The Truth About Jeff Bezos And Richard Branson's Feud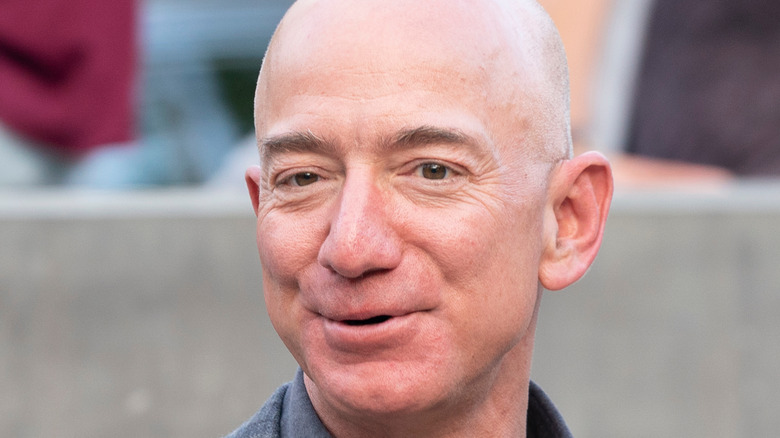 lev radin/Shutterstock
As Jeff Bezos and Sir Richard Branson raced to tick space flight off their bucket lists, a feud developed along the way. According to Geek Wire, the former Amazon CEO is the instigator whose rants stem from the perception that Branson upstaged him by scheduling a launch date prior to his. Occasionally he throws jabs towards fellow centi-billionaire Elon Musk, whose SpaceX takes trips to the International Space Station regularly.
Bezos, 56, took the time to compare Virgin Galactic's VSS Unity rocket to his Blue Origin New Shepard the evening before its launch. Through a series of tweets, Bezos said the New Shepard is superior in altitude, distance, environmental impact, and window size (via Forbes). "Only 4% of the world recognizes a lower limit of 80 km or 50 miles as the beginning of space. New Shepard flies above both boundaries. One of the many benefits of flying with Blue Origin." boasted Bezos on Twitter.
Branson, 71, denounced speculation that he was trying to beat Bezos to the punch. "I know nobody will believe me when I say it, but honestly there's isn't any competition," he insisted in a Today Show exclusive. Intentional or not, Branson took the VSS Unity on a quick suborbital jaunt, flying 55 miles to the edge of space from Truth or Consequences, New Mexico. In tow were pilots Dave Mackay and Michael Masucci, Virgin Galactic's lead astronaut instructor Beth Moses, lead operations engineer Colin Bennett, and government affairs vice president Sirisha Bandla.
Jeff Bezos started a feud with NASA
Sir Richard Branson capitalized on his successful launch by upping the price of a commercial space flight. According to The Wall Street Journal, between 600 to 700 people, including Elon Musk, bought tickets prior to the July 11th takeoff at $250,000 a pop. That was a bargain now that Reuters reports that the prices have jumped to $450,000 after the fact. The price tag makes his idea of "equal access to space" inaccessible to the masses.
Jeff Bezos launched the Blue Origin on July 20, 2021, joined by his brother Mark Bezos. Wally Funk, an 82-year-old trained pilot from the '60s, and Oliver Daemen, an 18-year-old student and the first paying customer, rode along. Blue Origin's space capsule reached an altitude of 66 miles, which is about 10 miles higher than Branson's craft (per Associated Press).
Bezos may be massively richer — by approximately $186.8 billion as of this writing, according to Forbes — but the Virgin Voyages founder scored a major coup plus bragging rights when Virgin Galactic beat Blue Origin to the stratosphere. Still, Bezos might lose interest in Branson and turn his attention towards feuding with Musk and NASA instead. He is suing the National Aeronautics and Space Administration after losing a $2.9-billion contract he coveted to the former Tesla CEO. Sadly, affluence can't cure the inability to cope with losing a fair fight.