The Heart-Wrenching Death Of Don Everly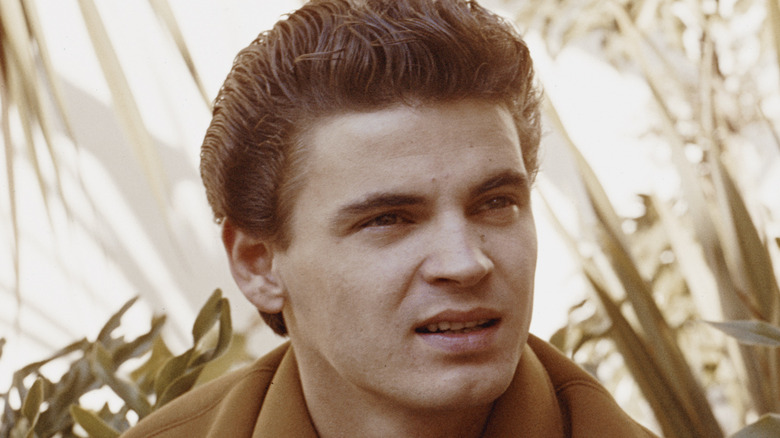 Keystone/Getty Images
Don Everly, who, together with his brother Phil, made up the influential rock 'n' roll duo the Everly Brothers, died on Saturday, August 21, at the age of 84, as confirmed via the act's official Instagram account. "It is with great sadness that we regret to announce the passing of Isaac Donald Everly today," the post read. "He leaves behind his wife Adela, mother Margaret, children Venetia, Stacy, Erin & Edan, grandchildren Arabella, Easan, Stirling, Eres, Lily & Esper." No cause of death has been announced as of this writing.
During their heyday in the late 1950s and early 1960s, the Everly Brothers were known not only for their tight vocal harmonies but also for their seamless fusion of country and rock 'n' roll, both of which were evident on hit songs such as "Bye Bye Love," "Wake Up Little Susie," and "All I Have to Do Is Dream." However, their musical career started way back in 1945, when Don was 8 years old and Phil was two years younger. Per The New York Times, the brothers appeared on their father Ike's early-morning show on Shenandoah, Iowa, radio station KMA, harmonizing with their parents as they sang country songs. That was just the beginning of what would be a legendary career for Don Everly, one that would last well over seven decades.
Don was known as the 'dark' half of the Everly Brothers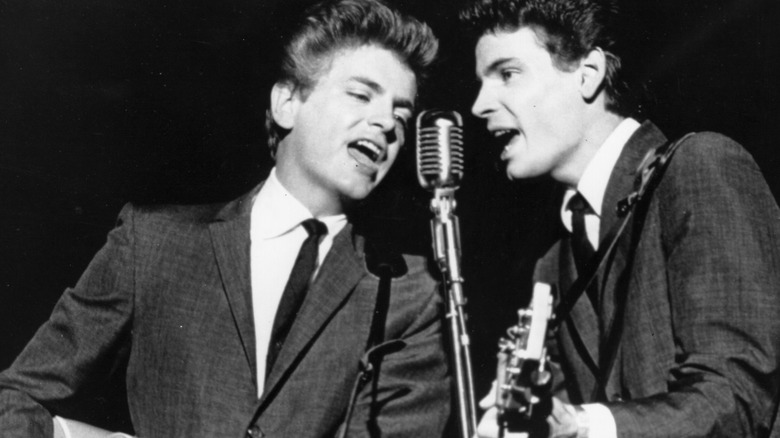 Keystone/Getty Images
As a group, the Everly Brothers were a huge influence on many harmony-based vocal-and-guitar duos that came after them, including Simon & Garfunkel, who modeled their early recordings after the Everlys' signature sound (via NPR). But as an individual musician, Don Everly was the "dark brother" whose songwriting "tapped into a strain of Appalachian gothic despair that was absorbed by audiences as teenage heartache," as described by the Los Angeles Times. In an interview with CNN quoted by the publication, he once admitted having "this haunted feeling all my life, of being [the] odd man out."
The Los Angeles Times also looked back on Don's history of drug use and depression, the former of which started in 1961 when he was given Ritalin as a treatment for the exhaustion he suffered while he and Phil were spending much of their time on the road. This led to an addiction to stimulants that lasted several years. While on tour in England in 1963, Don attempted suicide after suffering a nervous breakdown, according to The Washington Post. At that point, the hits had mostly dried up for the Everlys, and the British Invasion was just one year away from further rendering the brothers irrelevant in terms of chart action.
If you or anyone you know is having suicidal thoughts, please call the National Suicide Prevention Lifeline​ at​ 1-800-273-TALK (8255)​.

Don and Phil Everly were 'estranged' during the latter's final years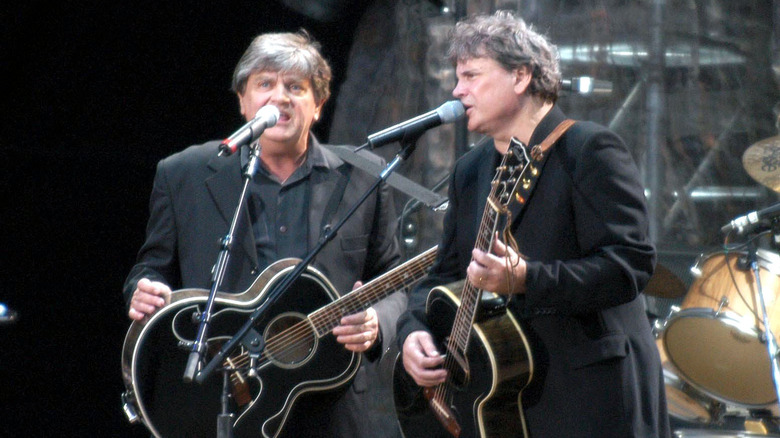 Brian Rasic/Getty Images
Most fans probably know that the Everly Brothers notoriously broke up onstage in 1973 at the Knott's Berry Farm in California, with Phil smashing his guitar and walking out, leaving Don with no choice but to finish their set on his own. In 1983, they put their differences aside and started playing as a duo again, recording a live reunion album that same year that received some critical acclaim. They also continued touring and recording albums in the years that followed.
All that ostensibly points to the Everlys getting along famously after time healed the proverbial wounds, but the Los Angeles Times wrote that Don and Phil "remained estranged in recent years," with sources close to the brothers telling the outlet that their differing political and personal views were the main reason behind the conflict. 
Despite mostly not getting along with his younger brother in the years leading up to his death in 2014, Don Everly revealed to the Times that he "felt so bad" about the health struggles Phil dealt with in the final years of his life. "I'm not over it," he continued. "I really feel sad. I think about him every day. I always thought about him every day, even when we were not speaking to each other. It still just shocks me that he's gone."