The Most Embarrassing Award Show Mistakes Of All Time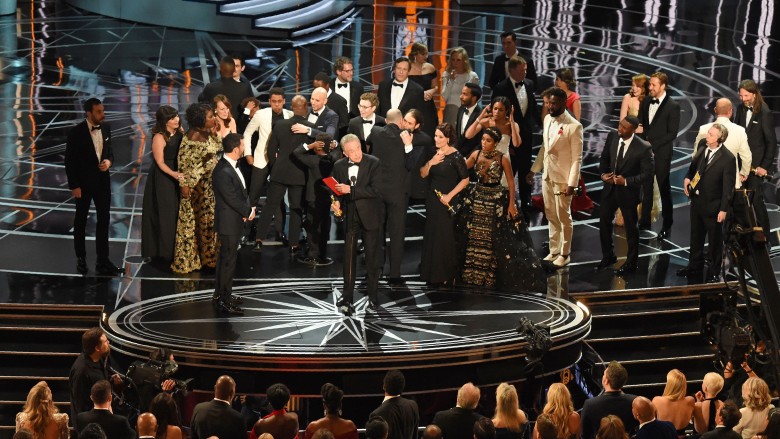 Getty Images
Sometimes despite awards shows being in recognition of mastery, they're about as well-put together as an IKEA shelf assembled by a blind dog. Sometimes, things go disastrously, hilariously wrong at these shows. Here are the most embarrassing award show mistakes of all time.
2017 Oscars: La La Land wins Best Picture, except Moonlight did
During the run up to the 2017 Oscars, there were two clear stand-outs for who would win best picture. It would either be La La Land, a musical about how great Old Hollywood was (and since this is Hollywood giving the award, you know that's gonna get on their good side) or Moonlight, a black-led introspective LGBT film about a young man growing into his own. Both films had their supporters, and La La Land certainly had its detractors. Most people who were against it thought La La Land would win because, well, it was basically an anthem about how awesome Hollywood was, and what does Hollywood love more than praising itself? Nothing.
Then came the night of the awards and Best Picture went to ... La La Land. Naturally. The cast and crew of L3 (as the kids call it) rushed the stage and thanked the Academy, their parents and then ... producers for the Oscars rushed the stage. Hold on. Something was going down. There had been a mistake. An award show mistake! It was actually ... dun dun dun ... Moonlight that had won. What was going on? Turned out that there's two copies of every award envelope, and the wrong one was given to the host. They got the envelope for Best Actress, which had gone to Emma Stone in La La Land, and the announcers were confused. But actually, Moonlight won Best Picture.
Well, in truth, we all won, because this was basically the most entertaining thing to ever happen at the Oscars.
2011 BET Awards: Teleprompter error leads to Chris Brown/Rihanna mix-up
Chris Brown and Rihanna's relationship is ... how do we put this? Pretty freaking horrible. The two of them have been together for a rather long time, but most people who weren't long-time fans didn't find out about it until 2009. See, at that point Chris Brown beat Rihanna, threw her out of a car, and her crime photos leaked. The fact that Chris Brown was a woman-beater became widely-known news, and the domestic battery became probably the most well-known thing about Brown ... or Rihanna, sadly.
Cut to 2011. It's the BET awards. Instead of using plain old envelopes to announce the winners, the show used brand new tablets, because we live in the future. One announcer comes onstage to announce the winner of Coca-Cola's Viewers' Choice Award. The announcer pressed a button on the tablet, looked up, and announced Chris Brown as the winner. Yay, a woman-beating jerk won! Except ... he didn't — the announcer actually hit the wrong button. Eventually, the show realized it had announced the wrong winner, and the actual winner was ... Rihanna. Can you imagine? This wasn't two unrelated people — it'd be like mistaking Taylor Swift for Kanye West. John Wilkes Booth for Abraham Lincoln. Chris Brown for Rihanna.
Even better — it turns out neither of them actually won, and Drake was the real winner. So all that confusion, and all that reminding people of the Brown/Rihanna thing, and for nothing, because somebody else won. Naturally, people thought this whole snafu was staged for views. But c'mon, would an awards show be that callous or cruel? Wait, don't answer that.
2015 Miss Universe: Steve Harvey names the wrong winner
Steve Harvey is everyone's favorite game show host. How could he not be? We can't imagine Family Feud without his deadpan reactions. He has tons of experience being live on-stage, interacting with others, which is why putting him as the host of the Miss Universe Beauty Pageant seems like a no-brainer. The thing is, Family Feud and Miss Universe are pretty similar, in that it involves reading things off of cards or teleprompters. So Steve Harvey should have zero problems, right? Except, he did.
Maybe he thought he got it right because when he said it there was no loud buzzer and a huge red X? Either way, the faux-winner got all the way to putting on her crown and taking a bow. She was happy and celebrating before Steve Harvey — looking like he'd just run over someone's dog — walked up and apologized, announcing that the person he said was the winner ... was actually the runner-up. The real winner came up, looking like she had just woken up from a thirty-year coma and was very confused by what was happening. Steve Harvey announced he made a mistake and just basically apologized until the show ended, with the real Miss Universe being crowned. "Please don't hold it against the ladies. Please don't," Harvey asked after claiming responsibility. Don't worry, Skeeve Harley. We won't.
1964 Oscars: Sammy Davis, Jr. is handed the wrong envelope
Ah, the Oscars, a reliquary for mess-ups. When the Moonlight/La La Land fiasco of 2017 happened, everyone was stunned. This was, undoubtedly, the most horrifying award show mistake the Oscars ever made. Well, yeah, arguably ... except for that other time they did the exact same thing in 1964.
Yeah, the Oscars messed up announcing who won an award twice. But the last time it involved Sammy Davis, Jr., so it was about 105% cooler than the Moonlight mix-up. That time it was for best score and Davis said it was John Addison for "Tom Jones" when we all know that the Oscar deservedly (and actually) went to Andre Previn for "Irma La Douce." Ha, those fools, of course Previn was the winner, he — okay, we have no idea what we're talking about.
MOBO 2016: The right winner gets named an hour after the wrong one
The MOBO awards are the Music of Black Origin awards, which are sort of like the BET Awards, but cooler because most of the people involved have British accents. During their 2016 award ceremony, WSTRN was awarded best track for "In2" when it was actually supposed to go to "Robbery" by Aba Cadabra ft. Krept & Konan. But don't worry — it was all sorted out ... an hour later.
Yeah, after the winners had come up, accepted their award and given a speech an entire hour passed before the show's producers were like, "Um, hey, about that award?" Talk about a "Robbery."
Australia's Next Top Model: Earpiece error
Australia's Next Top Model is probably the best show you can watch in Australia because it features A) the name of the country and B) top models. But the remake of the Tyra Banks-hosted American show, about a bunch of models competing in various "games" to see who is the best model of them all, isn't perfect.
At the end of ANTM, Rupert Murdoch's son's wife, Sarah Murdoch, was announcing the winner and said the name of the wrong person, who started jumping up and down, happy as can be. But then Murdoch realized she said the wrong name and apologized. She said later the wrong name was fed to her through her earpiece, so at least one head was rolling down under that night. This is what happens when you film shows live. And also when you don't have Tyra Banks. It's obviously just karmic punishment for trying to do the show without her.
Miss Canada 2013: Typo takes a winner down
How bad is your handwriting? What's the worst thing that could ever happen on account of it? Unless you're a doctor, the answer probably is, "Not much." But that wasn't the case here. This award show mistake is the funniest of the lot, in our opinion, because the whole thing came down to a single typo.
The Miss Canada judges wrote their scores out on pieces of paper, because what better way to prove we're living in the past than grading women's bodies and only using paper? When the scores were put in the computer, they were put in incorrectly because, you know, it's actually really hard to read some people's handwriting. Because of this, the "winner" got to live as Miss Canada for an entire day ... but then had to give her crown back to the rightful ruler. But she can eat Timbits whenever she wants, so is she really a loser in the end? Well, kind of: it turns out she wasn't even the first runner-up ... she was the third runner-up. Oh well, at least she got her day.
Miss World 2006: Host names the right winner, somebody else crowns the wrong winner
Miss World is a bit like Miss Universe, only it's something we can do without annoying all of the extraterrestrials who will eventually find our broadcasts. Now we're not entirely sure, but we think if you win either award you're made supreme high chancellor of us all? Which is why you'd think there would be a lot of effort going into not announcing the wrong winner.
This one is a little bit weirder, because the right winner actually was announced. Host Alan Thicke announced, in English, that Mrs. Costa Rica was the runner-up and Mrs. Russia was the winner, but something was lost in translation, because then an angel (okay, a child on some wires) descended from the sky to crown Mrs. Costa Rica the winner. The "mistake" was quickly fixed, and fortunately no one was hurt, since Mrs Russia's husband was a powerful Russian billionaire who allegedly had ties to the Russian mob. Close call, Thicke.
Queen Elizabeth Competition 2015: Contestant mishears name, rushes the stage
What's the most embarrassing thing you've ever done in your life? It probably wasn't as bad as getting up on stage on live TV and thanking people for an award you didn't win. Yes, sometimes hosts make huge award show mistakes, but sometimes it's the people up for these awards who mess up.
That is the sad tale of what happened to South Korean violinist Lee Ji Yoon, who thought she had just won the award in the Queen Elizabeth Competition (a super prestigious competition between master musicians). Unfortunately, the award actually went to a woman with a similar name, Lim Ji Young. Ugh. Poor Lee Ji Yoon. The secondhand embarrassment is killing us. Excuse us as we legally change our names to something totally unmistakable, like Nosferatu German Dutch Cumquat. Or is that too close to Benedict Cumberbatch?