The Truth About Charlie Watts' Battle With Drugs And Alcohol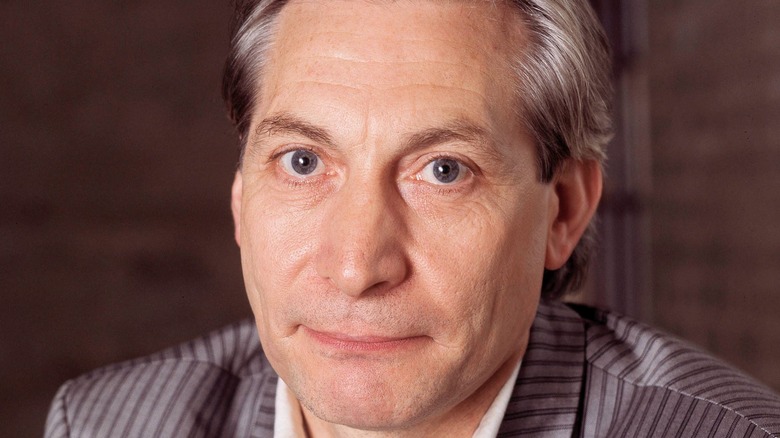 Michael Putland/Getty Images
Charlie Watts was the drummer and engine behind the Rolling Stones — one of the most iconic musical acts of all time — for nearly six decades. The quiet, well-dressed man was different from his bandmates, who set the bar for the rock 'n' roll hedonism and drug-fueled hijinks that has dominated the band's image for over half a century. While Watts never hit the level of Keith Richards or Mick Jagger in terms of alcohol and substance abuse, the legendary drummer had drug troubles in the '70s and '80s that he overcame with help from his friends and bandmates.
According to Drum Magazine, Watts particularly struggled with drinking in the 1980s, when the drummer was in his 40s. Later describing it as a sort of "mid-life crisis," Watts described his habits particularly worsening in 1983 and continuing on until 1986. The drummer's health declined and he was described as looking like Dracula by his daughter. Speed and heroin were also in the mix, something which Watts previously avoided while his fellow Stones were partaking with glee.
If you or anyone you know is struggling with addiction issues, help is available. Visit the Substance Abuse and Mental Health Services Administration website or contact SAMHSA's National Helpline at 1-800-662-HELP (4357).
Keith Richards helped Charlie Watts kick his habits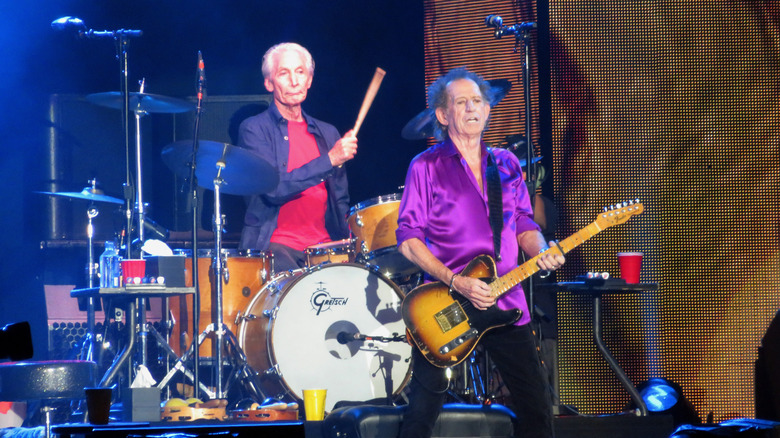 Bruce Alan Bennett/Shutterstock
One of the figures who helped Charlie Watts kick his drug habits was Rolling Stones guitarist Keith Richards, who is ironically one of the heaviest drug users in music history, according to NME. Despite dabbling in heroin in the '70s and '80s, Watts managed to avoid addiction after Richards staged an intervention when he saw his bandmate passed out during a recording. "This is the sort of thing you do when you're 60," was the advice Richards gave to his drummer and friend, and Watts did one better by kicking the drug for good well before his sixth decade. After his recovery, Watts maintained that he was lucky he avoided heroin addiction.
Another motivation for Watts taking control of his drug habits was his wife. Watts was the first Stone to settle down and start a family, but that marriage was strained by his drinking and drug use in the '80s. After breaking his ankle playing a gig in 1986, Watts decided to go cold turkey for the health of his wife and marriage as much as his own. He wouldn't be troubled with drug or alcohol abuse for the rest of his life.