Here's Why The Baby On Nirvana's Nevermind Cover Is Suing The Band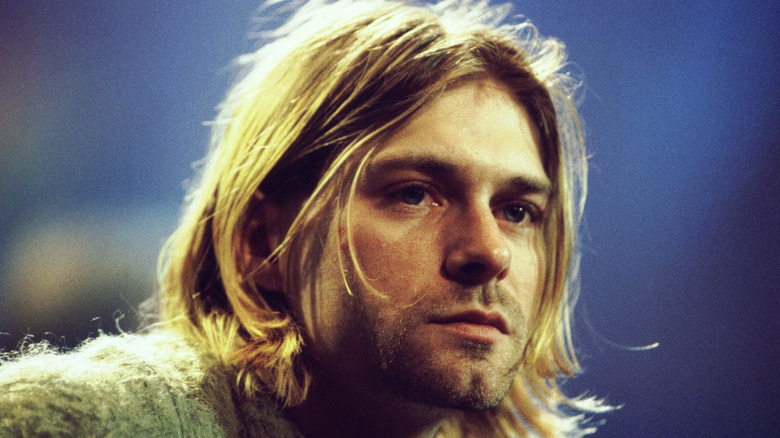 Frank Micelotta Archive/Getty Images
There are many reasons why Nirvana's second album, 1991's "Nevermind," is rightfully considered one of the greatest of all time. As the first grunge album to truly make it big on the Billboard 200, where it reached the No. 1 spot in January 1992, it was a breath of fresh air. Although far more polished than Nirvana's debut effort "Bleach," the new album was the perfect introduction to the Seattle grunge scene — punk rock chord progressions, metallic riffs, and nihilistic lyrics that were a stark contrast to the celebrations of sex, drugs, and rock 'n' roll cranked out by the denizens of the Sunset Strip hair metal scene and their ilk. Fans and critics, however, are more divided when it comes to the attention-grabbing album cover, which features a naked baby in a swimming pool, trying to grab a dollar bill on a fishhook.
As we've learned in the years since then, the infant's name is Spencer Elden; his father, Rick, was friends with Kirk Weddle, the photographer who shot the controversial cover. Now 30 years old, Elden has long been conflicted over the ramifications of being the "most famous naked baby the world has ever seen," as described by The Washington Post. Given how he's recreated the pose multiple times, including five years ago, it came as a shock to many that on Tuesday, he sued Nirvana over the now-three-decade-old portrait used on the "Nevermind" album cover.
Spencer Elden is suing Nirvana for child exploitation and pornography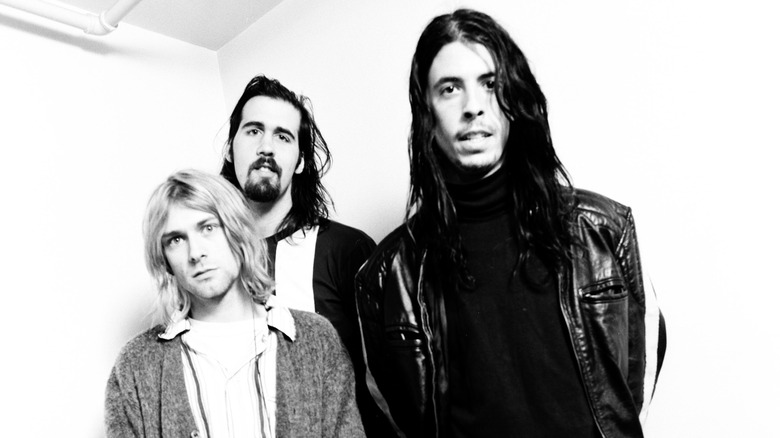 Gutchie Kojima/shinko Music/Getty Images
As reported by NPR, Spencer Elden is suing several defendants, including surviving Nirvana members Dave Grohl and Krist Novoselic, the estate of Kurt Cobain, photographer Kirk Weddle, and record labels Universal Music, Geffen Records, Warner Records, and MCA Music, for child exploitation and pornography. He is seeking $150,000 in damages from each of the defendants as he claims that the band knowingly distributed — and profited from — the naked photo of his that was used on the cover of "Nevermind." Elden also alleges that his parents never signed a release form allowing Nirvana to make use of the image and that he has yet to receive a cent in compensation for his participation in the photoshoot.
On top of those accusations, Geffen Records imprint DGC, which released "Nevermind," supposedly didn't follow through on its plans to place a sticker on Elden's genitals as a response to the apparent pushback against the controversial album cover.
According to Variety, the most common interpretation of the cover of "Nevermind" is that it is a commentary on the negative impact of capitalism on the world. However, Elden's lawyer, Robert Y. Lewis, asserted in the lawsuit that the image is tantamount to child pornography, given how Elden swimming toward the dollar bill made him look like a "sex worker." The suit also referenced other examples of underage children appearing on sexually explicit album art, such as on Blind Faith's self-titled album, the Scorpions' "Virgin Killer," and Van Halen's "Balance."
Elden had mixed feelings over the Nevermind cover for years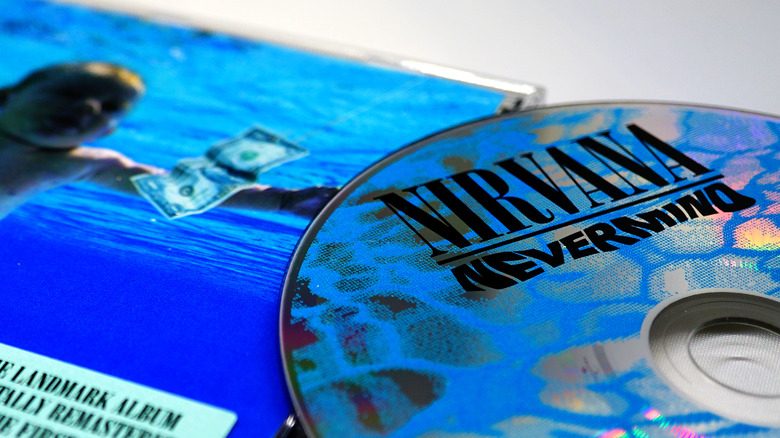 Kraft74/Shutterstock
It would seem that Spencer Elden has had a long love-hate relationship with the album cover of "Nevermind." As noted by Variety, he recreated the famous (or infamous) pose to commemorate the record's 10th, 17th, 20th, and 25th anniversaries, opting to wear swim trunks on all those occasions. "The anniversary means something to me. It's strange that I did this for five minutes when I was 4 months old and it became this really iconic image," he told the New York Post in 2016. "It's cool but weird to be part of something so important that I don't even remember." There's also the matter of his body art, as Elden has the word "Nevermind" tattooed on his chest.
In a separate interview with Time that same year, Elden was less positive, telling the outlet that it's quite hard being "famous for nothing" and claiming that nobody who was involved in the making of "Nevermind" reached out to him in the years since. "I didn't get a call or email. I just woke up already being a part of this huge project," he stressed.
Five years later, it appears Elden's negative sentiment toward the "Nevermind" album cover has only intensified. Not only are he and his lawyer calling it pornographic; the lawsuit also states that Elden purportedly suffered "extreme and permanent emotional distress with physical manifestations" as well as a "loss of education, wages, and enjoyment of life," via The Guardian.