The Truth About Abigail In The Bible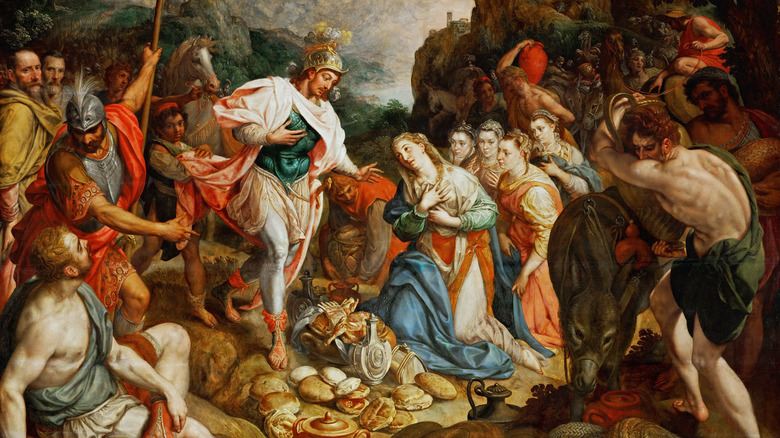 Heritage Images/Getty Images
Abigail is one of the seven female prophets in the Hebrew Bible, along with Sarah, Miriam, Deborah, Hannah, Huldah, and Esther. She appears in the Old Testament, and her story is often overlooked. Unlike the other women in the Hebrew Bible, her beauty and intelligence are front and center, per Jewish Women's Archive. She is the wife of Nabal of southern Judah, a wealthy, harsh, and badly behaved man. Conversely, Abigail is described as "discerning and beautiful," per 1 Samuel 25:3. They live in the area of Carmel, and their fate changes when David appears in their lives.
As David travels with his men in Carmel, he asks Nabal for shelter and food. Nabal refuses and insults David, who doesn't take the rejection well and plans to slaughter him. When Abigail hears about the clash, she decides to intervene and sends David and his men 200 loaves, 200 hundred cakes, wine, five sheep, five seahs of parched grain, and 100 clusters of raisins. Shortly after sending the food, Abigail meets David and gives a powerful speech in an attempt to save her husband's life.
David is impressed and says: "Blessed be the Lord, the God of Israel, who sent you this day to meet me! Blessed be your discretion, and blessed be you, who have kept me this day from bloodguilt and from working salvation with my own hand!" per 1 Samuel 25:32.
Abigail becomes David's third wife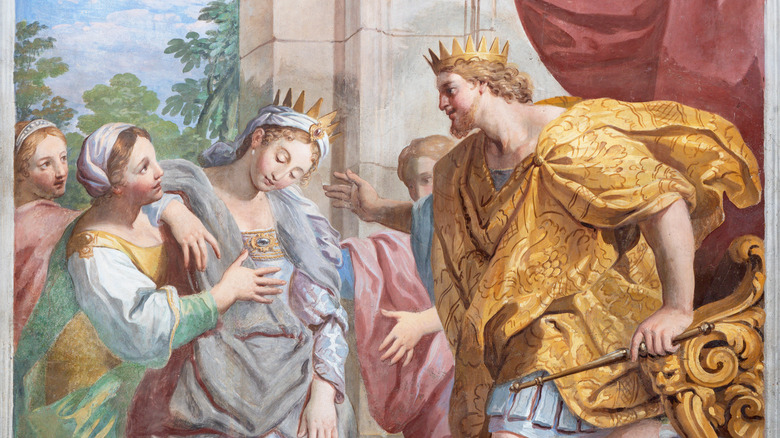 Renata Sedmakova/Shutterstock
When Abigail returns home, Nabal is drunk, and she waits until the next day to tell him what happened. When he hears about what his wife did, he feels so offended that he becomes ill and dies ten days later. Of course, David is not upset when he hears about Nabal's death — he says that God gave him justice. Still, impressed by Abigail, David sends a servant to ask her to marry him. Ultimately, Abigail becomes David's third wife, as he is already married to Ahinoam of Jezreel and Michal, daughter of Saul (via Jewish Women's Archive), The pair have a child, Chileab — also known as Daniel — who becomes David's second son.
Like other women in the Old Testament who disappear after marrying or giving birth, Abigail is hardly mentioned after marrying David. She appears when she goes with her husband to Gath, but she doesn't seem to have an essential role in that story (via Jewish Women's Archive). There is also no information about her final years and death.