The Reason Some Are Convinced Jimmy Hoffa Is Still Alive
The disappearance of corrupt labor leader Jimmy Hoffa is one of America's most notoriously unsolved crimes. Here's what we know in a nutshell: after years of alleged shady dealings with the Mafia to secure his hold on power in the truckers union called the Brotherhood of Teamsters, Hoffa disappeared one day in 1975, never to be heard from again. According to Biography, he was last seen outside the Machus Red Fox Restaurant in a Detroit suburb on the afternoon of July 30, apparently there for a meeting with a couple made men. Hoffa was declared legally dead in 1982.
Despite years of investigation and several instances of new possible evidence popping up every so often, the mystery of Hoffa's disappearance has never been conclusively solved. The FBI investigated his alleged dealings with the mob, but never found their smoking gun. Rumors of the labor leader's purported final resting place have ranged from Florida to New Jersey, where hitman Donald "Tony the Greek" Frankos said Hoffa was buried beneath Giants Stadium. Frank "The Irishman" Sheeran claimed to have been the hitman who took Hoffa out on the orders of mob boss Russell Bufalino in the popular 2004 tell-all "I Heard You Paint Houses," but the investigations into his claim have been equally unverifiable.
So surely you know where this is going: outlandish conspiracy theories looking to finally explain what in the world happened to Jimmy Hoffa. Let's take a look into the cloud of conjectures surrounding his disappearance.
Odds are that Jimmy Hoffa is just plain old dead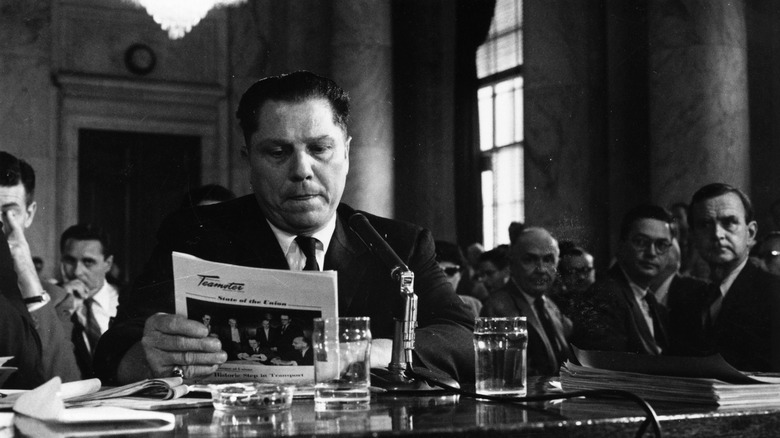 Keystone/Getty Images
Members of organized crime are no strangers to impunity. It would not be surprising to find that Sheeran's claim was 100 percent true and that he was also really good at "carpentry," aka cleaning up after himself. It wouldn't be the first cold blooded murder the Mafia had gotten away with scot-free, that's for sure.
Still, just like the JFK assassination, the doubt has sown several oddball theories as to what happened to Hoffa. The lack of incontrovertible evidence proving that he was murdered has led some to believe that he was not killed that day in 1975, but rather faked his death and vanished into anonymity. The Sun reports that several critics have called the veracity of Sheeran's claims into question, citing the fact that as many as 14 other people have also professed to have murdered Hoffa.
So does the theory that he is still alive hold any water? Well, just like those who say Hoffa is dead, those who think he's still alive likewise have no evidence to prove it one way or the other. He's most likely sleeping with the fishes, but some secrets that are just never meant see the light of day.