How One High School Football Team Lied Their Way Onto National TV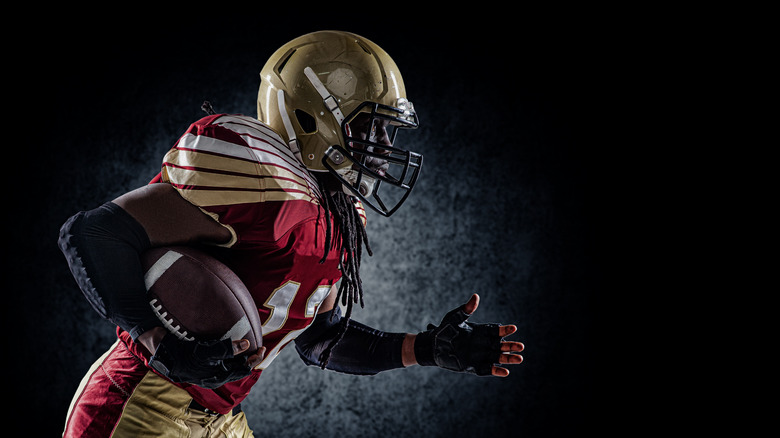 Lebedev Roman Olegovich/Shutterstock
American sports broadcaster ESPN has been televising some of the nation's top high school football matches in the buildup to the NFL season, finishing off with a game from the country's best high school team, IMG Academy (via USA Today). The Florida powerhouse was matched up with Bishop Sycamore, an online charter school from Ohio with no football pedigree to speak of, leaving fans and even commentators scratching their heads as a 58-0 drubbing unfolded on screens across the United States.
An on-air inquest into the farce revealed that Bishop Sycamore had told ESPN that there were several athletes being recruited to play for the nation's top college teams, a claim the sports network could not verify. Clearly, the on-field performance did little to back up that boast either. The result left commentators to question the safety of such a one-sided match just two days after Bishop Sycamore played their previous game, while others took to social media to ask how a team from a school that might not even exist came to represent Ohio.
Bishop Sycamore lied about its players — and maybe its existence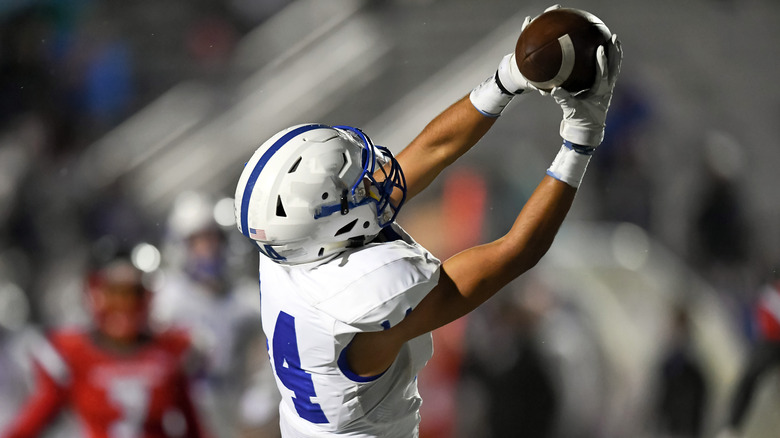 JoeSAPhotos/Shutterstock
According to Sports News, Bishop Sycamore's entire existence is under scrutiny. For one, there is no record of a "Bishop Sycamore" ever living in the Columbus area, and the school is not listed in the Ohio High School Athletic Association, instead turning up in the Texas Christian Athletic League. The school's website is barren, with no information about staff or even the school itself. Bishop Sycamore lost the six games they played last year, and were outscored 227-42, including a 56-6 loss to IMG. The roster given to ESPN was both incomplete and inaccurate, with some players having already graduated high school and other names not affiliated with the team at all.
More dangerous than the wide gulf in ability between the teams was the fatigue felt by the shallow roster of Bishop Sycamore, who had just played (and lost) two days before their pummeling at the hands of IMG. According to FOX, ESPN had been trying to broadcast an IMG match for months but couldn't schedule a decent opponent. Desperate to broadcast one of the best high school teams in the country, the broadcaster hired a third party broker to schedule a match. The broker found Bishop Sycamore, or likely the coach oversold his team despite having played just 48 hours prior. The match was set, and a combination of desperation and incompetence allowed for one of the biggest mismatches in American history to be aired.