Here's What We Know About El Chapo's Secret Underground Tunnels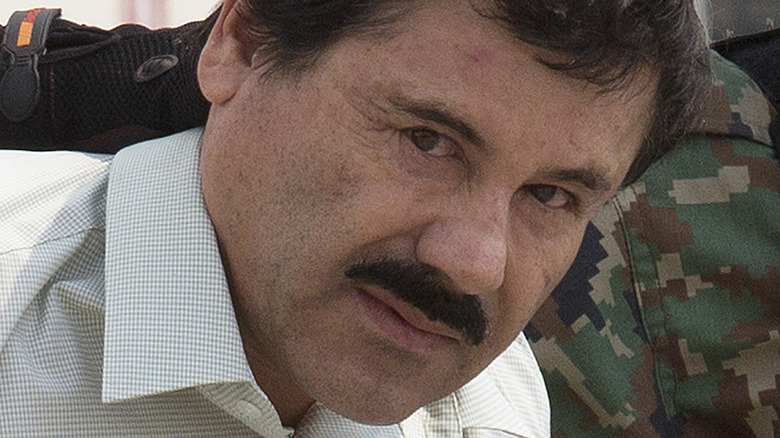 Bloomberg/Getty Images
Joaquín "El Chapo" Guzmán has inspired countless books, movies, and TV series. The most powerful Mexican drug lord was the leader of the Sinaloa Cartel, which was formed in the 1980s and became known for its brutality against its competition. El Chapo was also once ranked as one of the richest men in the world, BBC reported.
The drug lord was arrested for the first time in 1993, but it was far from the end of his career. While in prison, El Chapo received a mistress and managed his cartel, which became even more powerful. In 2001, he escaped jail after bribing law enforcement. For most fugitives, hiding is a priority, but definitively El Chapo is not like any other criminal. According to CNN, he didn't avoid public places and was seen in restaurants, where he paid for everyone's meal. Although he was captured again in 2014, he escaped two months later. While he was running away, El Chapo found time in his schedule to meet Sean Penn and Kate del Castillo (via Rolling Stone). He was arrested again in 2016 and remains in prison. However, that doesn't mean he stepped away from the Sinaloa cartel.
Drug lords have always been creative in their means of smuggling drugs into the United States. El Chapo, for example, made tunnels connecting Mexico with the United States, which were a quick way to send drugs to the superpower, The Washington Post reported.
El Chapo used tunnels to smuggle drugs into the United States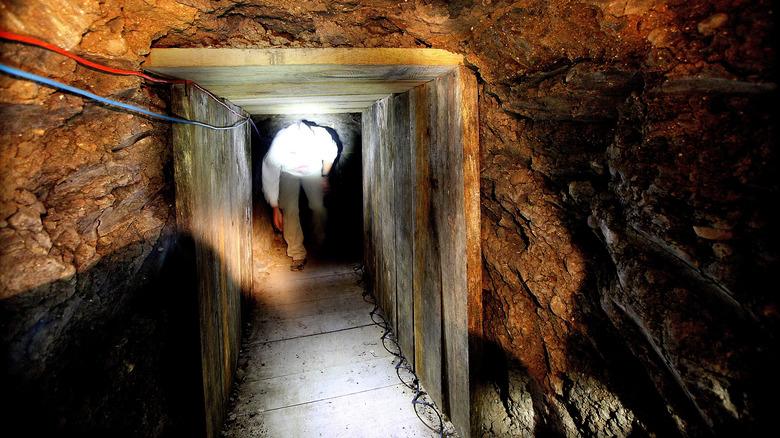 Sandy Huffaker/Getty Images
The secret tunnels were far from amateur. The Sinaloa Cartel made sure they were sophisticated and had a rail, drainage and ventilation systems, and elevators. According to Vox, the first tunnel was discovered in 1990. The shaft was 300 meters long and had an electrical system, as well as a secret entrance with a hydraulic elevator that was activated by a lever.
The tunnels led to Otay Mesa, and the destination was not a random choice. Not only was the soil in the area perfect for building a tunnel, but the region was a strategic location between Tijuana and San Diego — the first stop before the drug was sent to other cities in the country. Furthermore, Otay Mesa is an industrial area, and the noise helped the traffickers go unnoticed.
The police came to understand the importance of these tunnels in the 2000s when they created a Tunnel Task Force based in San Diego, California. They soon found out that José Sánchez Villalobos was the mastermind behind the tunnels. In 2010, they found a 560-meter tunnel with 22 tonnes of marijuana, the National Post reported. Another operation found a 550-meter tunnel with 32 tonnes of marijuana. Yet despite law enforcement's best efforts, tunnels are still crucial for the Sinaloa Cartel. In 2019, the police found the longest drug tunnel to date, measuring 1,313 meters and a depth of 21 meters (via BBC).