The Sad Death Of Muhammad Ali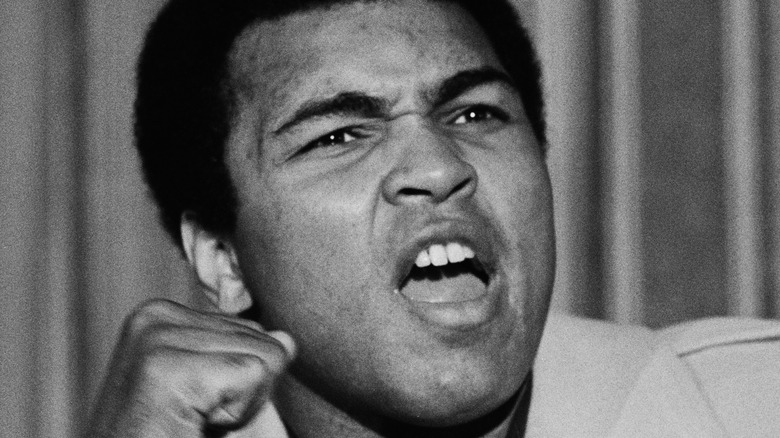 Evening Standard/Getty Images
Muhammad Ali is undoubtedly one of the best athletes of all time. Indeed, Ali was aware of how important he was and called himself "The Greatest," and he was right — the boxer was a legend inside and outside the ring. Sadly, the sport that helped him become part of history also caused irreversible damages to his health.
Born Cassius Marcellus Clay Jr. on January 17, 1942, Ali started boxing when he was 12 years old. After someone stole his bike, the boy said he wanted to beat the thief. But police officer Joe Martin, who was also a boxer trainer, said he should first learn how to fight. According to History, Martin helped him, and six weeks later, Ali won his first bout.
Ali's first victory was just the beginning. In the coming six years, he had countless triumphs and won two Golden Gloves and two Amateur Athletic Union national titles. In 1960, he made history in the Rome Olympics by winning a gold medal at age 18 (via Yahoo News).
How Cassius Clay became Muhammad Ali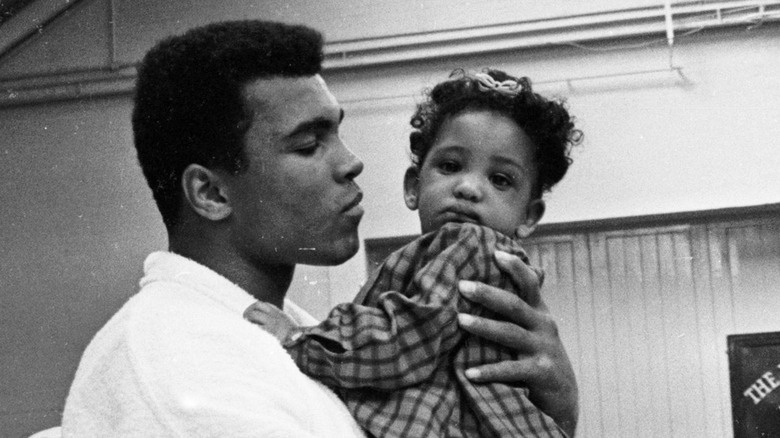 R. Mcphedran/Getty Images
In 1964, Cassius Clay announced that he decided to change his name. "Cassius Clay is a slave name," he said (via Yahoo News). He first chose to be called Cassius X, a reference to his friend and mentor Malcolm X, who changed his name for the same reason. Shortly after that, he converted to Islam and changed his name again. "I didn't choose it, and I don't want it. I am Muhammad Ali, a free name — it means beloved of God, and I insist people use it when people speak to me," Ali explained.
At first, people didn't accept the change and kept calling him Cassius Clay. However, things changed in 1966 in his fight against Ernie Terrell. Although the pair used to get along, Terrell insisted on calling his opponent Cassius. As he pummelled Terrell during the fight, Ali asked him, "What's my name?" (via The Undefeated).
Ali's activism was not only in his name. In 1966, he refused to go to war, saying he would not fight against dark-skinned Asians for a country that despised its own dark-skinned people. His words caused a stir in the media and public opinion.
Muhammad Ali was diagnosed with Parkinson's in 1984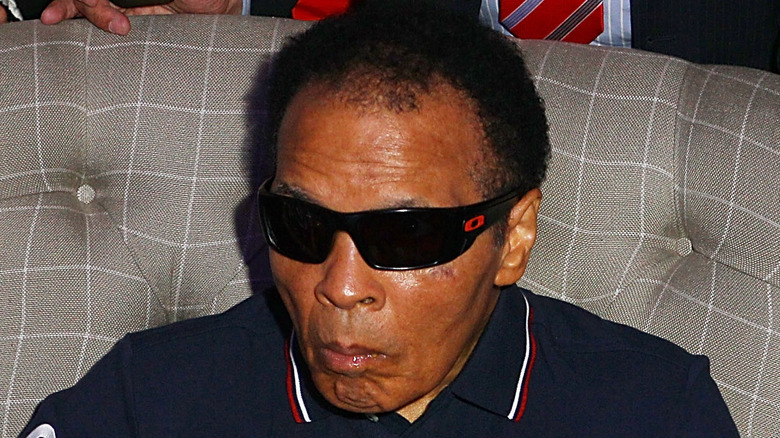 Joe Scarnici/Getty Images
There was no one quicker than Muhammad Ali when he was in a ring. However, things started to change in the late 1970s when fans noticed he was not that fast, and his voice was changing. According to Biography, Ali announced his retirement in 1981 at age 39. And in 1984, he was diagnosed with Parkinson's syndrome.
Ali's boxing career is a possible cause of the disease. "It's very hard to point in almost any individual case to what's causing the Parkinson's, but there's pretty convincing data that head injury can increase your risk for developing the disease," said Todd Sherer, chief executive of the Michael J. Fox Foundation for Parkinson's Research (via Stat News). Ali would spend the next three decades struggling with the disease, which changed his mobility and speaking skills forever. However, he didn't step away from the spotlight. The boxer became a humanitarian and philanthropist and advocated for people who have Parkinson's syndrome.
Unfortunately, not even "The Greatest" could stop the damages caused by Parkinson's syndrome. Ali was hospitalized many times in the 2010s, and in 2016, he went to the hospital to treat respiratory complications. After examining the former boxer, a doctor called the family and said his situation was not going to improve. Ali died surrounded by his family on June 3, 2016, at age 74.