How Kirk Hammett Really Feels About The Black Album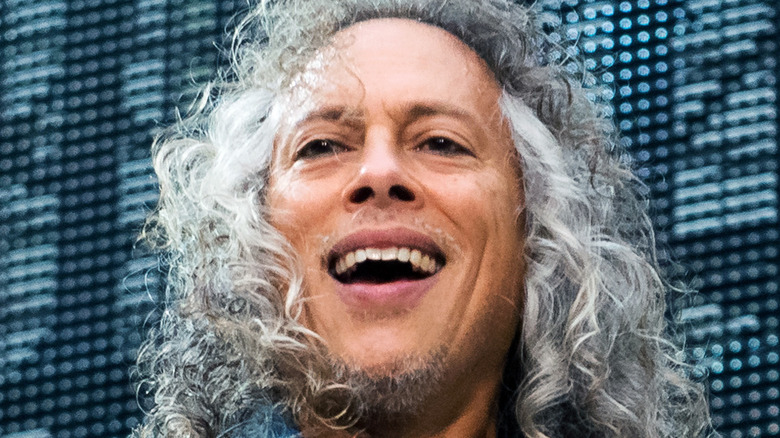 Matthew Baker/Getty Images
For many bands, there's that one album that propels them from merely being a niche act with a loyal cult following to one of the biggest acts in rock music, if not popular music in general. Metallica's 1991 self-titled release, better known to fans as the "Black Album," was just that for the Bay Area thrash heroes, who had, at that point, released four albums, each of them more successful than the last (via ChartMasters). The "Black Album," however, easily outsold all those other releases — sure, it was far more polished and accessible than anything they'd put out before, but you can't argue with 30 million copies sold worldwide in the three decades since it first appeared in record stores.
Despite its breakout success, the "Black Album" is quite a divisive record — though not on the level of 2003's "St. Anger" and its utter lack of guitar solos and tinny snare drum sound. Some argue that it's Metallica's last great album, while others feel that the ship had already sailed on their thrash-metal greatness at the time of its release. But what do the band's members think about it 30 years later? In a recent interview, lead guitarist Kirk Hammett opened up about the "Black Album" and revealed how he really feels about the record's legacy as one of the best-selling rock albums of all time.
Hammett says Metallica was aiming for 'bigger things' with the Black Album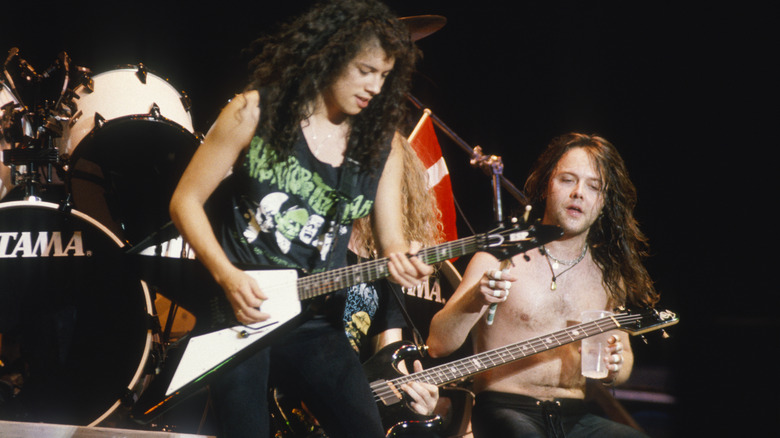 Gie Knaeps/Getty Images
Speaking to Classic Rock magazine for its September 2021 issue (via Louder), Kirk Hammett recalled that Metallica was gunning for "bigger things" during the making of the "Black Album" and was hoping for the same sort of breakout that AC/DC achieved when they released "Back in Black" in 1980. "You have to remember that there had been some mega albums around that time -– Bon Jovi, Def Leppard, Bruce Springsteen ... eight million, nine million copies sold," he said. "And we wanted that. It's obvious. We wanted a 'Back in Black.'
"
Regarding the inspirations for the "Black Album" and some of its most memorable tracks, Hammett revealed that carrier single "Enter Sandman"'s distinctive riff "came out of nowhere." He acknowledged, however, that it might have been a byproduct of his and singer-guitarist James Hetfield's love of Soundgarden, at that point an up-and-coming hard rock band from Seattle that was still a couple of years away from grunge superstardom."The best parts of that album kind of just wrote themselves," he added. "Solos and music and songs felt like they just appeared out of nowhere. It was like the universe handed it to us on a platter. Not like the first four albums."
He feels the Black Album was a 'cultural force'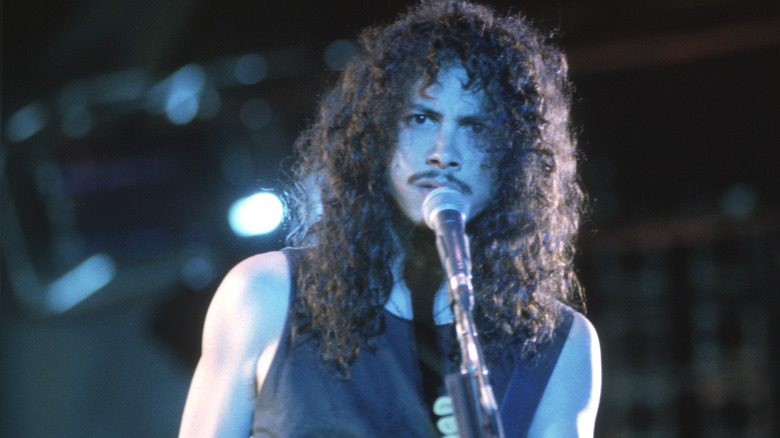 Gie Knaeps/Getty Images
Although Kirk Hammett and his bandmates were apparently hoping the "Black Album" would become their "Slippery When Wet," "Hysteria," or "Born in the U.S.A.," it was still a surprise — a very pleasant one, of course — when the self-titled fifth release did far more than just debut at No. 1 on the U.S. and U.K. album charts. "The Black Album" became Metallica's "mega album," as Hammett worded it above, and three decades later, songs like "Enter Sandman," "Nothing Else Matters," and "The Unforgiven" still stand the test of time as heavy metal anthems that even non-metal fans will instantly recognize. 
Looking back on its enduring legacy, Hammett told Classic Rock (via Louder) that the "Black Album" is a "cultural force in itself." He also commented on how the record's songs still resonate with modern audiences, not only in their home country but all over the world, "because it's big everywhere." This, he stressed, remains true despite the always-changing trends in popular music that — let's face it — often make certain iconic albums age worse than others.
As a further example of how the "Black Album" is not one of those million-selling records that aged poorly, Metallica will be reissuing the album on September 10, complete with several early demos and rehearsal outtakes. The reissue, "Metallica Remastered," will be accompanied by a mammoth 53-track compilation, "The Metallica Blacklist," which features "Black Album" covers from an extremely varied range of acts across different genres. If that isn't a cultural force, we don't know what is.