Why FDR Once Served Hot Dogs To The King And Queen Of England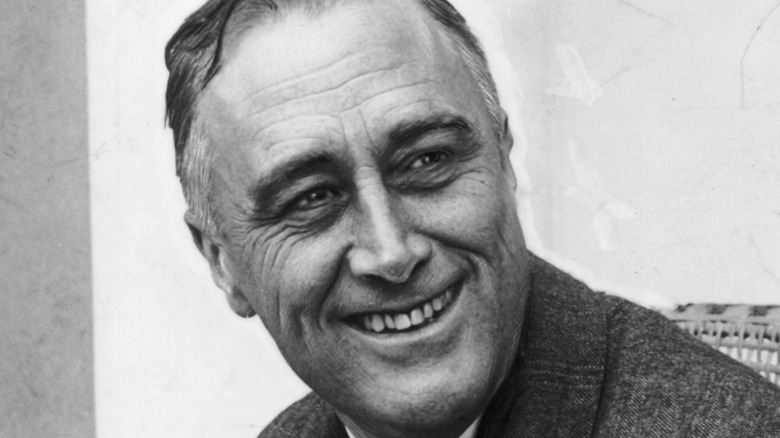 Hulton Archive/Getty Images
Hot dogs have been getting a bad rep lately. As an aside, they've always had a poor standing amongst health professionals because of the potential link to certain chronic diseases. Nonetheless, the sausage commonly known as the hot dog remains one of the most eaten processed meats in the U.S. (via Meat Institute). It's a popular food on the American cookout menu and has been for years. Every year we also see a cringe display of hot dog consumption at the annual Nathan's hot dog eating contest, and as unhealthy as binge-eating is, there's a special concern when it comes to eating hot dogs. Recently, researchers conducted a new study revealing that eating one wiener can reduce your life by 36 minutes, per USA Today.
Invented in the 1860s, hot dogs were extremely popular with Americans by the 1900s, says Hot Dog History. So much so, that when President Franklin D. Roosevelt welcomed the king and queen of England, he fed them the American classic, says Smithsonian Magazine.
A dog for a king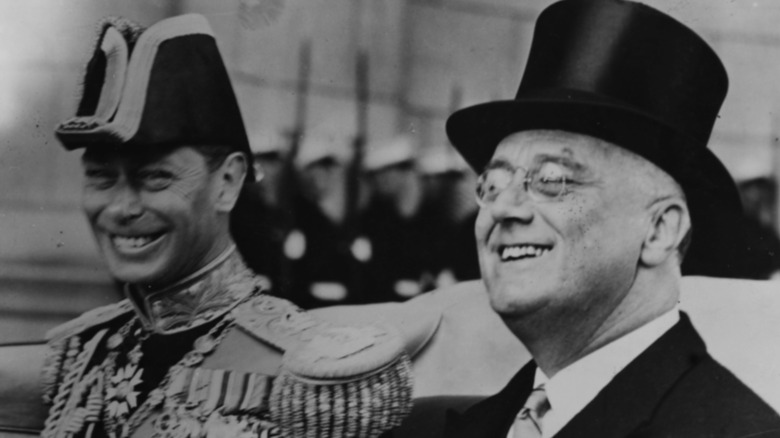 Fox Photos/Getty Images
According to the FDR Library, in June 1939, the president welcomed King George VI (pictured left with FDR) and his wife, Queen Elizabeth, to the states for the first time. It was a historic visit, as no previous member of the royal family or British monarch had visited the U.S. before, per History.
On the third day of the king and queen's visit, they got the American welcome mat when FDR served them hot dogs during a visit to his private retreat in Hyde Park, New York. Per the Smithsonian, it was the first time the king ate a hot dog. A usual encounter between the heads of state was a formal state dinner. But that was too "formal," and after all, the royals were at FDR's personal getaway, not the White House, and the theme of the day was a picnic. Along with hot dogs, also on the menu that day were cold cuts, salad, beers, and strawberry shortcake (via FDR Library). The whole ordeal even landed on the front page of The New York Times.
Per Foreign Policy, a typical formal state dinner hosted by FDR consisted of a lot of vegetables, a soup, a portion of meat and carbs, and a significant dessert offering. But this was a meeting meant to relax the formality, and it turned out to be a success; the queen later wrote a letter about her experience and praised the Roosevelts for their hospitality.