How Malcolm X And Muhammad Ali Finally Met
Michael Ochs Archives/Getty Images
Muhammad Ali was a legendary athlete. By the age of 20, Ali introduced himself as "The Greatest." And he wasn't wrong. Back then, the boxer already had an Olympic gold medal, two Golden Gloves and two Amateur Athletic Union national titles, the beginning of what would become a brilliant career (via History). However, his importance went beyond sports, and he became one of the most polarizing personalities during the 1960s.
Born Cassius Clay Jr., Ali grew up in the South during Jim Crow segregation. In June 1962, his friend Sam Saxon invited Ali and his brother to join a Black Muslim rally, and it was a turning point in Ali's life. The boxer was also looking for spiritual guidance, and when he heard Malcolm X's speech during the event, he was deeply impressed by the activist and Nation of Islam member, according to NPR.
Saxon introduced them. Although Malcolm X had no idea the young man in front of him was famous, he was impressed by Ali's magnetic personality, Time reported. They became close, and Malcolm X became Ali's mentor.
Muhamed Ali's greatest regret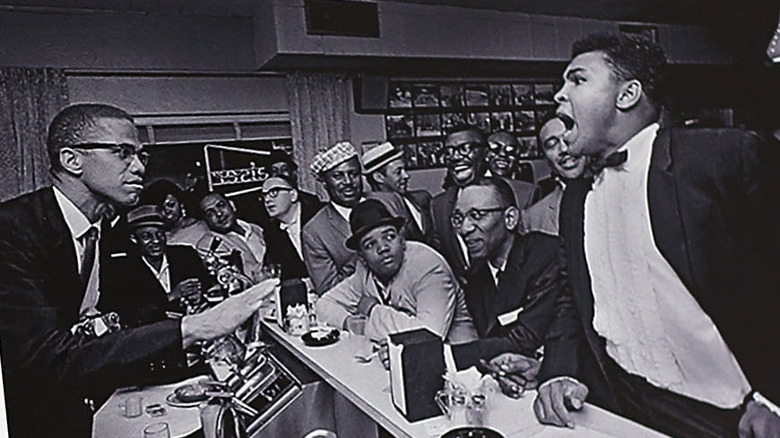 Joe Raedle/Getty Images
Malcolm X was considered too peaceful by the Nation of Islam, and they started to push him away. Things got worse when he revealed to the world that the Nation's founder, Honorable Elijah Muhammad, had mistresses and children with other women. Malcolm X walked away from the Nation of Islam and was disappointed when Ali didn't do the same, NPR reports.
Ali stood by Muhammad's side and believed Malcolm X was not loyal. Rumors claim that Muhammad told Ali to avoid his former friend, and their friendship was not the same again.
Malcolm X was killed on February 21, 1965. Ali admitted he had made a mistake nearly 40 years later, in his autobiography, "The Soul of a Butterfly: Reflections on Life's Journey," published in 2003. "Turning my back on Malcolm was one of the mistakes that I regret most in my life. I wish I'd been able to tell Malcolm I was sorry, that he was right about so many things ... He was a visionary — ahead of us all," Ali wrote (via Biography).
The documentary "Blood Brothers: Malcolm X & Muhammad Ali" streams on Netflix beginning September 9. The trailer is posted on YouTube.