This Is What Happened To Virginia's Robert E. Lee Statue After Its Removal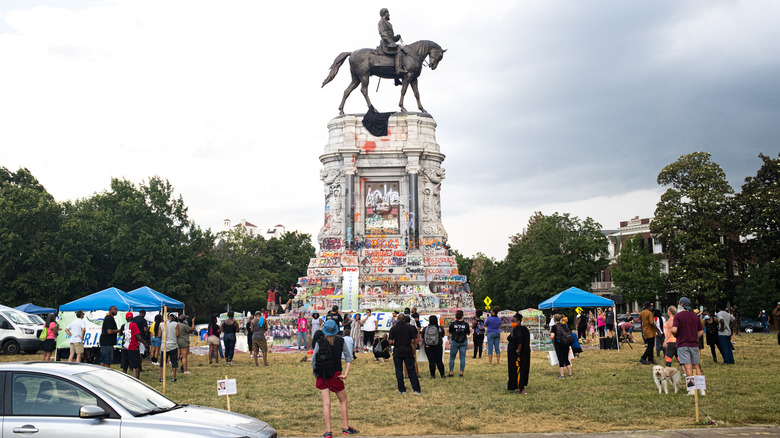 Eze Amos/Getty Images
Wednesday, September 8, 2021, marked an important turn in Richmond's history when the state of Virginia removed the long-standing statue of Confederate General Robert E. Lee. The statue was first erected on Richmond's Monument Avenue in 1890, as part of the Lost Cause of the Confederacy movement, which aimed to reinterpret the narrative of the Civil War with a more sympathetic view of the Confederacy, according to Encyclopedia Virginia. Now, 130 years later, the statue was lifted into the air by a crane while cheering protestors and Democratic Governor Ralph Northam looked on. Gov. Northam called the statue's removal "hopefully a new day, a new era in Virginia" and said "Any remnant like this that glorifies the lost cause of the Civil War, it needs to come down," via AP News.
The 40-foot-tall, 12-ton statue of General Robert E. Lee posed astride his horse was lifted off its pedestal and then lowered to the ground, where work crews used power saws to slice the statue into two pieces small enough to be transported under highway overpasses. The dismantled pieces will then be moved into secure storage at an undisclosed state-owned storage facility for the time being, according to AP News. The pedestal, which remains covered in graffiti, will stay on where it is for now, as the uncertain future of Monument Avenue is discussed, according to NPR.
The Robert E. Lee statue was one of the final remaining Confederate monuments in Richmond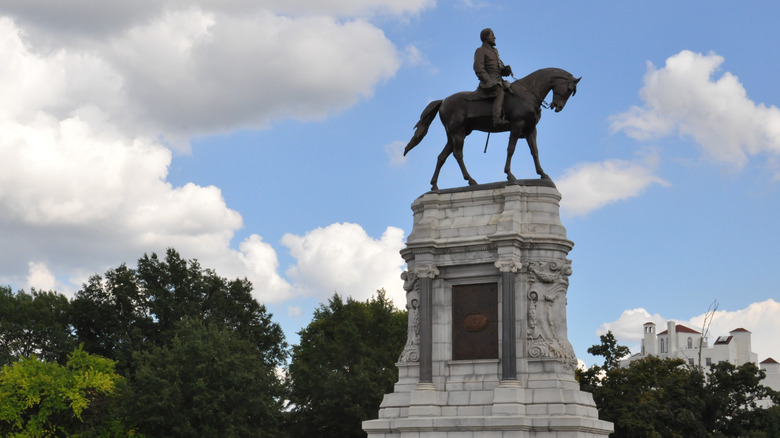 Ritu Manoj Jethani/Shutterstock
The Robert E. Lee statue was the largest Confederate monument on Monument Avenue and was one of the final ones still standing following the protests which erupted in the summer of 2020, in the wake of the killing of George Floyd by a Minneapolis police officer. The statue of Confederate President Jefferson Davis was torn down by protesters, while statues of other Confederate leaders like General Thomas J. "Stonewall" Jackson and J.E.B. Stuart were removed, per the Richmond-Times Dispatch.
Plans to take down the Robert E. Lee statue were first announced over a year ago, in June of 2020. However, lawsuits brought forth by the residents of Richmond's Monument Avenue, including Helen Marie Taylor and William Gregory, delayed the removal of the statue. On September 2, 2021, the Virginia Supreme Court ruled unanimously that Gregory "has no property right, related to the Lee Monument, to enforce against the Commonwealth," and therefore had no legal right to prevent the statue's removal, according to VPM. While activists celebrated the removal of the Robert E. Lee statue, they say their work is far from done. "In order for Richmond's history of false narratives to not repeat themselves, our work will continue to highlight the stories about Richmond's uprising, of our long time resistance to police violence, and a true remembering of how the monuments came down," activist Chelsea Higgs Wise said (via VPM).