Inside Elvis Presley's Friendship With Richard Nixon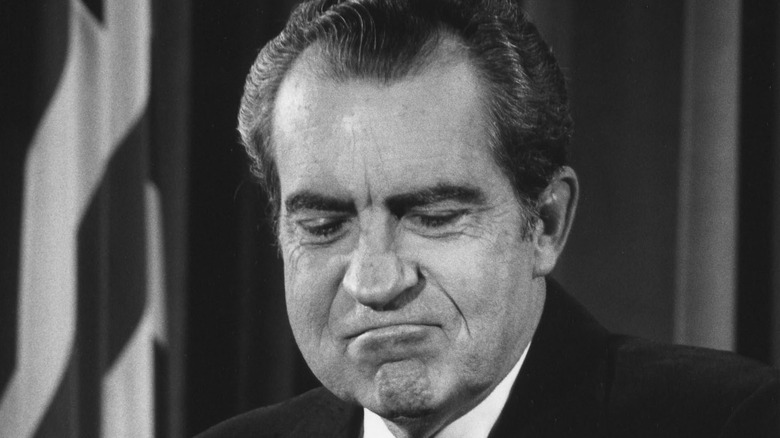 David Hume Kennerly/Getty Images
The day an American president met with an American king, of sorts, produced a photo that has endured for decades as one of the most popular and most requested photos ever from the U.S. National Archives (via National Archives). But for the release of that photo years later and a memo on the secret visit by an aide who was there at the time, we might never have known it even happened. Although a story about the meeting was published a year later, it didn't receive much attention. We're talking, of course, about the White House meeting between President Richard Nixon and Elvis Presley, the King of Rock and Roll, on December 21, 1970. The meeting occurred during a time both men were at the top of their game, before Nixon was corrupted by Watergate and while Presley was on a successful comeback tour.
Presley had flown to Washington with the intent of obtaining a badge from the federal Bureau of Narcotics and Dangerous Drugs to add to his extensive collection of police badges (via Smithsonian Magazine). After arriving in the Capitol, he dropped off a hand-written letter at a White House entrance gate asking for a meeting. "Sir, I can and will be of any service that I can to help the country out," he said in the note. Nixon aide Egil "Bud" Krogh, who happened to be an Elvis fan, received the note and thought the meeting would be a good idea. Nixon agreed (via Time Magazine).
Elvis gets his badge, sort of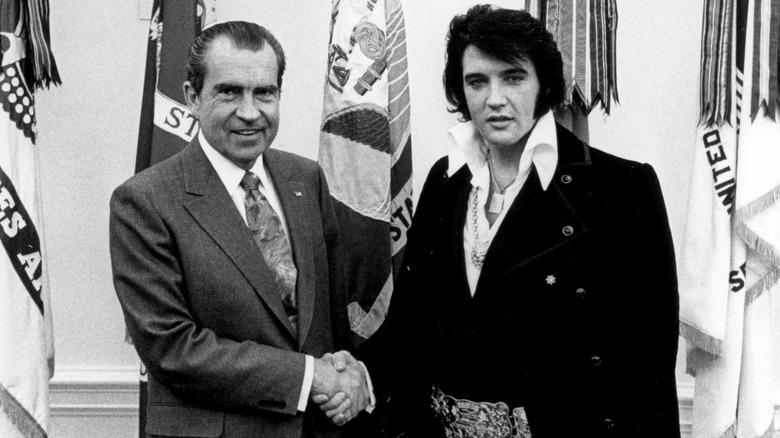 National Archives/Getty Images
The King arrived at the White House around noon dressed in a purple velvet suit, flashy gold belt, amber sunglasses, and with a Colt .45 pistol in a display case, which the Secret Service confiscated (via Smithsonian Magazine). What Elvis really wanted from the meeting with Nixon was the federal narcotics badge which he did not receive during a previous meeting that day at the drug agency. Priscilla Presley later wrote in her memoir "Elvis and Me" (quoted by Smithsonian) that the badge "represented some kind of ultimate power to him." He believed the federal narcotics badge would allow him to "legally enter any country both wearing guns and carrying any drugs he wished," she explained.
After meeting Nixon in the Oval Office and discussing how he could help the country, Elvis asked Nixon for the badge and the president agreed. Krogh then took the legendary singer to lunch at the White House and before he left, gave him the coveted shield. Aides later wrote that the badge was just an honorary one, but Elvis believed it was the real thing (via Time). It's unknown whether the president and the king ever met again before Nixon's fall from grace and Presley's death from a heart attack in 1977, if there was a friendship between the two beyond the famous photo that confirmed the covert visit.