The Truth About Mike Tyson's One And Only Playboy Mansion Invitation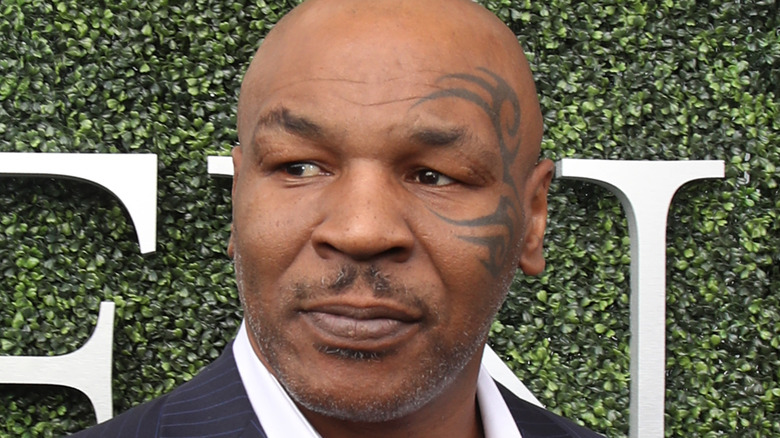 Leonard Zhukovsky/Shutterstock
Mike Tyson, the boxing world's notorious bad boy, had an interesting run at the height of his fame. When he wasn't in the boxing ring, Tyson was making headlines for being the common denominator in all sorts of controversies such as domestic violence, rape, prison time, addiction, and notably, his infamous cannibalistic act of biting fellow boxer Evander Holyfield's ear during a boxing match.
Most people know him for being quite a character, and that was something he quickly demonstrated when he visited the famous Playboy Mansion. The spacious historic home owned by Playboy magazine founder Hugh Hefner was the site of a lot of wild parties attended by the rich and famous. If you had some sort of notoriety in Hollywood, an invitation to the festivities held there was likely extended to you. Of course, the former heavyweight professional boxer was extremely famous in his heyday and he, too, was asked to attend an event there once. But Tyson's actions during his first visit would cause it to be his last.
Tyson's first and final Playboy Mansion invitation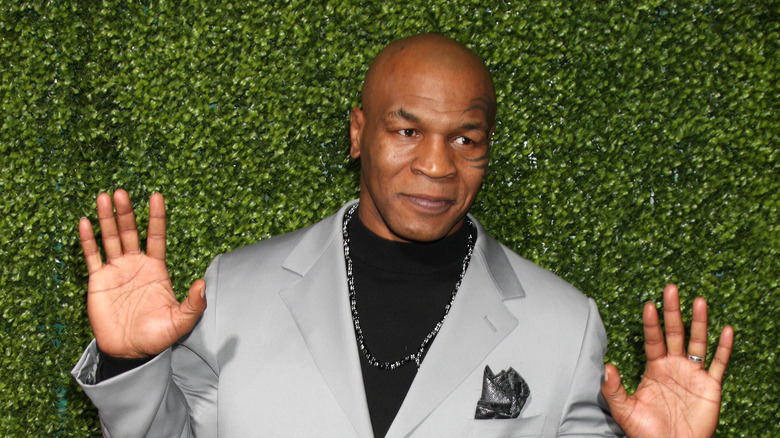 Kathy Hutchins/Shutterstock
Tyson was known for being wild, and the Playboy Mansion was a place that was popular for its "wildness." But even with that reputation, the Mansion had its rules — rules that a bad boy like Tyson just didn't care for.
According to Esquire magazine, when Tyson stepped foot into the home of the Playboy bunnies, he started to smoke. His smoking left a bad taste for many people because it just wasn't something people commonly did there. And that wasn't the only sign of poor guest manners he'd showcase that day.
It was a movie night and the film of the evening was "Capote" (via House Digest). Hefner was apparently a big movie guy and took his movie nights very seriously. During the showing, however, Tyson quickly fell asleep. Shortly after he dozed off, his phone started ringing — an enormous breach of movie night etiquette at the Mansion. Other guests didn't know where the sound was coming from until they all realized that the pesky ringing was coming from a sleeping Tyson. And of course, the boxer never heard his phone ring and slept through the entire disruption — as well as the phone ringing a second time. No one was brave enough to wake him, because who would want to wake up Mike Tyson?
That night would cost him any future invitations to the Mansion, and led to the creation of a new house rule banning smoking — all thanks to Tyson.