Here's What The Bible Really Says About Addiction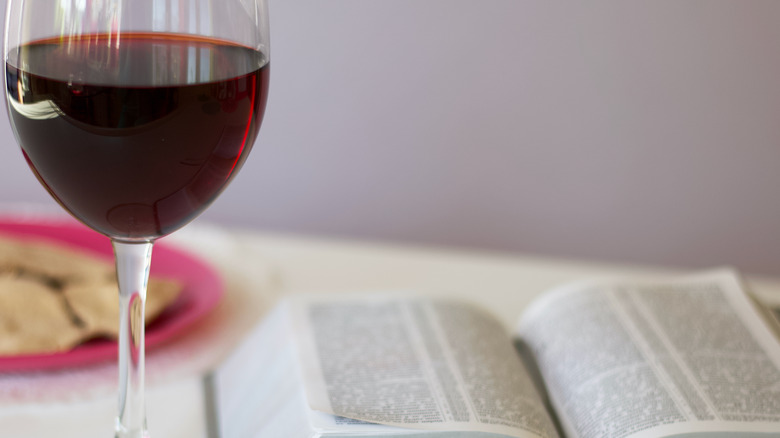 Yakubovich Vadzim/Shutterstock
Addiction is a medical condition affecting the brain. As defined by the New York Society of Addiction Medicine, it can cause someone to have a strong dependence or reliance on a substance or a behavior that can cause them harm. Having an addiction will significantly change the function of someone's brain and have a strong impact on their life, depending on how severe it is. There are various things that people can form an addiction to — anything from alcohol to drugs to food, and even our phones, says Drug Abuse.
As more awareness around addiction is raised, many people seek out professional help for their illness. But prior to that, and long before there were critical health interventions to this problem, many people suffered grave consequences. And sadly, it's an issue that's been around since the beginning of time — even the Bible has more than a few words to say on the matter. The religious text has several chapters and verses that explore how people can develop addictions. Let's see what they say.
The Bible verses about addiction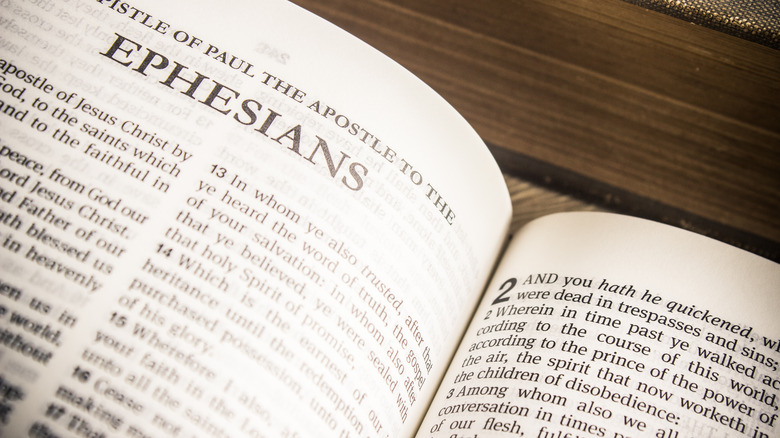 aradapollawat/Shutterstock
There are about six verses that discuss addiction in the Bible. While the word addiction itself is not specifically mentioned, Scripture uses other terms that relate to addiction, such as temptation and overindulgence.
One particular verse of Ephesians 5 specifically warns against the overconsumption of wine because it can lead to immoral behavior. As a solution, it asks that one seek out their faith for enjoyment. In verses 18-20 it states: "Do not get drunk on wine, which leads to debauchery. Instead, be filled with the Spirit, speaking to one another with psalms, hymns, and songs from the Spirit. Sing and make music from your heart to the Lord, always giving thanks to God the Father for everything, in the name of our Lord Jesus Christ" (via Bible Gateway).
In the Gospel of John, chapter 16, verse 33, Jesus offers encouragement in the face of life's challenges. due to the challenges: "I have told you these things, so that in me you may have peace. In this world you will have trouble. But take heart! I have overcome the world."
Words of support for sufferers of addiction in the Bible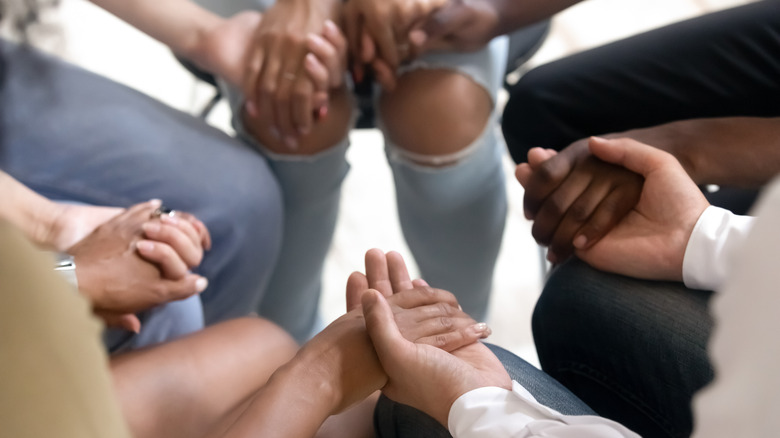 fizkes/Shutterstock
The verse just before it states no one will be left alone in whatever battle they face as long as they have faith in God, per Bible Gateway. Another verse highlighting how it can affect anyone is in First Corinthians chapter 10, verse 13. It says that a battle with intrigue and falling into our urges is only a temporary problem. It states: "No temptation has overtaken you that is not common to man. God is faithful, and he will not let you be tempted beyond your ability, but with the temptation he will also provide the way of escape, that you may be able to endure it." And in Thessalonians 5, it asks that people practice soberness alongside their faithfulness.
As there are passages that discuss what we call addiction today, the Bible also has some areas that explore recovering from it, too. Today the medically preferred advice for people suffering addiction is a lot different from what is in the Bible. Nevertheless, it has been helpful to many.