The Iconic Way Bela Lugosi Was Buried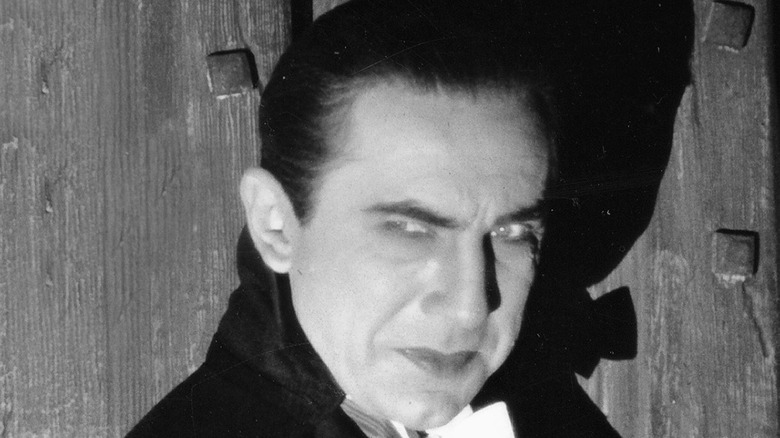 United Archives/Getty Images
Known as the quintessential Count Dracula, actor Bela Lugosi came to embody one of the most famous monsters of all time. The so-called Master of Horror shot to stardom in the United States after playing the title role in the 1927 Broadway adaptation of Bram Stoker's "Dracula" in a three-year run (via BelaLugosi.com). With his black, slick-backed hair, thick Hungarian accent, and intensely hypnotic gaze, Lugosi captivated audiences as the famed bloodsucker. When director Tod Browning adapted the story for film, there was never any doubt about who would play the leading role. Lugosi reprised his stage role in 1931's "Dracula" and went down in movie history as "one of the screen's greatest personifications of pure evil," IMDb wrote.
Lugosi's authentic and lasting portrayal of Count Dracula, despite the dozens of actors who came after him in the role, is no doubt due in part to his classical theater training. He was born in 1882 in Lugos, Hungary — at the time, Austria-Hungary, and now Lugoj, Romania, according to Britannica. Oddly enough, Lugos is a town near the western border of Transylvania, not far from Dracula's legendary castle in the Carpathian Mountains. 
Lugosi was frustrated by typecasting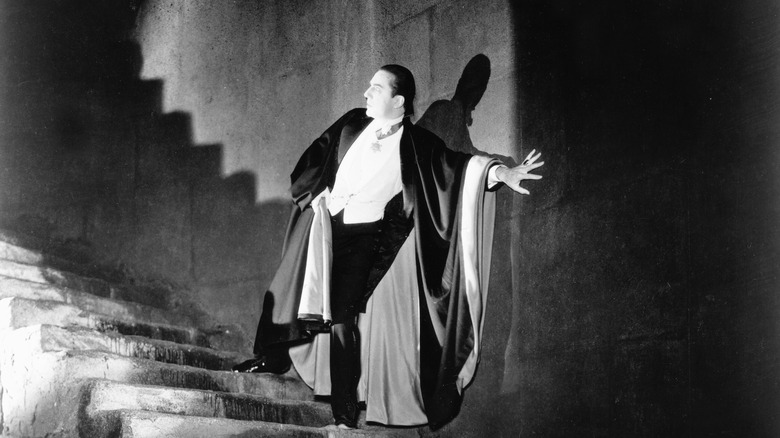 United Archives/Getty Images
By the early 1900s, Lugosi was an established actor and a member of the National Theater of Budapest, according to his son, Bela Lugosi, Jr. Recognized for his acting versatility, he started appearing in films during World War I and emigrated to the U.S. in 1920 (via IMDb).The suave and elegant Lugosi worked steadily during the 1930s after shooting to fame following his star-making turn as Dracula, but he was frustrated by the typecasting he endured for the rest of his life as a result.
Unfortunately, his career suffered when he was blacklisted by shady top executives at the main Hollywood studios during the communist witch hunt of the 1940s and 1950s following World War II (via Britannica). In order to keep working, Lugosi accepted almost any part offered to him, many in B films parodying his most iconic role. He even worked for the man considered the worst film director of all time, Lugosi admirer Ed Wood Jr., according to IMDb.
Lugosi was buried in Dracula cape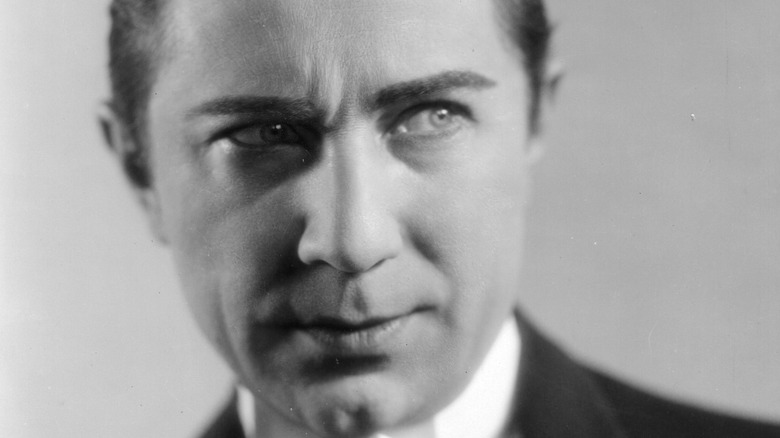 Mabel Livingstone/Getty Images
Despite the typecasting, in the end, Bela Lugosi's favorite role was Dracula, says his son. The actor died of a heart attack on August 16, 1956, at his home in Los Angeles (via BelaLugosi.com). He was 73 year old. Rumors and myths have abounded over the decades that Lugosi was buried in full, original Dracula costume and cape from the 1931 movie, but that's not true (via IMDb). Lugosi was laid to rest in costume as Dracula, but wearing a replica cape, according to BelaLugosi.com. The original cape went to his son; it was put up for auction in 2011, according to NPR, but it failed to sell, as The Hollywood Reporter related in 2019.
Also not true was the rumor that Frank Sinatra paid for his funeral. Lugosi, drug- and alcohol-addicted, died nearly penniless; he had just $1,900 in the bank and about $1,000 in real estate at the time of his death, reports Showbiz Cheat Sheet. Lugosi was married five times, and one of his ex-wives, Lillian Lugosi, paid for the funeral and the burial plot. His last wife, Hope Lugosi, paid for the casket (via Britannica).
Bela Lugosi was interred in the Grotto at Holy Cross Cemetery in Culver City, California. He is still considered by many as the greatest Count Dracula of all time.
If you or anyone you know is struggling with addiction issues, help is available. Visit the Substance Abuse and Mental Health Services Administration website or contact SAMHSA's National Helpline at 1-800-662-HELP (4357).