The Truth About Robert Mugabe's Corpse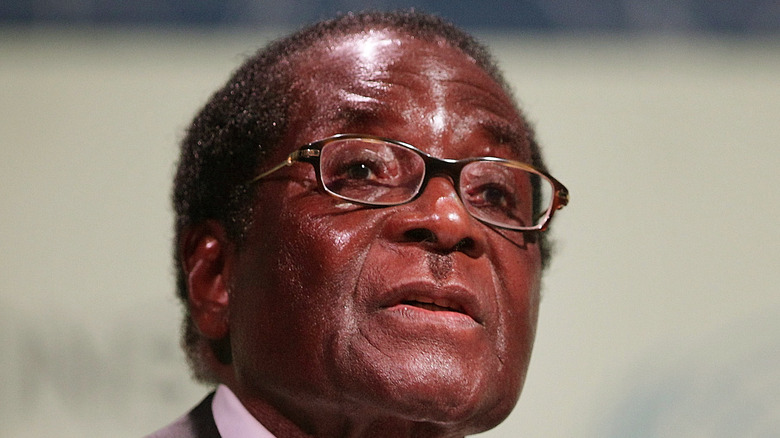 Peter Macdiarmid/Getty Images
He was Zimbabwe's longest running leader before resigning in 2017. Nearly two years after surrendering office, Robert Mugabe died at the age of 95. The former dictator is considered the founding father of Zimbabwe. Formerly a British colony under white minority rule, he ruled for 37 years after its independence — first as prime minister and then as president.
His death on September 6, 2019, was met with mixed reactions, given that a lot of Zimbabweans at home and abroad celebrated his resignation, via The Atlantic. Mugabe was a defiant leader who once said only God could take him from power, per France 24. Once heralded as the man who liberated the country and stood strong against Western powers, Mugabe's reputation would gradually change as he maintained power, which earned him a lot of criticism and loss of popularity, per the BBC.
Some months before he left, his health started to deteriorate. By 2019, Mugabe's health was worse. He had reportedly been admitted to a Singapore hospital in April of that year for an "undisclosed illness." By early September, he was dead.
Mugabe was born on February 21, 1924, in what used to be called Southern Rhodesia (via Biography). A well-educated Mugabe would rise in popularity after he founded a resistance movement to stand against British colonization. It would set in motion his political aspirations, and he would lead the Black liberation movement that would land him in prison, but eventually place him in the role of prime minister.
Robert Mugabe's memorial services
Bloomberg/Getty Images
A few days after his death was reported, Robert Mugabe's body was flown back to Zimbabwe from Singapore, reported The Los Angeles Times. When Mugabe's corpse arrived, it was met by soldiers at the country's main international airport (via CNN). Being a former head of state meant that many other leaders from around the African continent and the world would be coming to attend his funeral service. Some of those leaders included presidents from other African countries such South Africa, Zambia, Botswana, and Mozambique (via APA News). South African president Cyril Ramaphosa would speak at Mugabe's funeral service (available on YouTube).
Mugabe's corpse would evidently make several rounds for his memorial services. First, his body would lie in state at the national stadium in Zimbabwe's capital of Harare, per Voice of America. The stadium is also where his national funeral service was held. 
After which, there would be a disagreement between Mugabe's family and the Zimbabwean government over the final resting place of his body. As the debate over his burial continued, his corpse would make a stop at his native town of Kutama in the Zvimba district. Zimbabweans paid their respects to him, but Mugabe's corpse had another trip to make. His body was transported again back to Harare (via SABC News). 
The fight over Mugabe's corpse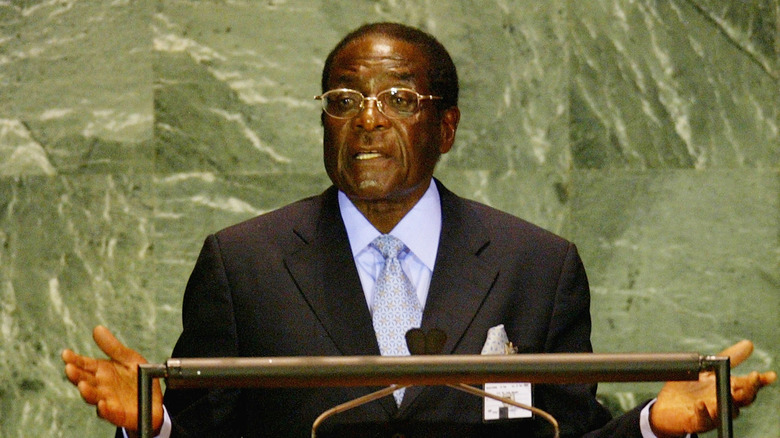 Spencer Platt/Getty Images
The Mugabe family and the Zimbabwean government continued to be at war on where Mugabe would be laid to rest. Mugabe's relatives wanted him back in Kutama, and the government wanted his body interred where his first wife was buried — the National Heroes Acre in Harare (per Reuters). While the battle continued, Mugabe's corpse was apparently at his mansion with his widow Grace Mugabe, per the BBC. The corpse remained there as arguments went on. Ultimately, his family's choice had won out, and he was buried in Kutama on September 29, 2019 (via Al Jazeera).
A major part of the debate over his burial location had to do with the family being upset over the coup that ended his decades-long rule. Mugabe's family didn't want the government allegedly responsible for taking him down to have a say in where he'd be buried.
Yet, another point of view focuses on Zimbabwean tradition. Despite being president, Mugabe was also a chief, per Yahoo News. And in this case, there are postmortem rituals that need to be followed in the death of a chief. These customs included the drying of his body and the extraction of his teeth and nails. Tradition dictated that he wasn't a good fit to be buried in a national cemetery, according to a Zimbabwean spiritual healer. 
Interestingly, the battle over his corpse still persists. In May 2021, a Zimbabwean chief in the Zvimba district claimed that Robert Mugabe's widow broke tradition when she had him buried there, per CNN. Apparently, it went against local custom, and she was fined for it. Then on September 10, a Zimbabwean court ruled that Mugabe's remains needed to be exhumed and reburied in Harare, according to Reuters. His family has appealed, and the future is uncertain on whether the late dictator's remains will stay in Kutama or go to Harare.