The Tragic Death Of One-Hit Wonder Ray Smith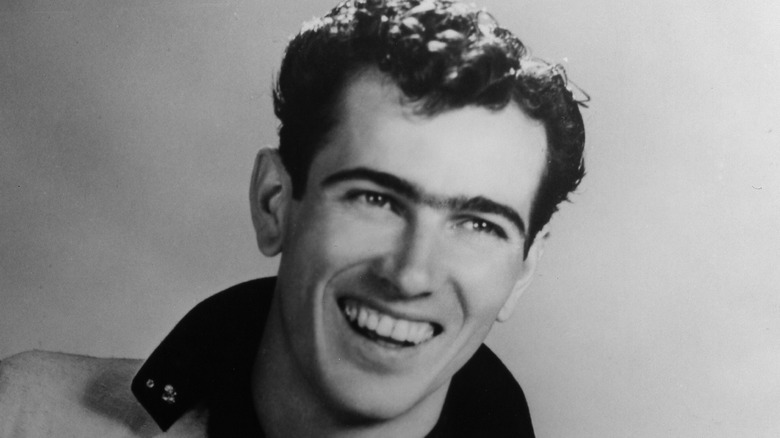 Michael Ochs Archives/Getty Images
Even in the earliest days of rock 'n' roll, making the Billboard charts even once was a big achievement in and of itself. No matter what era of popular music you're thinking of, there are literally thousands of bands and solo singers hoping to crack any one of the publication's many charts for the very first time. And while the definition of the term may vary, there are countless one-hit wonders who had their proverbial 15 minutes of fame before fading into obscurity — or simply returning to their status as a niche act with a loyal, yet non-mainstream following.
Ray Smith is among the many classic one-hit wonders whose greatest works have mostly been forgotten through the passage of time. The Kentucky-born rockabilly singer emerged on the heels of heavyweights such as Elvis Presley, Jerry Lee Lewis, and Carl Perkins, but unlike those three icons, he only cracked the top 40 once, with his single "Rockin' Little Angel" peaking at No. 22 on the week of February 22, 1960, according to Billboard. The song was a harder-edged rewrite of the old folk tune "Buffalo Gals," and with its catchy simplicity, it wasn't surprising that it turned out to be a decent-sized hit. Unfortunately, Smith's career fizzled out soon after "Rockin' Little Angel," and on November 29, 1979, he was dead at the age of 45.
Ray Smith died by suicide after spending several years in relative obscurity
Charles Paul Harris/Getty Images
Raymond Eugene Smith was born in Melber, Kentucky, on October 30, 1934 (via Find a Grave), and was a late bloomer who only started performing in public in 1952, shortly after he enlisted in the Air Force. A self-taught musician who became skilled in guitar as well as other instruments, Smith formed a band in 1956 that mostly enjoyed success in his home state and in Illinois, per AllMusic. After catching the attention of early rock 'n' roll label Sun Records, Smith went on to release several singles as a solo artist, with the fourth one, "Rockin' Little Angel," finally taking him to the pop charts. 
The next 20 years or so after the release of "Rockin' Little Angel" in 1959 were spent recording rock 'n' roll and country singles for several labels. None of Smith's follow-ups to his biggest hit came remotely close to eclipsing its chart success, but he kept soldiering on. He moved to Canada in 1967 (via Tims), though he would also play shows in Las Vegas and England as part of the rock 'n' roll revival circuit.
In 1979, Smith cut an interview where he lamented how he didn't get a fair deal as a musician in terms of royalty money but stressed that he loves the music business and will keep playing "until the day I die," as quoted by the Rockabilly Hall of Fame. Sadly, he died by suicide on November 29 of that year, leaving behind a legacy as an underrated performer whose one-hit-wonder status only scratches the surface of his accomplishments.
If you or anyone you know is having suicidal thoughts, please call the National Suicide Prevention Lifeline​ at​ 1-800-273-TALK (8255).