Why Sir Alfred Was Stuck In An Airport For 18 Years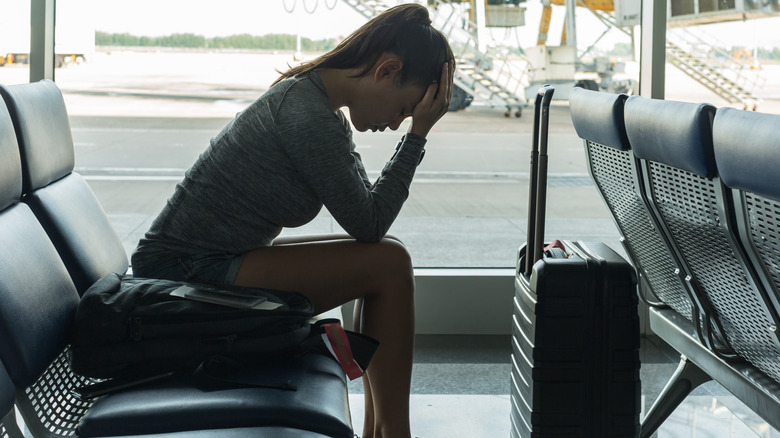 christinarosepix/Shutterstock
Anyone who's traveled can tell you about the pain of a long layover. Sometimes canceled or delayed flights even lead to an overnight stay, throwing plans made months in advance into disarray. Yet none of us can claim to have had an airport experience quite like Mehran Karimi Nasseri, or "Sir Alfred" as he likes to be called, the man who lived in a Parisian airport for 18 years (via The Vintage News).
Sir Alfred was born the illegitimate child of an Iranian oil worker and a Scottish nurse and was banished from his family after his father's death. After studying in England for a few years, he lost his Iranian citizenship after participating in anti-Shah demonstrations and was left without a country to call home. He applied for refugee status and lived in Belgium for a few years before deciding to return to the UK to find his birth mother. But when he boarded a flight from Paris to London without proper documentation, Sir Alfred was sent back and had nowhere to go. So he didn't.
Sir Alfred made his living within an airport terminal
fitzcrittle/Shutterstock
According to History of Yesterday, Sir Alfred was missing his refugee papers, meaning he could not enter or exit any country. Airports, however, are considered international space, so he was allowed to live there. He made money by doing small jobs around Charles De Gaulle Airport's Terminal One, despite not speaking any French, and ate within the terminal's restaurants, usually McDonald's. He used his spare time reading or people-watching, in no apparent urgency to leave the airport.
A French human rights lawyer learned of Nasseri's predicament and fought for years for Belgium to send the stranded man his new refugee papers, as the system at the time only allowed Sir Alfred to pick them up in Belgium, which was not possible. Yet when the former Iranian received the new papers in 1999, he thought they were fake and rejected them. It took another 7 years for Sir Alfred to leave the airport, and it happened only when he had to be hospitalized due to illness. By this time, he had more than enough spare change for McDonald's, having sold the story rights to his life for $300,000 for what eventually became the 2004 movie "The Terminal." Sir Alfred did not return to the terminal, and rumor has it he eventually did earn his British citizenship. It only took two decades.