Did Harry Houdini Live A Double Life As A Spy?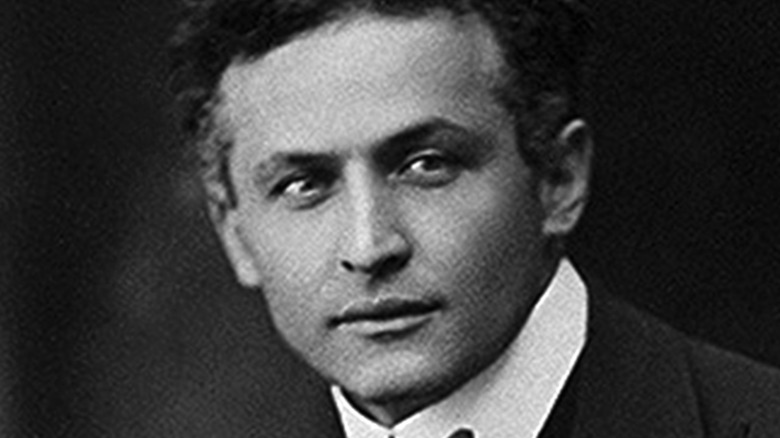 Donaldson Collection/Getty Images
Illusionist Harry Houdini is known the world over as one of the greatest magicians to ever weasel his way out of a straight jacket. The guy had an uncanny ability to get himself out of even the most life-threatening situations and blow peoples' minds.
But there's a lot more to his life than people commonly know. For example, did you know the strange thing that formed the basis of Harry Houdini and Arthur Conan Doyle's relationship? Or the weird thing that he requested be made for the pillow of his coffin? It actually makes sense. If your business is mystery, it helps to be a true enigma.
Apparently, history's greatest escape artist was even more illusory than we thought. That's according to the sensational 2007 biography "The Secret Life of Houdini," by authors William Kalush and Larry Sloman. NPR published an excerpt from the book, and noted how it suggests that there were even more layers of mystery to the man than previously thought.
Harry Houdini may have served as a spy before World War I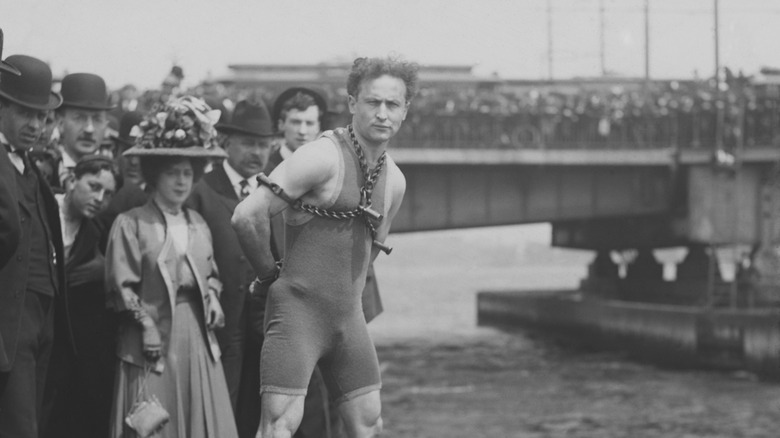 Everett Collection/Shutterstock
Kalush and Sloman told NPR that Houdini made friends with a high-ranking official in Scotland Yard named William Melville. At the time, Melville was in charge of England's foreign intelligence agency, and he endorsed Houdini to go to Germany to act as a spy for the U.S. and British governments.
Houdini spoke German and was not well known in Germany. The authors found that he was sending reports back to England about what he saw on the ground in Germany. He would perform at events like military exercises, in the process getting a good look at the aircraft the Kaiser was getting ready for combat. Some of the reports were extremely important to England's foreign intelligence service. Melville even wrote about it in his diary: "Received the report from HH, took it straight to the War Office."
So it appears that the more you look into the life of Harry Houdini, you find that he really was one of the most adept artists of misdirection to have ever walked this Earth. Who knows what else future research into his life's story will find?