The Undertaker's Transformation Is Seriously Turning Heads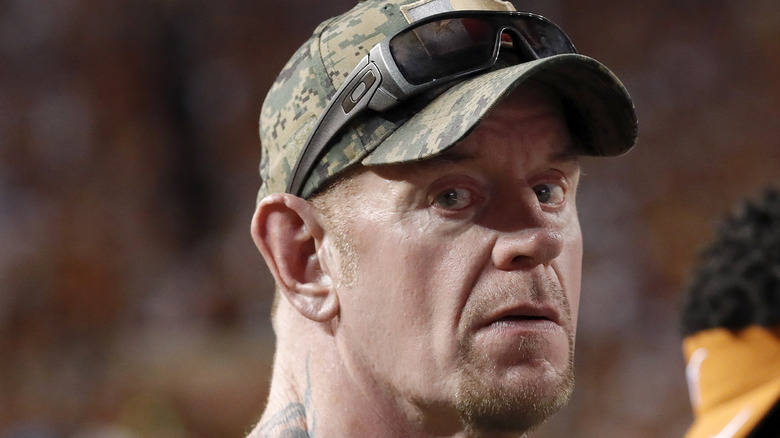 Tim Warner/Getty Images
The Undertaker, at all of his 6'10" height (according to the WWE), first entered the public's consciousness when he had his first WWE (the WWF back then) match in 1990, which was called the Survivor Series. Over the course of the next 30 years before his retirement in 2020, he cemented himself as one of the greatest wrestlers of all time. The man who took a dark, supernatural vibe with him into the ring, replete with eye-rolls and finishing moves such as the "Tombstone," did battle with superstars like Hulk Hogan, Mankind (whose 1998 "Hell In a Cell" match versus The Undertaker still remains entrenched in wrestling lore according to Pro Wrestling Stories), his "half-brother" Kane, The Rock, and "Stone Cold" Steve Austin, among others.
The thing that set him apart from many other wrestlers is that he never ever broke character. Other wrestlers attempted to get him to do that, like Brock Lesnar in 2015's SummerSlam, only to find the effort futile, according to CBR. He was a professional's professional and it earned him almost total respect in the locker room among his co-workers. It was only after he retired that he talked about the acting part of the job.
When he stepped away from the ring and dropped all aspects of The Undertaker role, it changed many people's perception of him. Gone was the intimidating, and quite frankly sometimes terrifying aura that surrounded the one that people called The Deadman. He became, well ... human. Exit The Undertaker and enter Mark Calaway.
The Undertaker both terrified and entertained fans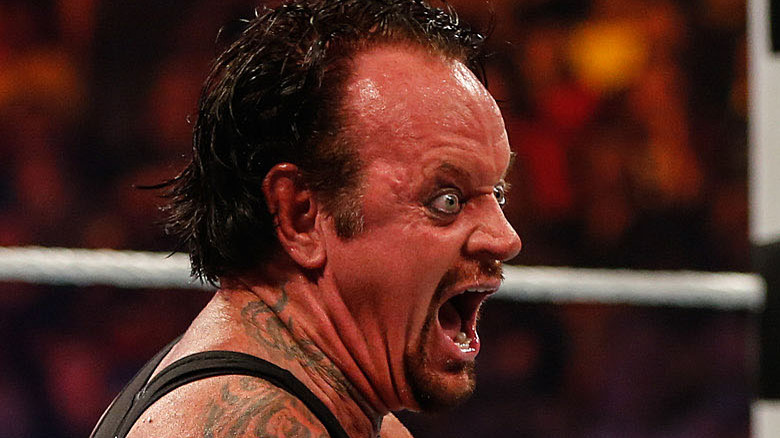 Jp Yim/Getty Images
People who were used to seeing him in his gothic garb, which included a black, wide-brimmed fedora and black trenchcoat and (usually) long hair had to adapt to the sight of him wearing a camo cap, t-shirt, and jeans. Fans did get a more intimate glimpse of him when he shifted to an American Badass biker persona that featured his wearing a bandanna and riding a chopper to the ring for about four years from 2000-2004. According to Wrestling Inc., when he left the WWE, he also shed 25 pounds to help him have a healthier life after spending roughly 300 days a year on the road for 30 years doing the physically taxing job of being an elite pro wrestler.
Calaway is now seemingly retired from the wrestling ring, though he did don The Undertaker persona once more recently. That was for a Netflix interactive movie called "Escape The Undertaker" where he traps The New Day, a trio of current WWE wrestlers, in a mansion and stalks them, according to IMDb. The show premieres on Netflix on October 5, 2021. If it does well in terms of ratings, perhaps he may appear once again on the TV screen or at movie theaters.