The Truth About Eminem's 'Mom's Spaghetti' Restaurant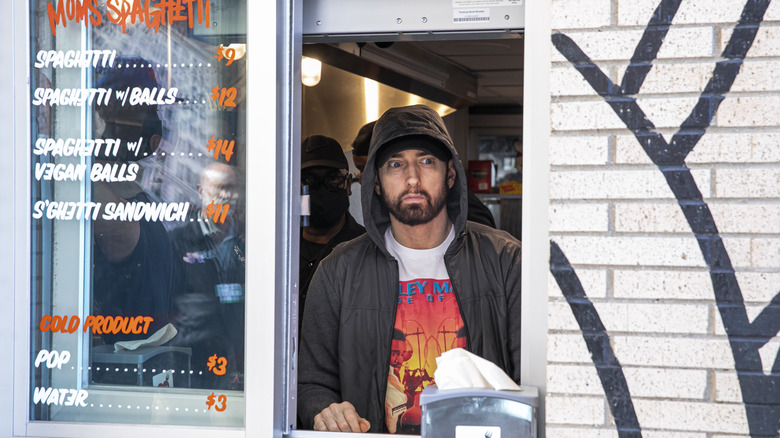 Scott Legato/Getty Images
His palms are sweaty. Knees weak, arms are heavy. There's vomit on his sweater already ... What is it? Mom's spaghetti. Well, now both you and Eminem can be stained by the same disgorged pasta sauce. "Mom's spaghetti" is no longer just a curiously placed image in the nearly 20-year old Eminem track "Lose Yourself," featured in the film "8 Mile" (2003). It's an honest-to-goodness restaurant "in the alley next to Union Assembly" on Woodward Avenue in Detroit, as the restaurant's absolutely for real YouTube promo says. And no, this isn't some elaborate prank pulled by Eminem to promote an upcoming album or tour. 
As the Mom's Spaghetti website says, they've got a deliberately streamlined menu (someone must have known the lines would be long and demand high). Spaghetti is served in a Chinese takeout-style box with a plastic fork, in regular, with meatballs, or with vegan "rabbit balls" (an homage to Eminem's character in "Lose Yourself," B-Rabbit.). Or if you prefer your pasta on a plate between slices of bread, they've got "s'ghetti sandwiches." 
Everything about the restaurant is so meta and self-referential, it seems completely surreal. Imagine if Metallica opened a dimly lit steakhouse called "Exit Light," and all the menus required black lights to read — that's the situation we're dealing with here. And who showed up on Mom's Spaghetti's opening day? Eminem himself, bedecked in hat and hoodie, at the takeout window. Bonus points to anyone who asked him, "Is that vomit on your hoodie already?"
Designed to taste like high-quality leftover pasta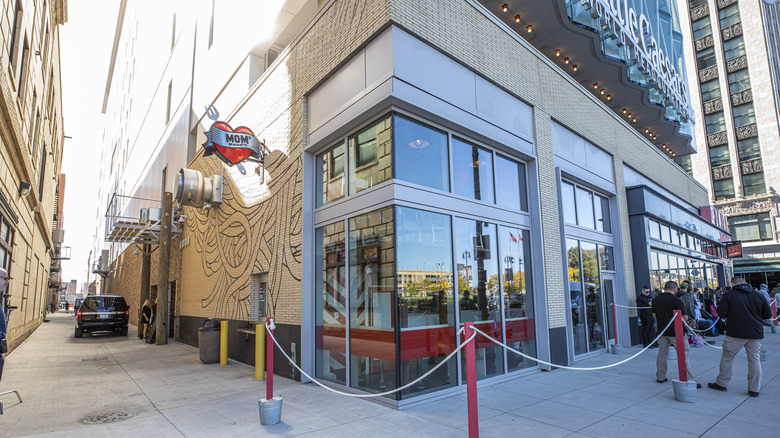 Scott Legato/Getty Images
The Union Joints restaurant group, which runs the nearby Union Assembly restaurant across from Comerica Park on Woodward Avenue, was on board with Eminem's restaurant from day one. "It started as a crazy experiment," Curt Catallo, co-owner of Union Joints, said on Detroit News. "It was never meant to be the best spaghetti in the world, but rather was conceptualized to taste like reheated day-old pasta," continuing, "It's great pasta that we cook the night before, and reheat in a wok like you're reheating it on a stove the next day. We had to redo the sauce a few times, because it was coming out tasting too fancy."
This isn't the first time Eminem has served up pasta, though. Mom's Spaghetti was a pop-up in 2017, connected to Eminem's "Revival" album, then followed him on tour in 2018. During the coronavirus pandemic, he's been spotted serving frontline workers. Above the restaurant on the second floor is an Eminem "merchandise hub" called The Trailer — further referencing his down-and-out Detroit roots — full of t-shirts, hoodies, vinyl, and more.
So what's the verdict about the pasta itself? "It's pretty good, I would say," one patron stated. "They know what they're doing in there." Others simply seemed happy to connect to Eminem's music rather than the pasta itself, saying, "His music has always really touched me and motivated me and inspired me," and "It was really nice being around everybody who likes the same artist."