VideOh No: The Worst Of Taylor Swift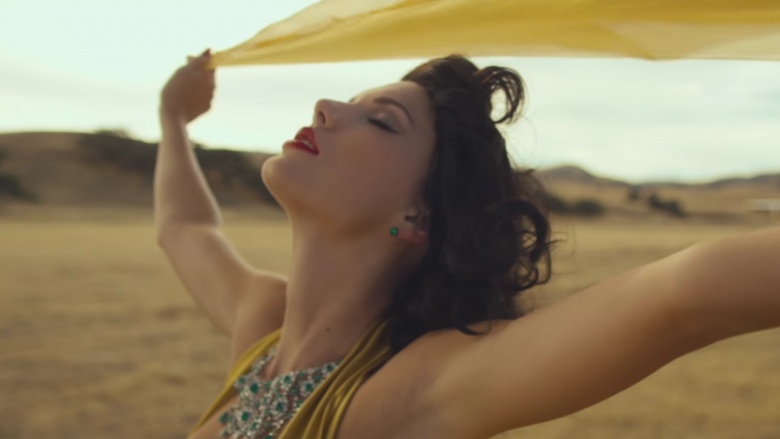 Taylor Swift's videos are usually pretty epic productions, with stunning visuals, labyrinths of rich and complex storylines, and our heroine looking incredibly gorgeous and usually red-lipped. I admit that I find myself having a love-hate relationship with several of Swift's music videos. On one hand, I love the fashion, the general vibe, and many of the songs themselves. On the other, I tend to overthink them and that's when I wind up liking them less and less as time wears on. See! That's what happens when I start analyzing the teen queen's visuals. So, here are T. Swizzle's worst videos.
"Bad Blood"
I love and hate this video for the same reasons you love and hate this video. I love it because of the way it aesthetically riffs on Sin City and comic book culture, making Swift and her girl squad seem like authentic nerdy cool badasses. But I hate it because I am not a card-carrying member of said squad that features babes like Gigi Hadid, Cara Delevingne, Selena Gomez, and Zendaya as well as rapper Kendrick Lamar. #CursingMyFate. But in all seriousness, the not-so-sanguine video is slick, sanitized, and ultimately soulless. It's simply too perfect to be badass. Sorry, Tay! A video for a song called "Bad Blood" better have some actual platelets.
"We Are Never Ever Getting Back Together"
The pajamas and the black serial-killer glasses are too much. Here, Swift is trying way too hard to be a wink-wink, nudge-nudge hipster, which is really just her way of showing the world that she "gets" what hipsters are and firmly and unapologetically isn't one of them. The band-members wearing those weird plush animal onesies and her totally arhythmic dancing are probably meant to be endearing, but they annoy me more than anything. At no point during the viewing of this video am I like, "OMG! This is too cute for words." Because it just isn't.
"Wildest Dreams"
America's sweetheart was criticized for her video for "Wildest Dreams," with opponents claiming that she was romanticizing the concept of white colonialism. It's not hard to see why people made that leap, since the basic storyline follows a romance between two white people (Swift and her lover) and it takes place in Africa. There are gorgeous views of the country and its native animals...but there are no Africans. For that, T. Swizzle drew plenty of backlash as accidentally racist. Director Joseph Kahn issued a statement, saying, "'Wildest Dreams' is a song about a relationship that was doomed, and the music video concept was that they were having a love affair on location away from their normal lives. This is not a video about colonialism but a love story on the set of a period film crew in Africa,1950...The video is based on classic Hollywood romances like Elizabeth Taylor and Richard Burton." He also stated, "There is no political agenda in the video. Our only goal was to tell a tragic love story in classic Hollywood iconography."
"You Belong With Me"
I'm sorry but it's just hard to buy the notion that someone who is as preternaturally gorgeous as Swift is the "other" and less desirable woman playing second fiddle to the flawless cheer captain! She is the cheer captain. I appreciate the sentiment of storytelling and that Swift is the poet laureate for all the girls who really are passed over by the object of their affection. But it's really hard—too hard—to accept Swift as the geek she plays in the clip. Just because she throws on too-big black glasses does not make her a believable, lovelorn dork. It just doesn't. Her overacting is painfully apparent, too. Do they give Razzies for music videos? Maybe they should.
"Blank Space"
Here, Swift plays the psycho ex-girlfriend and she's poking fun at the media's rampant portrayal of her fabulously failed and doomed romances. But she really takes it to the next melodramatic level. It almost feels like she's insensitive to those who really do struggle mightily through breakups because they are regular people who aren't BFFs with Selena Gomez and Hailee Steinfeld and therefore can't have an A-list, cookie-baking pity party with them. The image of the distraught and discarded Swift with smeared mascara, perfectly painted red lips, and crazy eyes while singing and looking at the camera feels all too real. Or is it "reel"? It's another case of Swift passive aggressively suggesting she is smarter than the rest of the world. Maybe she is. But probably not.