This Is Why The Oldest Bookstore In The US Is Said To Be Haunted
In 1745 — four years after Bethlehem, Pennsylvania, was founded — an innkeeper named Samuel Powell began importing and distributing books in the town, according to The Guardian. In its early years, the business sold and printed books, mostly of the religious variety. By the early 1900s, the shop had changed locations a handful of times and expanded to occupy multiple nearby buildings. In 1905, it assumed the name Moravian Book Shop, after the Protestant denomination that Powell had belonged to.
Today, the Moravian Book Shop occupies 15,000 square feet in downtown Bethlehem and a new location in nearby Allentown. It is known as the oldest bookstore in the U.S. and, per The Guardian, possibly the oldest continuously operating bookstore in the world. Moravian has seen nearly three centuries pass, and according to reports, it may still be haunted by the ghosts of its past. Here's more on the hallowed history of one of the world's oldest bookstores.
Moravian Book Shop allegedly has a resident ghost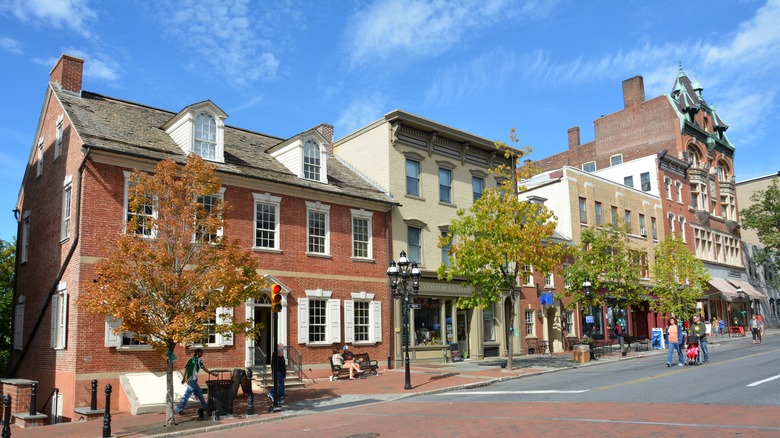 Alizada Studios/Shutterstock
Bethlehem, Pennsylvania, is a generally historic town, and such rich history can be spooky territory. According to Mental Floss, the town holds annual ghost tours. Significant landmarks include the God's Acre cemetery, the Sun Inn, and the Hotel Bethlehem, all of which have reported strange occurrences suggesting the presence of otherworldly spirits.
The historic Moravian Book Shop is no exception. Manager Lisa Girard and longtime bookseller Jane Clugston told The Guardian about the shop's resident ghost. Clugston recalled a time when she and a fellow employee had followed a dark figure back into the store's kitchen, to discover that the stove and fan were both turned on.
"I don't know why this person, ghost, spirit drew us back there, but I guess to turn off those appliances," Clugston said. "I'd never thought of it until I told someone else, and they said a ghost led you back there. But in that back hallway, a lot of people have said that they've felt things, and they've seen things."