Thomas Jefferson Had A Secret Retreat You May Not Know About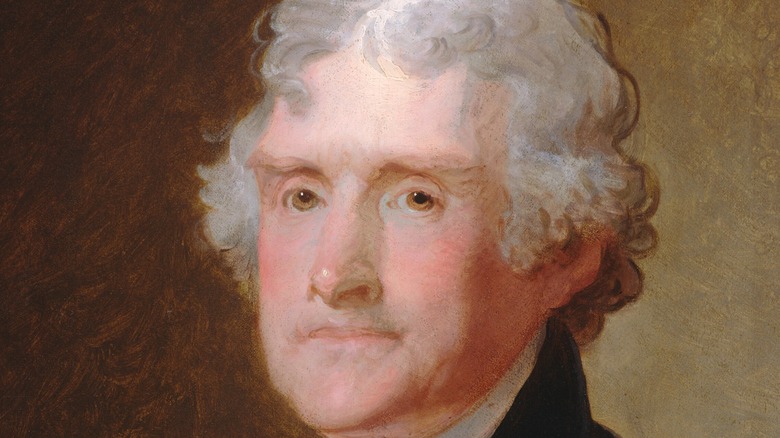 Heritage Images/Getty Images
Who knew Thomas Jefferson had a vacation home? It's hard to believe that the nation's third president liked to get away from his bustling plantation at Monticello and any public scrutiny for the quiet of the countryside near Lynchburg, Virginia, in Bedford County at a retreat called Poplar Forest. But it's true, and the estate is still there, now a historical landmark and open to the public. Poplar Forest was actually a 4,800-acre working plantation that Jefferson's wife, Martha Wayles Skelton, inherited from her father John Wayles when he died in 1773, which was the first time Jefferson visited the property. That first visit predated the statesman's drafting of the Declaration of Independence in 1776, his drafting of the Virginia Statute for Religious Freedom in 1779, and his election as president in 1801 (via Poplar Forest).
It was obviously quite a different place in Jefferson's time, and archeologists and historians have spent years studying the place, trying to piece together the changes the former president made during his ownership of Poplar Forest (via The New York Times). Until he retired from public service when his presidency ended in 1809, he didn't spend a lot of time there and operated it as a tobacco plantation with overseers and at least 100 enslaved laborers (via Monticello).
Jefferson's Poplar Forest Plantation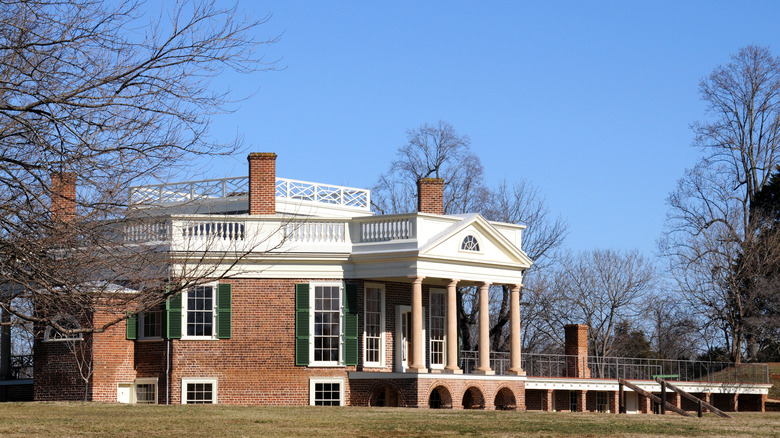 The Old Major/Shutterstock
In 1806, Thomas Jefferson got down to business, designing a brick, octagonal residence that still stands today. The building includes pedimented porticoes on the north and south facades and four elongated octagons built around a central square, according to Monticello. The house was almost finished by the time Jefferson retired, and it soon became his personal retreat, traveling there at least three times a year in the spring, late summer, and early winter (via Monticello).
Jefferson once described the property as "the best dwelling in the state, except that of Monticello, perhaps preferable to that, as more proportionate to the faculties of a private citizen" (via Library of Congress). At Poplar Forest, where he often traveled with his two granddaughters, he could do what he loved most, pursue his passion for reading, writing, studying and gardening. "At Poplar Forest he found in a pleasant home, rest, leisure, power to carry on his favorite pursuits — to think, to study, to read — whilst the presence of part of his family took away all character of solitude from his retreat," his granddaughter Ellen Randolph Coolidge once explained (via Monticello). Poplar Forest is now a National Historic Landmark and considered a true masterpiece. It's open to the public, and a visit there means learning about some of the Jefferson family stories and both the free and enslaved craftsmen who built it.