How A Surfing Accident Changed John Wayne's Career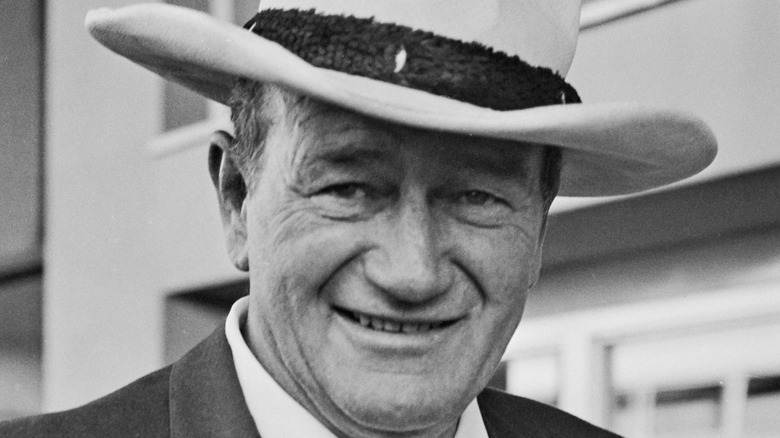 Evening Standard/Getty Images
Legendary Hollywood actor John Wayne is synonymous with the iconic Western hero, a genuine American cowboy, a real man's man, as comfortable in the saddle rustling up a herd of wayward cattle as he was tossing back a few shots with the painted ladies in a dusty Old-West saloon. It's hard to imagine the rugged Duke, a family nickname that followed him to Tinseltown (via Biography), hanging ten seaside, catching the big one, and riding the wave in like a gunslinger chasing down a band of outlaws. But shockingly, one of the biggest movie stars of all time who came to epitomize the American West was, in fact, a body surfer in his youth, and it was a life-changing surfing accident that set the Academy Award winner on the path to international stardom (via JohnWayne).
A young Marion Robert Morrison was born in Winterset, Iowa, in 1907 and moved with his family to Glendale, California, in 1914 (via History). The future film icon was an excellent student and athlete. He graduated from Glendale High School and started college in the fall of 1925 at the University of Southern California after winning a football scholarship. And he might have continued on that path if not for that fateful accident. 
Bodysurfing Accident Changes Wayne's Life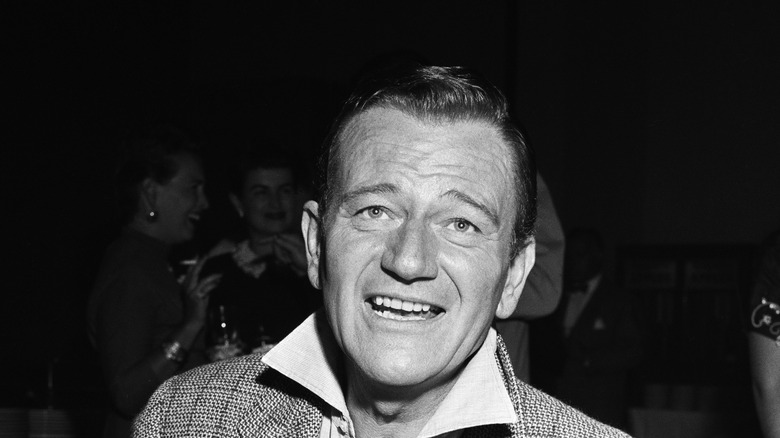 Michael Ochs Archives/Getty Images
The Duke suffered a debilitating shoulder injury while bodysurfing in Newport Beach during the off-season (via Chicago Tribune) at a harrowing spot known as The Wedge, where south swells turned into monster waves (via The Scuttlefish). In what seemed like a stroke of bad luck for the young Marion, his shoulder never healed properly, and he was forced off the football team and eventually out of school after losing his scholarship, too broke to pay for tuition and housing. 
In the summer of 1926, though, his football coach helped him land a job in the prop department at Fox Studios (via History) where he worked with renowned director John Ford who started using him as an extra in his classic westerns. You would be correct in saying the rest is history. The young Marion changed his name to John Wayne when it became apparent that he would do much better in front of the camera than behind the scenes. 
Wayne Buried on Bluff in Newport Beach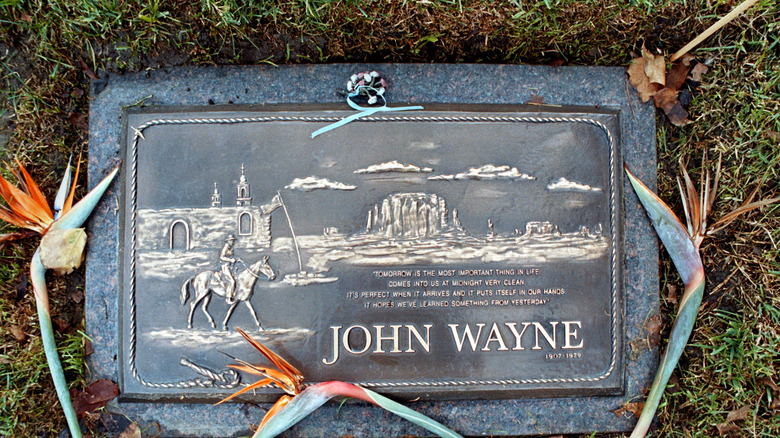 David Mcnew/Getty Images
Wayne went on to become one of the biggest movie stars in the golden age of Hollywood and beyond. But Wayne, it seems, never forgot the surfing accident that completely changed the trajectory of his life. When he died in 1979, he was buried in an unmarked grave on a bluff overlooking Newport Beach at Pacific View Memorial Park (via Chicago Tribune). The actor lived in the area for years and never lost his love of the sea. 
20 years later, his family eventually placed a plaque at his gravesite, although the cemetery refuses to this day to reveal the location of his grave (via Outsider). So, even though his public persona is forever linked with the American West and the tough cowboy riding off into the sunset, in real life it seems the movie star had a long and lasting affinity for the ocean and much preferred sailing off into the sunset.