Is Biggie Smalls Buried Anywhere?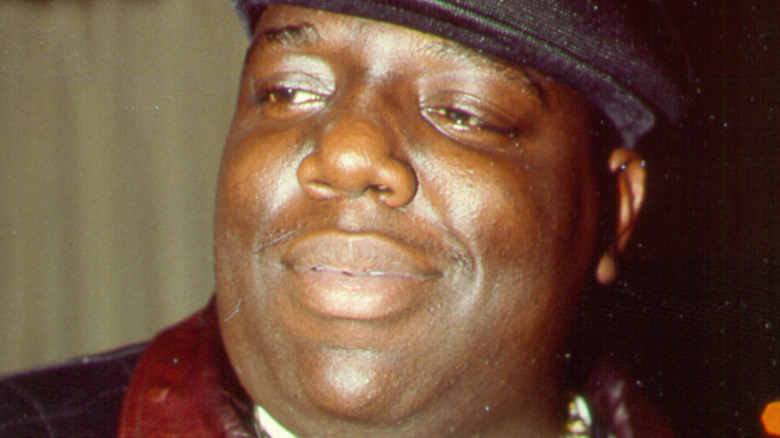 Al Pereira/Getty Images
Biggie Smalls or The Notorious B.I.G., as he was also affectionately known, died at the young age of 24 on March 9, 1997. He was shot dead while sitting as a passenger in an SUV at a traffic light at the intersection of Wilshire Boulevard and Fairfax Avenue in Los Angeles. It was a drive-by shooting, per Biography. He had been returning from a party with an entourage, and just two days earlier, he made his last public appearance at the 1997 Soul Train Awards Show.
But before he was famous, he was born Christopher Wallace in Brooklyn, New York on May 21, 1972. He was an only child and was raised by his single mother, Voletta. His tragic and sudden death stunned the music industry, particularly hip-hop. In fact, The Notorious B.I.G.'s murder came just a few months after fellow rapper Tupac Shakur was also killed in a drive-by shooting (Britannica), adding to the shock and creating mystery surrounding who was killing these rappers. In the aftermath of his death, plenty of conspiracies and conjecture followed, as the public speculated as to who was involved. Some connected it with Tupac's death.
Final resting place of the The Notorious B.I.G.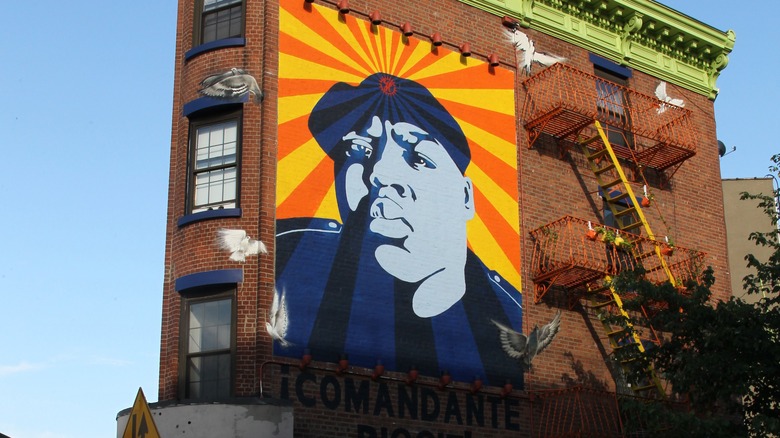 Al Pereira/Getty Images
Since both men were at the center of the East Coast versus West Coast rap feud, it left a concerning and controversial conversation about violence and rap music (via Biography). There have even been multiple documentaries and TV series investigating both murders, via IMDb. But to date, neither rapper's murderer has ever been caught and they remain hip-hop's most famous unsolved murders.
Biggie Smalls' funeral service took place almost two weeks after his death and was well-attended by dozens of celebrities. Many of his fellow labelmates at Bad Boy records, such as Lil' Kim and Mary J. Blige, were in attendance at the May 19 service. His body had returned to New York, and did one final drive to the Clinton Hill neighborhood where he grew up, said New York Daily News. A large procession followed, with fans playing his music. When the events were over, the hearse did not make its way to a cemetery for burial. Instead, his hearse went to Fresh Pond Crematory in Queens, New York (via Qns) where the rapper's body was cremated. His ashes were then given to his family, and have been divided among them (RTT News).