How 'Weird Al' Yankovic May Have Helped 'Jeopardy!' Get Back On Air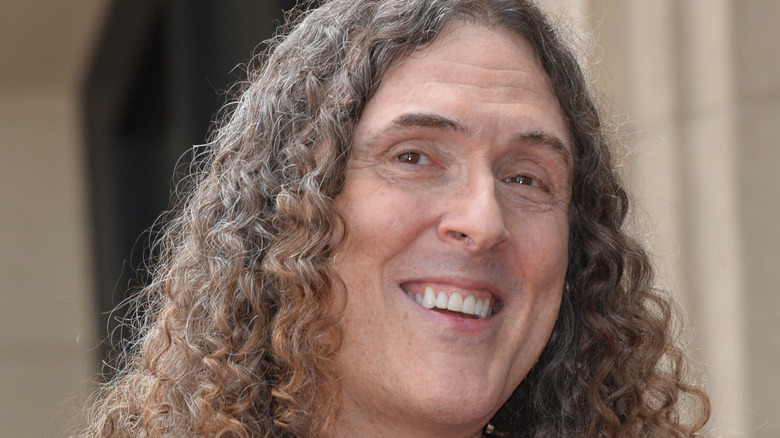 Featureflash Photo Agency/Shutterstock
It's hard to imagine a time when "Jeopardy!" was not a television powerhouse, with the late Alex Trebek gracing millions of people's television screens. He hosted the show from 1984 until his death from pancreatic cancer in 2020, according to the The New York Times. It continues to run with Mayim Bialik and Ken Jennings as co-hosts, per NPR. But there was a time when the show fizzled and failed, being off the air for several years. It originally started in 1964 and it ran until 1975. There was a brief attempt to retool it in 1978 but it was rapidly shelved in 1979.
Both television shows and movies have some strange stories about their origins. This is one of them. The resurgence of "Jeopardy!" can possibly be traced to one person. Well, two, since it was Merv Griffin who got the new version back on the air in 1984 — and "Weird Al" Yankovic. It was a song and a music video, of all things, that helped get the ball rolling. 
Alex Trebek may have owed his career to "Weird Al" Yankovic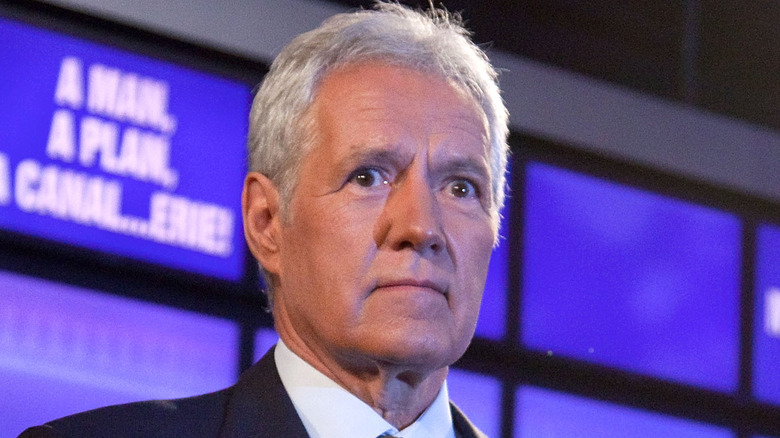 Ben Hider/Getty Images
It was 1984 and "Weird Al" Yankovic had released his second album, "'Weird Al' Yankovic in 3-D", which featured parodies of songs by notable superstars like Michael Jackson ("Eat It" rather than "Beat It") and Survivor ("Rye or the Kaiser" instead of "Eye of the Tiger"). It was his spoof of The Greg Kihn Band's "Jeopardy" that was titled "I Lost on Jeopardy!" that got everyone's attention. That, and the music video for it, per WPR. 
The video featured Yankovic appearing as a contestant on the show against "a plumber and an architect ... both with a Ph.D." Art Fleming reprised his role as the host and Don Pardo, who was also known for his voiceover introductions of the "Saturday Night Live" cast, did a hilarious part in the middle where he told Yankovic everything he lost. Yankovic just kept digging himself a deeper hole while his opponents were answering difficult questions with ease. Even the singer's own family, who appeared in the video, pretended to disown him. The video ended with the hapless "Weird Al" being thrown off the set into the back of a convertible ... which was being driven by Kihn, who then drove off. 
Apparently, Merv Griffin was looking to fill a slot to air right after "Wheel of Fortune", which is another long-running show. He heard Yankovic's song and even had him perform it on his own show, "The Merv Griffin Show." While plans were already in place for a relaunch, there's no doubt Yankovic reignited the public's love of "Jeopardy!," and the rest is history.