The Tragic Death Of The Velvet Underground's Sterling Morrison
On October 15, "The Velvet Underground" will be dropping on Apple TV+, promising viewers the "first major documentary" to truly tell the story of the highly influential New York-based band. There have been many famous quotes that have been said about the group through the years, and a couple of them are prominently displayed on their website. The late rock critic Lester Bangs once commented that "modern music begins with the Velvets," while experimental music icon Brian Eno memorably quipped that only a few people bought their 1967 debut album, "The Velvet Underground & Nico," but "everyone who bought it formed a band." Simply put, they're one of those groups that can be described as "your favorite band's favorite band," and with good reason.
When looking back on the Velvet Underground's classic lineup, guitarist Sterling Morrison typically doesn't get as much attention as Lou Reed and the rest of the band. That's highly unusual for an axeman, but it certainly isn't for a lack of ability — Morrison's underrated, yet innovative playing style was a key part of the Velvets' sound as he and Reed played off each other as the band's two guitarists. But after returning to college and living a (more) normal life as a tugboat captain (via the Austin Chronicle) after leaving the Velvets, Morrison largely faded into obscurity, though he briefly reunited with his bandmates just two years before his untimely death in 1995.
Morrison died of non-Hodgkin's lymphoma in 1995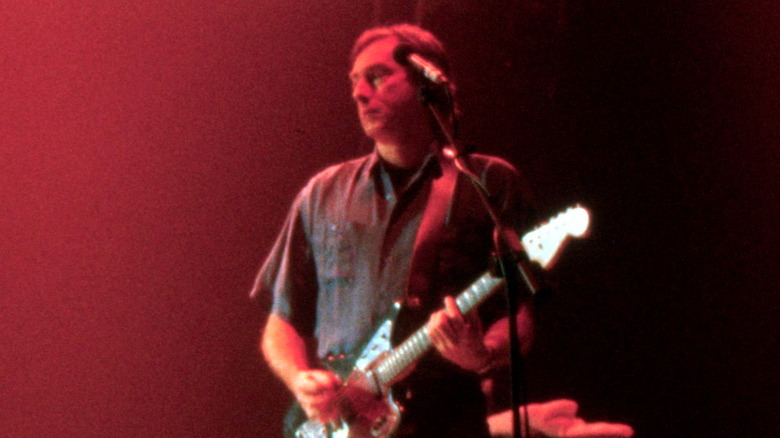 Michael Putland/Getty Images
As reported by The New York Times, Sterling Morrison joined the Velvet Underground in the mid-1960s after bouncing from college to college and graduating high school "with very high numbers and matching low esteem, for just about everything except music," as he later recalled. After leaving the band in 1971, Morrison enrolled at the University of Texas in Austin and graduated with a doctorate in medieval studies. But while he mainly focused on supporting his family as a licensed tugboat captain, Morrison never lost his passion for music, playing for local bands such as the Bizarros and keeping a very low profile, according to the Austin Chronicle.
After collaborating with two other ex-Velvets — multi-instrumentalist John Cale and drummer Maureen Tucker — on various projects in the 1980s, Morrison and his Velvet Underground bandmates (minus Nico, who died in 1988) momentarily reunited in 1993 for a European tour. Sadly, just one year later, he was diagnosed with non-Hodgkin's lymphoma (via Houstonia Mag) and would play his final public performance in November 1994 with Reed and Cale at the Andy Warhol Museum in Pittsburgh. Morrison was just 53 years old when he died on August 30, 1995.
"I was struck by how big he was," Reed recalled of Morrison's final days in an article he wrote for The New York Times Magazine, per RockNRoll.net. "Perhaps that was accentuated by the extreme gauntness of his once-muscular physique. He was bald with nothing but skin over bone. But his eyes. His eyes were as alert and clear as any eyes I've seen in this world. Not once did he complain." Reed went on to explain that during this meeting, he and Morrison finally put their differences aside after years of estrangement dating back to their Velvet Underground days.