Why New York City Once Had An Official Magician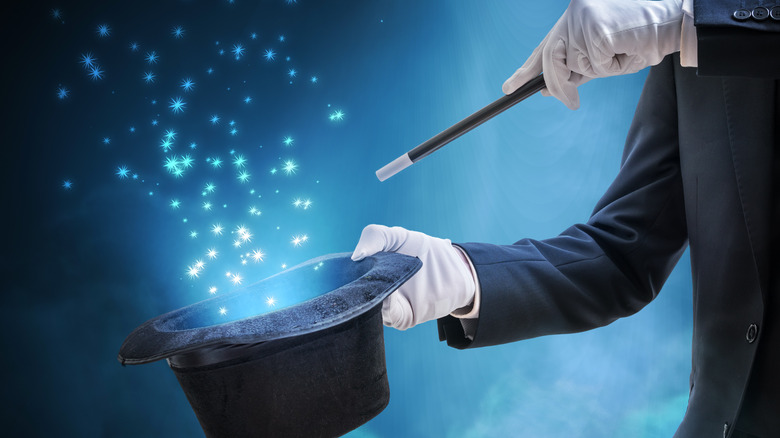 vchal/Shutterstock
New York City's status as a heaving metropolis comes with its downsides. The cost of living can be tremendous, and, per CNN, it was estimated in 2014 that 2 million rats also call The Big Apple home. Nevertheless, for nightlife, entertainment, culture, and more, New York City absolutely has you covered.
None of this will come as a surprise to anybody familiar with the city. However, there used to be a rather unique form of NYC entertainment that few travelers or locals will be aware of. As strange as it seems, there used to be an official magician of New York City. His name was Abraham Hurwitz.
According to Mental Floss, Hurwitz was the recreation director of New York City during one of the most difficult times in recent history: the Great Depression. All That's Interesting notes just how hard the city was hit by the crisis: in 1933, the U.S. unemployment rate was a staggering 25%. NYC's population had doubled in just 30 years prior to the crisis, creating a perfect storm of suffering. Much of the population was forced to live in one of the infamous Hooverville developments, a primitive makeshift town that was created in Central Park.
Boosting the city's spirits as only a great performer can
GetCoulson/Shutterstock
Hurwitz's traveling magic performances played a huge part in helping the city to recover and begin to prosper again. Mental Floss explains that he also worked at the Brooklyn Hebrew Orphanage, and was a keen magician who would engage children in their education through his illusions. New York City's mayor at the time, Fiorello La Guardia, so admired the entertainer's efforts that he made him the city's magician in an official capacity, to boost the morale of not only the children but New York society at large.
The official magician of New York City was dedicated to his role and performed it with gusto. According to The New York Times, Hurwitz performed this role for almost twenty years, appearing for children in different shows and classes under his stage name, Peter Pan. His work was not just about his own magic, either. Along the way, he created a group for young magicians that he called The Magic Club (later F.A.M.E).
On his death on October 1, 1981, aged 76, The New York Times stated that the Lithuania-born Doctor Hurwitz (he had a Ph.D. in education guidance) had performed for around 1 million children, across every New York borough. The city mourned his passing, as did his wife and two daughters (one of whom, Shari Lewis, became a respected ventriloquist under her father's guidance).