The Most Expensive Bibles Ever Sold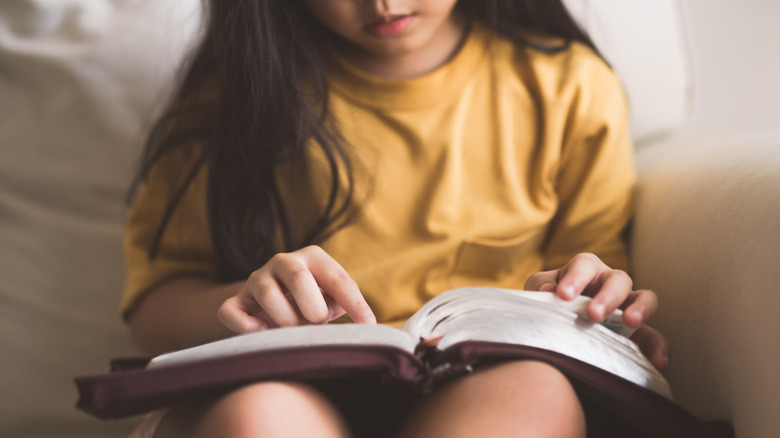 MIA Studio/Shutterstock
Books are big business — last year more than 750 million printed ones were sold, with an additional 191 e-books appearing on people's devices, according to Statista. That equals a lot of reading. But once the potency of the story fades, how valuable is that book you possess? Should you hold on to it, or donate it to an organization. What about those first editions you inherited from Aunt Sue? What makes a book worth money? According to the auction house Sotheby's, a few factors up the collectible factor in books, including primacy (whether it was the first one published in a certain language or in a specific location or it became the initial reference for an idea, character, or theory), it's a popular author's first book, condition (an A+ book jacket, for example, upgrades resell value), original binding, and completeness — which means nothing was removed from the book.
Some of the most valued tomes have netted millions for their original owners. "Alice's Adventures in Wonderland," for instance, sold for $1.54 million in 1998, earned its price because it illustrated a number of firsts: it was a first-edition of a new nonsense-driven literary genre during the Victorian age that author Lewis Carroll once owned (from Work and Money). Quite a few religious works rest on the list of best-selling texts, such as the "Wycliffe New Testament," a translation of the Bible, that generated $1.69 million when it sold in 2016. In fact, several Bibles sold for more than that amount.
How much can you get for that Bible?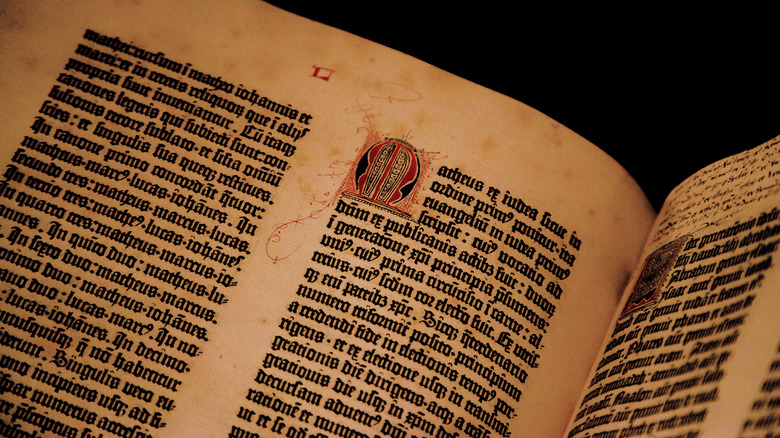 Osugi/Shutterstock
Many valued antique books are religious in nature — and sought to spread Christian mores during the Medieval age. "The Rothschild Prayerbook," for example, sold for $13.6 million in 2014, and the "St. Cuthbert Gospel" netted $14.7 million in 2012, said Book Riot.
A handwritten printer's version of the "Book of Mormon" takes the title of most expensive religious book; The Church of Jesus Christ of Latter-Day Saints spent $35 million to own this 1830 copy used to generate other versions of this holy text. The Bible that yielded the most cash remains the Gutenberg Bible, a single volume received $5.39 million in 1987.
Credited as the first popular book mass-produced with moveable type, the Gutenberg Bible — named after its printer Johannes Gutenberg — entered the marketplace sometime in the early 1450s. Pope Pius II gushed about it in a letter to Cardinal Carvajal, saying they were "exceedingly clean and correct in their script, and without error, such as Your Excellency could read effortlessly without glasses." Gutenberg and his partner, Johann Fust, printed about 180 of them (via History). 
The last sale of a full version occurred in 1978 and generated $2.2 million. Just 49 copies of the Gutenberg Bible still exist, housed in museums, libraries, and universities — only about half are full versions. Where are the other 131 Bibles? They remain lost, but take a good look next time you visit an older relative's attic; you never know what you can find.