The Real Reason Robert Durst Was Acquitted Of Morris Black's Murder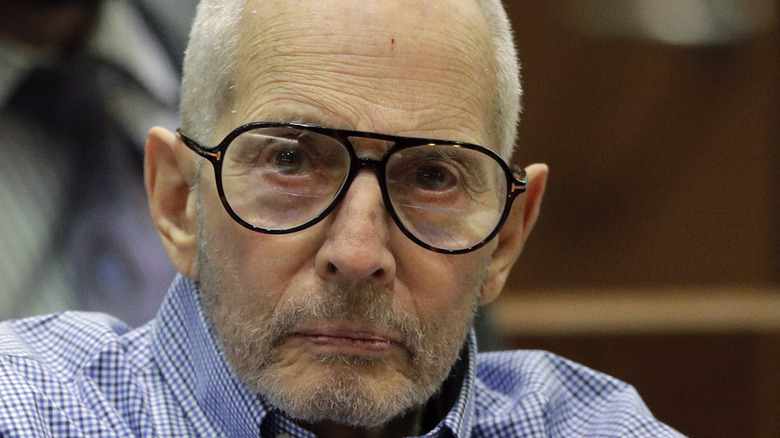 Pool/Getty Images
This article contains spoilers for the documentary "The Jinx: The Life and Deaths of Robert Durst"
The 2015 documentary series "The Jinx: The Life and Deaths of Robert Durst" was one of the most jaw-dropping TV shows in recent memory, with a compelling subject and grand finale which has gone down in true crime history.
The six-part series makes very clear that Robert Durst — a member of a New York real-estate family, which is believed to be worth some $8.1 billion as of 2020, according to Forbes – had long been linked with a number of murders and disappearances, none of which he had been found guilty of ... until now. In September 2021, Durst was finally convicted of the murder of his one-time friend and confidante, Susan Berman, who had helped Durst with a phony alibi following the disappearance — and presumed murder — of his ex-wife, Kathleen McCormack, in 1982 (via NPR). Berman was found dead from a gunshot wound to the back of her head in her Los Angeles home in December 2000.
Durst's arrest for the murder of Berman came about as a result of the finale of "The Jinx," in which the filmmakers confront Durst with evidence of his guilt, after which, unaware he is still mic'd up, mutters to himself that he "killed them all, of course." But Berman's is not the first murder for which Durst has gone to trial.
Robert Durst on trial for the murder of Morris Black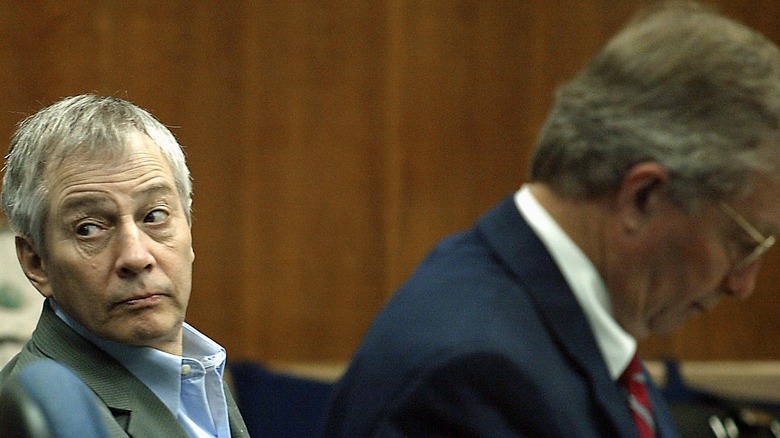 James Nielsen/Getty Images
As The New York Times reported back in 2003, Robert Durst was first put before a jury in a murder case as far back as 2002, when the eccentric multimillionaire was accused of murdering his 71-year-old neighbor, Morris Black, in September 2001. Black had been shot with Durst's own .22-caliber handgun, and in the trial, Durst admitted to subsequently butchering Black's body with a knife and disposing of his dismembered body in the sea.
In that trial, Durst used his wealth to assemble a top-quality defense team that sought to forward the notion that Black had accidentally been shot in a struggle following Durst's discovery that his neighbor had broken into Durst's apartment and had taken control of the handgun. "I was concerned that Morris was going to shoot the gun, most likely at my face," Durst testified (via the same source). The jury believed the claim, while the defense implored them to separate the horrors of Black's dismemberment — a misdemeanor crime which the defense team argued was committed in a fugue state due to a previously diagnosed mental disorder, per The Los Angeles Times — from the murder itself.
Prior to the trial, Durst had skipped bail and had been living in disguise as a woman at the time he met Black. "The Jinx" suggests that it was Black's discovery of Durst's real identity that may have been the true reason for the confrontation.
In October 2021, The Guardian reported that prosecutors were now seeking to press charges against Durst for the 1982 killing of his ex-wife, Kathleen.