The Truth About Robin Williams And John Belushi's Relationship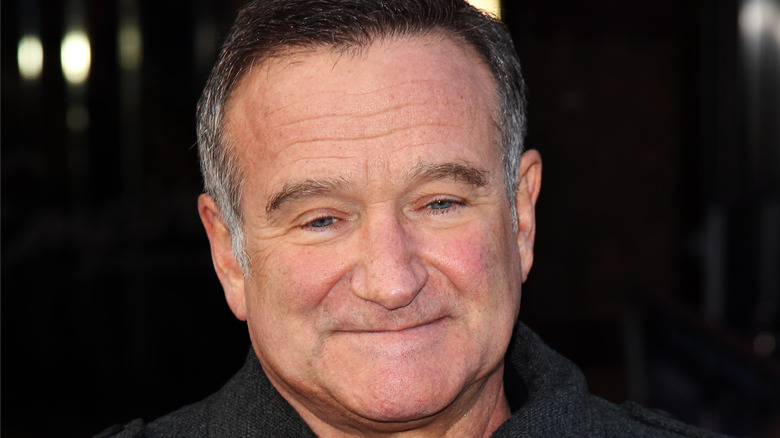 Dave Hogan/Getty Images
It was the wild 1970s, and funnymen Robin Williams and John Belushi were on top of the world. The former had been splitting sides as lead alien on the riotously popular sitcom "Mork & Mindy," a spinoff of a hit episode of "Happy Days." The latter was a star of "Saturday Night Live," and had been the comedic focal point of the fratboy classic "Animal House." They had already accomplished so much, and their futures looked increasingly brighter with each new gig and episode they produced.
Williams and Belushi were also dear friends who hung out and partied together in the decade's infamous drug-fueled celebrity party scene. According to Vulture, Belushi was a bit wilder than Williams. He once took Williams on a wild night through the punk rock clubs of New York City, an experience that made Robin feel like "Beaver Cleaver in the underworld." He likened the night to "being on a tour with Dante, if Dante were James Brown."
Sounds like they had fun, but that fun came at a cost. Former drug dealer Cary Silkin told the New York Post that Belushi had an almost animalistic ability to take drugs.  "When he died it was no shocker, considering the way he handled his cocaine," said Silkin. "I was no angel, but Belushi huffed it like a pig." Both Williams and Belushi used alcohol, cocaine, and other drugs to give their outings that hellish tinge of sinful fun, but their excesses would go on to destroy their friendship and serve as a wake-up call for Williams at the beginning of the 1980s.
Robin was with John on the night of his death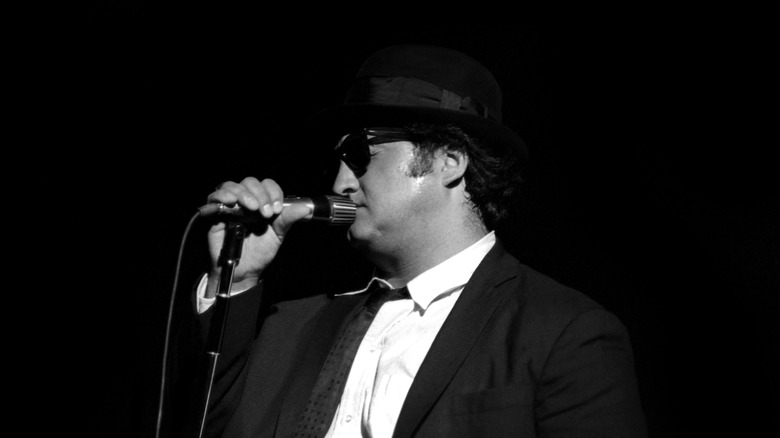 Icon And Image/Getty Images
While both comedians imbibed their fair share of psychoactive substances, John Belushi's drug use was really on a whole 'nother level. Vulture reports that Williams hung out with Belushi in the early morning hours of March 4, 1982, and told his "Mork & Mindy" costar Pam Dawber the next day that the SNL cast member had been so high that he "could hardly stand up." Still, Belushi was with it enough to play his guitar "to perfection."
Williams was devastated later that day when Dawber broke the news to him that Belushi had died from a lethal drug overdose not long after Williams left his bungalow on the Sunset Strip. After Williams left, Canadian singer and drug dealer Cathy Evelyn Smith mixed up a couple of the drug cocktails of heroin and cocaine known as speedballs and injected one into the actor's veins and one into her own. The 33-year-old comedian didn't survive the dose.
The news shocked the Hollywood elite and the world at large. Dawber was reportedly worried about Williams suffering the same fate, and she told him point blank. She told Williams that if the same ever happened to him, "I will find you and kill you first." That one hit Williams hard. Dawber saw him on set a while later in deep contemplation. "That's never going to happen to me, Dawbs," he said. 
John Belushi's death was a wake-up call for Robin Williams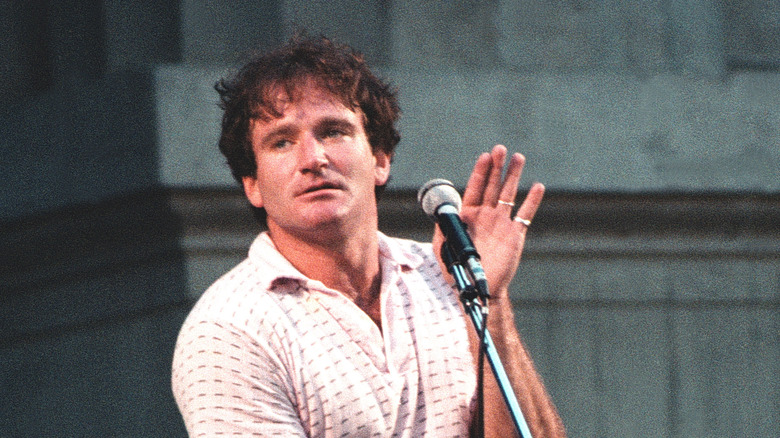 Tim Mosenfelder/Getty Images
Whether he believed her to carry through on her threat or not, John Belushi's death was a tragic wake-up call for Robin Williams. According to People, the incident affected him so intensely that he sobered up afterwards, kicking his habits of alcohol and cocaine abuse. "Cocaine for me was a place to hide," said Williams. "Most people get hyper on coke. It slowed me down."
But he couldn't run and hide forever, not when his hiding place had the potential to end his life. "Here's a guy who's a beast, who could do anything, and he's gone," said Williams. "That sobered the s*** out of me." And it scared others in Hollywood, as well. Williams said that Belushi's death caused "a big exodus from drugs" in the industry. He himself was about to become a father, and he knew he couldn't be a good dad while on coke.
His sobriety lasted two decades, but one tiny airplane-sized bottle of Jack Daniel's quickly pulled him back in while he worked on the set of "The Big White" in 2005. "Then a week later I was hiding a big bottle of Jack Daniel's," Williams said.
Toward the end of his life, Williams suffered from extreme depression and anxiety, and had also been diagnosed with Parkinson's disease. According to The Hollywood Reporter, the comedian committed suicide on August 11, 2014, though his reasons for taking his own life have never been made clear.