Does Anyone Know Where Sitting Bull Is Actually Buried?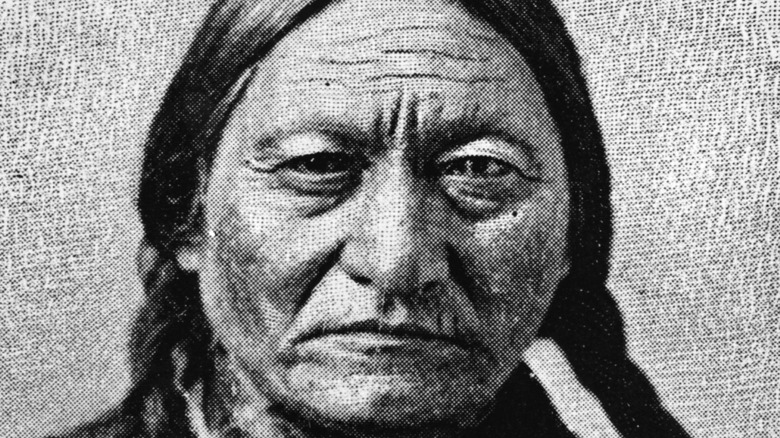 Hulton Archive/Getty Images
Sitting Bull is a legendary figure in American history, especially among the Lakota Sioux Nation. Biography suggests he was possibly the most powerful of all the Native American chiefs. His bravery and fierceness in battle were renowned, becoming almost myth-like in the 130 years since his death. He's perhaps most recognized for his association with the Battle of the Little Bighorn. Although the American government, embarrassed by the crushing defeat of General George Custer and U.S. troops in 1876, desperately wanted revenge on Sitting Bull, as well as Crazy Horse and others, the great warrior chief didn't actually lead the braves into battle or even mastermind the victory. He was 45 years old by that time and left the fighting to the younger men, instead protecting the tribe's women and children (via History).
Born in 1831 in what is now South Dakota, his resistance to the country's expansion into the American West lasted almost his entire life. He first fought against the U.S. in 1863 at the Battle of Killdeer Mountain, in what is now North Dakota. He was recognized by his people as a great warrior and leader, and in 1868 he became chief of the Lakota Nation (via Biography). Although he fought hard for his people and their lands, he was on a losing quest. There was no stopping the great push west in 19th century America.
Sitting Bull's gravesite remains a mystery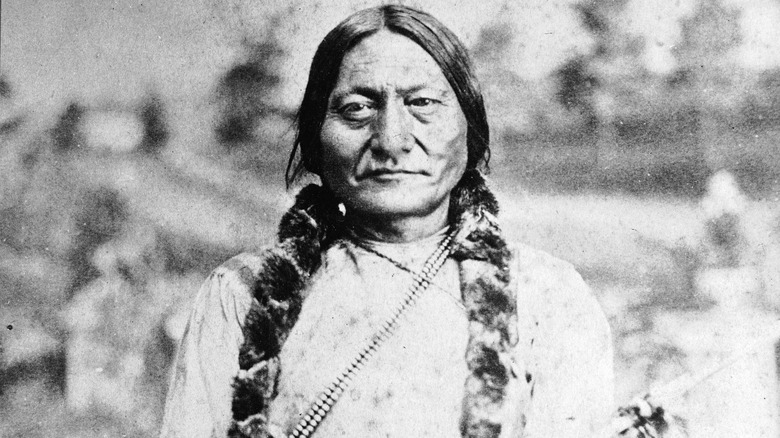 Hulton Archive/Getty Images
As is true with so much of the history of Native American dealings with the U.S. government, Sitting Bull met a sad and tragic end. Banished to the Standing Rock Agency reservation, which straddles North and South Dakota, he took part in a movement called the Ghost Dance, a ceremony that attempted to rid the land of White people to restore the native culture and traditions. Authorities, fearful of an uprising, sent Lakota police officers and soldiers to arrest Sitting Bull. As his warriors tried to save him in the scuffle that followed, gunfire rang out. He was shot and killed (via Biography). He was buried without ceremony two days later at Fort Yates, but his story doesn't end there. 
His final resting place is actually somewhat of a mystery. The great chief's remains were covertly exhumed and moved to Mobridge, South Dakota, in 1953 by his descendant, Clarence Grey Eagle, and a granite monument was placed on his grave (via Britannica). But rumors continue to this day that Eagle Grey and his cohorts may have dug up the wrong grave at Yates. In fact, North Dakota officials placed a plaque at Sitting Bull's original gravesite that reads, "He was buried here but his grave has been vandalized many times." Still others insist that the final resting of the famed Lakota chief is actually Turtle Mountain in the Canadian province of Manitoba — that his remains were moved before 1953 and secretly reinterred in Canada (via History).