The Serial Killer Who Allegedly Left Amazon Reviews For His Weapons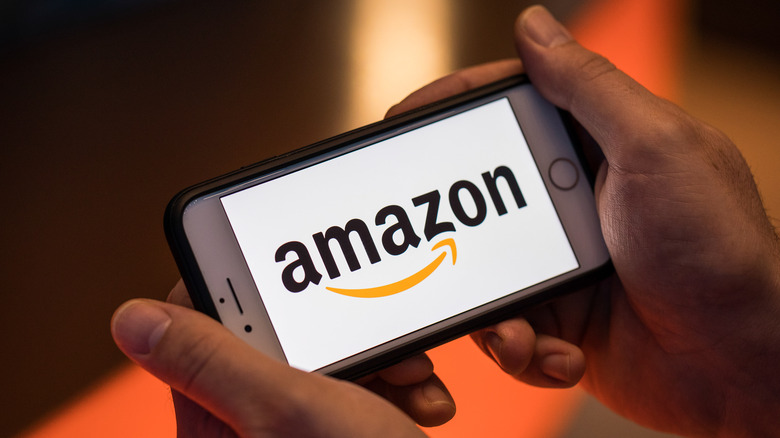 Bloomberg/Getty Images
Some of the most dangerous serial killers are so good at covering up what they do that it could take years, or even decades before they are successfully identified and tied to their crimes. They can blend in with the general public as successful professionals, and they can even be involved with charitable causes to further make themselves look like upstanding citizens who wouldn't hurt a fly. It's their ability to keep up this charade that makes them so scary, but in most cases, they eventually get caught and brought to justice.
Then you've got serial killers — or criminals, in general — who get sloppy when it turns out they can't shut up about their crimes. When the people they tell their stories to run to the cops and spill the beans as any concerned citizen should, it's usually game over for the criminal. However, there is one specific serial killer who allegedly took an unusual route when bragging about his actions — apparently, he took to Amazon to leave short, disturbing reviews for the products he ordered, including some potential murder weapons. Now this hasn't been confirmed, and the discovery was made after his arrest, but it's nonetheless interesting to note that someone would purportedly use an online retailer's reviews section to seemingly taunt authorities about the crimes he committed or was planning to commit ...
Todd Kohlhepp allegedly reviewed several weapons on Amazon
On November 3, 2016, Woodruff, South Carolina, resident Todd Kohlhepp was arrested after authorities rescued a missing woman named Kala Brown and also discovered the lifeless body of her boyfriend, Charles Carver, on his property (via MPR News). Shortly thereafter, he also confessed to a quadruple murder that took place 13 years prior, where he shot and killed four people at a Chesnee, South Carolina, motorcycle shop. That wasn't the only shocking revelation about the convicted serial killer, as Spartanburg County Sheriff's Office investigators found that in May 2014, around the same time he purchased his wooded property, an Amazon user known as "me" started leaving product reviews for items he purchased on the website. Quite notably, the user's wish list was linked to an individual named "Todd Kohlhepp."
"Havnet [sic] stabbed anyone yet...... yet.... but I am keeping the dream alive and when I do, it will be with a quality tool like this...," read a review for a pocket knife posted on September 13, 2014, as quoted by Greenville News. "Keep in car for when you have to hide the bodies and you left the full size shovel at home.... does not come with a midget, which would have been nice," the user wrote in a review for a shovel, showing off their twisted sense of humor. Per NBC News, a chainsaw review saw them remarking that "getting the neighbor to stand still while you chase him with it is hard enough without having a [sic] easy to use chainsaw."
The user connected to Kohlhepp also left some padlock reviews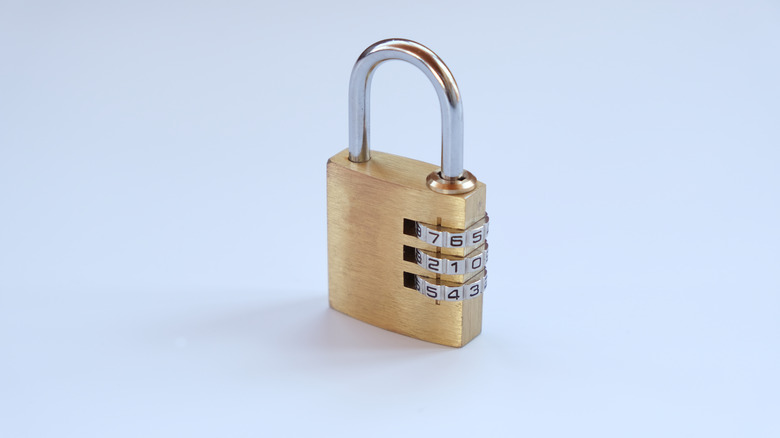 caba.brand/Shutterstock
Aside from the above items, there were a few other ostensibly benign products that were also reviewed by the mystery user who mentioned Todd Kohlhepp on their wish list. According to Greenville News, these included dog toys, electronics and music products, and "The Walking Dead" DVDs. 
Given how kidnapping victim Kala Brown was found imprisoned in a metal storage container, one review seemed especially telling, as the Amazon user wrote the following about a padlock: "solid locks.. have 5 on a shipping container.. wont stop them.. but sure will slow them down til they are too old to care." A second padlock review had them musing about how their place is "hotel california now" — a reference to the last line of the Eagles' signature hit, which goes, "You can check out any time you like/but you can never leave." (Likewise, apparent Kohlhepp murder victim Charles Carver allegedly quoted the entire final verse of "Hotel California" in a suspicious Facebook post that was made over a month after he and Brown disappeared.) 
Following the Spartanburg County Sheriff's Office's discovery of the Amazon reviews, the retailer quickly removed some of the items supposedly reviewed by Kohlhepp, including the knife and the shovel, per NBC News. However, there were others, such as the first padlock that was reviewed, that remained available on the Amazon website at the time of the report.