Where Is Roy Orbison Buried?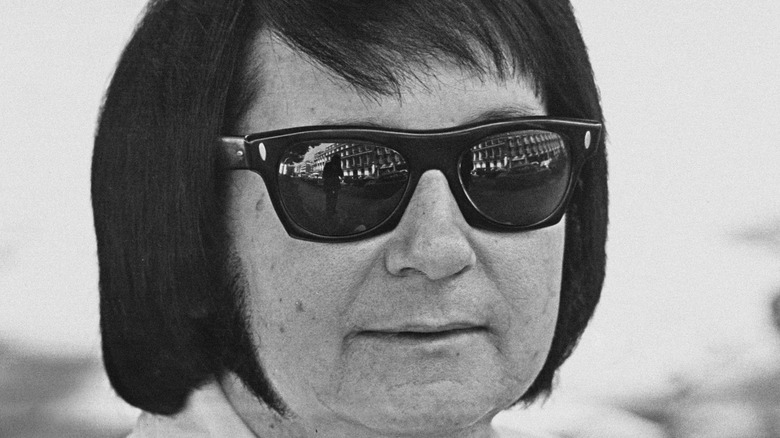 Evening Standard/Getty Images
Singer-songwriter Roy Orbison was a pop hitmaker in the 1960s, churning out nine Top-10 hits between 1960 and 1965, and another 10 that landed on the Billboard Top-40 charts during that same period. Orbison was unlike any other performer of that era, with his distinctive three-octave vocal range, a unique songwriting style, and an unusual stage performance where he famously stood absolutely still, almost lifeless. 
"He was like marble," George Harrison of The Beatles once said of Orbison's performance technique. "He never even twitched." And he was the most unlikely of sex symbols, too. Dressed more like an office worker than a rock 'n' roll star, he wore thick prescription sunglasses on stage, which initially happened on accident but then became his trademark. Regardless of his unusual look, he was a skilled and gifted singer, with a powerful and versatile voice. Elvis Presley once called him, "the greatest singer in the world" (via Biography).
Roy Orbison Loses his Wife And Kids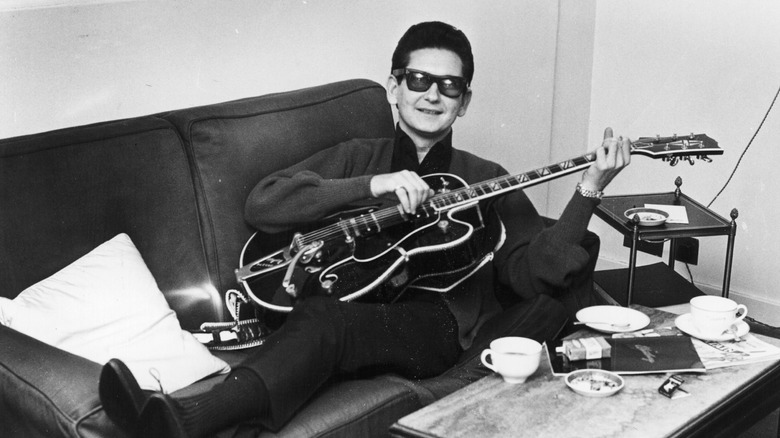 H. V. Drees/Getty Images
During the first half of the 1960s, Orbison's star was on the rise but that wouldn't last. Tragedy struck in the latter half of the decade and the musician faced one of the toughest, if not the worst, times of his life. In June 1966, Orbison's wife, 26-year-old Claudette, with whom he shared three young sons, died in a motorcycle accident just outside Nashville, Tennessee. He had been riding ahead of her and was there when a truck hit and killed her (via Newspapers.com). But that wasn't the end of his suffering. 
Two years later, when he was on tour, two of his children died when his home in Hendersonville, Tennessee, burned down. In an odd twist, Orbison sold the lot to Johnny Cash who built a house on the site. Cash's house also burned down, according to Roy Orbison's official website. Not long after the deaths of his two sons, Orbison met a German girl, Barbara Jakobs, while on tour in England. They were married in 1969 and had two sons together while raising Orbison's surviving son Wesley.  During the 1970s, Orbison's career stalled, but by the 1980s, he saw a resurgence in his music.
Roy Orbison Buried In an Unmarked Grave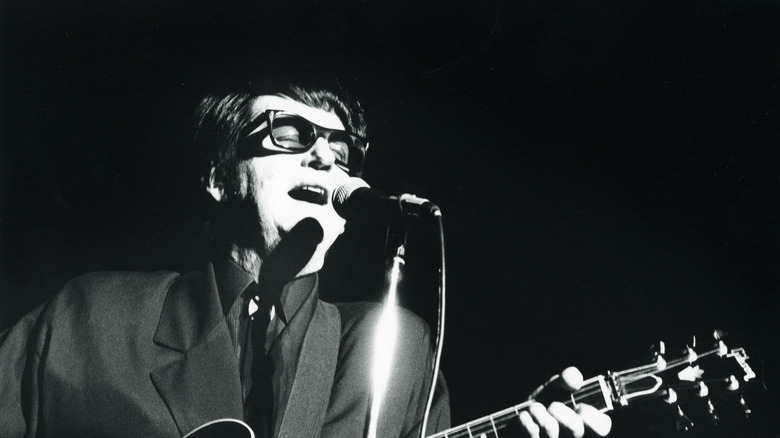 Gie Knaeps/Getty Images
Other performers revived some of his hits and by 1987, he was inducted into the Rock and Roll Hall of Fame. In 1988, Orbison joined George Harrison, Bob Dylan, Tom Petty, and Jeff Lynne to form the Traveling Wilburys. But Orbison wouldn't live long enough to see the success the supergroup ultimately achieved. Roy Orbison died of a heart attack at the age of 52 in December of 1988 while visiting his mother outside of Nashville (via Texas Monthly). 
Although Orbison's death was shocking to friends and fans alike, premature by any standard, he had achieved unbelievable success as a musician over a three-decade career. So, it's a bit surprising that an artist of his stature was laid to rest with little fanfare. He was buried at Westwood Village Memorial Park Cemetery in Los Angeles but you'd be hard-pressed to find the site. He was laid to rest in an unmarked grave which, as of 2018, remained unmarked, the BBC reported. But fans can now find it. When Barbara Orbison died in 2011, she was laid to rest next to him and her grave is marked.