The Real Reason John Kiffmeyer Left Green Day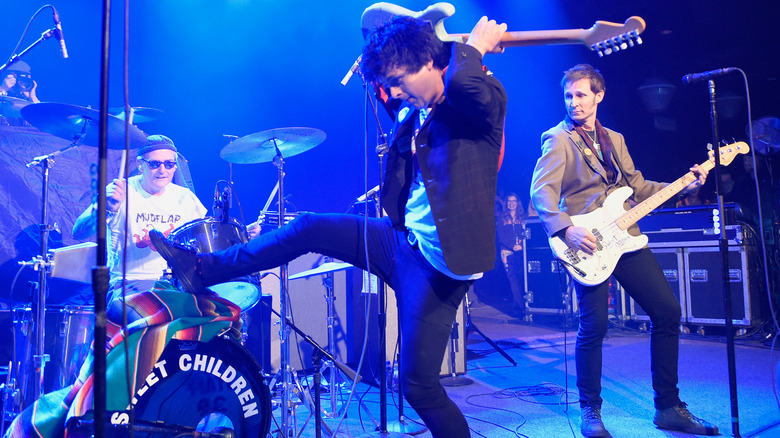 Kevin Mazur/Getty Images
Imagine being part of a band that's promising enough to gain some attention in the local scene, but far removed from any illusions of rock stardom. Then one day, you exit the group, either of your own volition or because your bandmates axed you. Fast forward a few years — heck, even a few months — into the future, and that former band of yours has signed a deal with a major record label. And once everything's said and done, they're living it up as rock stars while you're still a nobody outside of the local scene — that is, if you're still part of the local scene.
The above scenario can apply to former Green Day drummer John Kiffmeyer (pictured above during a one-off reunion with Billie Joe Armstrong and Mike Dirnt). Also known as Al Sobrante (a nod to his hometown of El Sobrante, California), Kiffmeyer was not the band's first drummer. However, he was the man behind the kit at the time they changed their name from Sweet Children to the Bay Area slang for a day spent doing nothing but smoking marijuana (via Radio X). Unfortunately, he was no longer with Green Day at the time they broke out into the mainstream with their 1994 album "Dookie," having been replaced in 1990 by Tre Cool.
John Kiffmeyer left Green Day to focus on college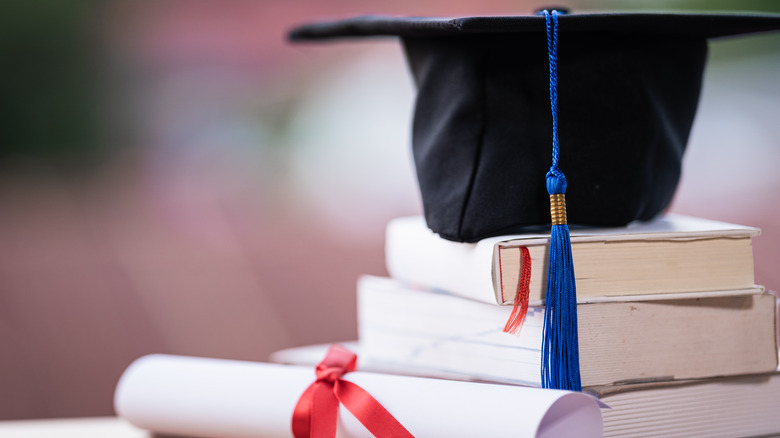 Sengchoy Int/Shutterstock
As noted in the book "Green Day: Rebels With a Cause," John Kiffmeyer didn't leave Green Day in 1990 because of the usual reasons, e.g. creative differences or personal conflicts with bandmates. Instead, he quit because he opted to focus on his studies at Humboldt State University in Arcata, California, and apparently did so without telling the band. Singer-guitarist Billie Joe Armstrong recalled hearing the news from a friend and feeling very disappointed, but not just because someone else had to tell him; Kiffmeyer, who was slightly older than his bandmates and more experienced in the local punk scene, handled most of the group's business affairs.
Although Kiffmeyer would try to compromise by rejoining the band when on break from school, the setup soon became unacceptable for Armstrong and bassist Mike Dirnt, who only had music as a career option and wanted Green Day to keep pushing forward and aiming for bigger things. After temporarily enlisting the services of a drummer from another band, Armstrong and Dirnt selected Tre Cool as Kiffmeyer's permanent replacement — as fans should know, he's been with the band ever since.
After leaving Green Day, Kiffmeyer helped produce the band's 1991 album "Kerplunk" (via GeekStinkBreath.net) and played for a group called the Ne'er Do Wells, later known as the Hi-Fives. He also produced "The Great Lost Trouble Makers Album," a record released by the Sacramento-based garage rock band the Trouble Makers in 1998 (via Discogs.com). And while he hasn't been too active as a musician in recent years, Kiffmeyer did rejoin his old bandmates for a warm-up set at the House of Blues in Cleveland, Ohio, in April 2015, ahead of their induction into the Rock and Roll Hall of Fame, per Rolling Stone.