Where Is Eazy-E Buried?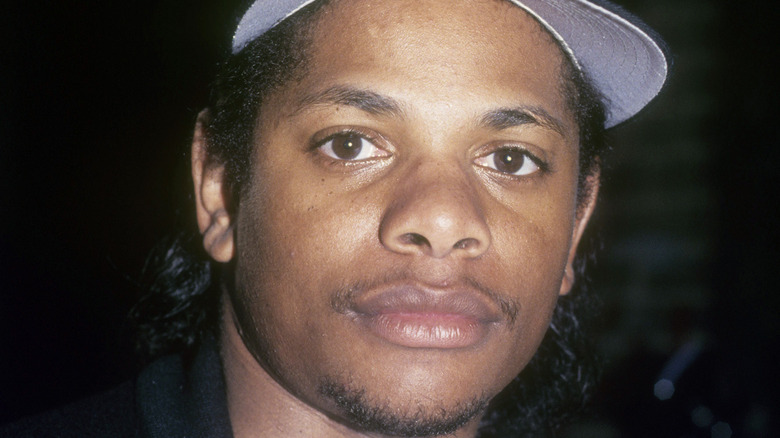 Al Pereira/Getty Images
Straight out of Compton, California, in the late 1980s was one of the most influential and iconic hip-hop groups of all time — the N.W.A., which is an abbreviation for "N***** Wit Attitudes." Often credited for gangsta rap music going mainstream, the group was founded in 1987 by a young man named Eric Wright, who went by the name Eazy-E (per Britannica). After forming a music label with alleged drug money (via Discogs), Easy-E added Dr. Dre, Ice Cube, DJ Yella, and MC Ren to this new act. They made their debut in 1988 with their album and single, "Straight Outta Compton." 
The group's profanity-laced lyrics about violence and gang life were a testament to the lives they lived in their neighborhoods, but it didn't win them fans with radio and TV executives who refused to give them airplay. They would become very controversial artists, but still saw a lot of success. However, creative differences, money, and personal beefs caused the group to fully disband by 1992. Despite their short-run, N.W.A. cemented their place in music history, notably with "F*** Tha Police," a brutally honest anti-cop song about their experiences with police. The track is still played today, often in protest of police brutality.
The legacy N.W.A. created is all thanks to its founder Eazy-E, who decided to form a rap group to get into the music business. Sadly, not only did his group dissolve almost as quickly as it started, but Eazy-E never got to see the outcome of the group's influence — he died just a few years after they disbanded.
Eazy-E's brief career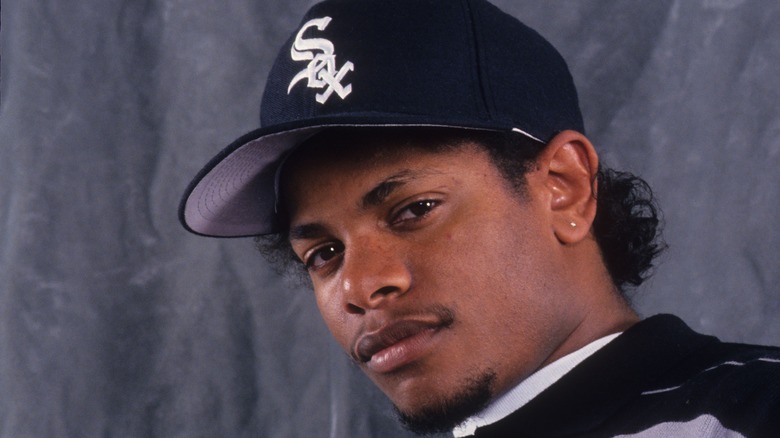 Eazy-E was born Eric Lynn Wright in Compton on September 7, 1964, to Richard and Kathie Wright. He had two siblings — a brother named Kenneth and a sister named Patricia — and spent most of his life in Compton, which had a reputation for being a rough area. As a result of the life that surrounded him, Eazy-E dropped out of high school in the 10th grade and turned to drug dealing. With the money he made from drugs, he started Ruthless Records — the label he later used to start the N.W.A. Issues arose shortly after the group's formation and led to Ice Cube leaving, who was followed by Dr. Dre a few years later.
When N.W.A. disbanded in 1992, Eazy-E continued making music as a solo artist. But that, too, would be short-lived. In early February 1995, he went to the hospital for what he thought were breathing problems. But his health crisis was grimmer, and he learned that he had contracted AIDS (via Black Past). The rapper would publicly announce his diagnosis in March 1995 to raise awareness about the heavily stigmatized illness, per the Los Angeles Times. But Eazy-E would die that month at the age of 30. He was survived by his wife Tomica and 11 children (via The Washington Post).
Eazy-E's final resting place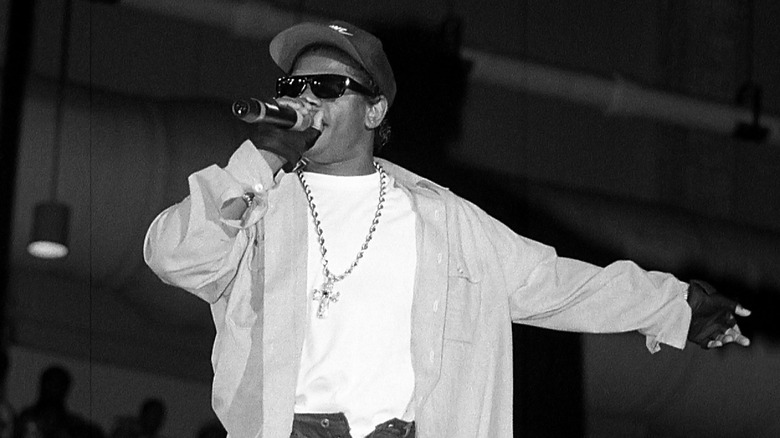 Raymond Boyd/Getty Images
Eazy-E's funeral was held on April 7, 1995, and it drew thousands. Some 2,500 showed up for his service, reported the SFGate. At beef with each other to the very end, the only former bandmate of N.W.A. to attend his funeral was DJ Yella, per Complex. But he says the others did come to visit the rapper in the hospital. After his going away service, Eazy-E's casket was taken to Rose Hills Memorial Park in Whittier, California. Per Find A Grave, his final resting place is located in the second section of Lupine Lawn. He is one of the famous graves in the memorial park.
While the lot number of the actual site Easy-E was buried can be disputed, his grave might be easy to spot, LA Weekly reports. Eazy-E's family revealed a new headstone on his gravesite a few years ago. On what would've been his 55th birthday, a colorful stone that memorialized the rapper with pictures of him throughout his career was uncovered, per TMZ. It was also a larger stone compared to his previous one, and an amendment was made to his date of birth, which for years was incorrectly stated as 1963.