What Happened To Michael Massee After Brandon Lee's Death?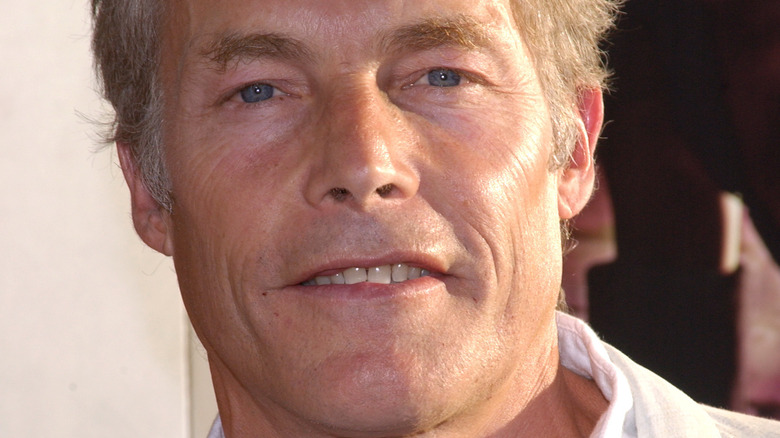 Featureflash Photo Agency/Shutterstock
In the aftermath of the tragedy that happened on the set of Alec Baldwin's upcoming film "Rust," where the actor fired a prop gun that killed cinematographer Halyna Hutchins and injured director Joel Souza, many pointed out that something very similar took place 28 years prior when Brandon Lee died on the set of "The Crow." Much like Hutchins' death on October 21, 2021, Lee's death was the result of an accidental shooting involving someone he was working closely with — fellow actor Michael Massee, who played the role of drug dealer Funboy in the film adaptation of James O'Barr's comic book series. Apparently, the prop firearm Massee was using was loaded with a real bullet that had gotten stuck in the barrel, and the prop assistant was in such a rush that they failed to make sure there weren't any obstructions before they gave the gun to Massee (via Film Courage).
One can only imagine the guilt Massee had felt after a series of mistakes during production led to the death of a rising young actor who was also the son of a martial arts legend. Lee's passing was a tragedy that could have easily been avoided, and his posthumous performance as Eric Draven in "The Crow" lives on as the defining moment in his short acting career. As for Massee, here's what happened to him after Lee's accidental death.
Michael Massee briefly stopped acting after Brandon Lee's death
"The Crow" hit theaters in May 1994, slightly more than one year after Brandon Lee's death, and it would make an impressive $51 million at the box office (via The Numbers). There was, however, one person of note who allegedly (and understandably) didn't watch the film, and that was Michael Massee, who went on a brief hiatus from acting after the accident that killed Lee, according to Variety.
Speaking to Extra in 2005, Massee said that Lee's death on March 31, 1993, was a "tragic accident," and that it took him a long time before he was able to move on with his life and talk about the incident. "It was a very slow and thoughtful process," he explained. "I didn't know it was thoughtful at the time, but I just took a year off and I went back to New York and didn't do anything. I didn't work ... I just spent [the time off] with close friends and family, just to get through it, like any of us get through a tragedy." He later added, "I don't think you ever get over something like that."
He appeared in several major movies and TV shows until his death in 2016
After his yearlong sabbatical from acting, Michael Massee returned to the big screen in David Fincher's 1995 film "Se7en," where he had a small part as the man at the massage parlor. Per IMDb, he worked on another Fincher-directed project two years later, appearing in "The Game" as Airbag EMT Galliano. However, those are just two of the many roles Massee played following his ill-fated appearance in "The Crow" — a closer look at his filmography shows that he had parts in films like "One Fine Day," "Amistad," and "Catwoman." And while the latter project was a notorious critical flop (that 9% Rotten Tomatoes approval rating says it all), Massee kept appearing in superhero films, namely the two "Amazing Spider-Man" movies starring Andrew Garfield as the titular web-slinger, where he was cast as Gustav Fiers, aka The Gentleman.
Massee was also active on the small screen, with recurring antagonist roles on the 1st season of "24," where he appeared in 12 episodes as Ira Gaines, as well as on "Rizzoli & Isles," where he had a four-episode run as Charles Hoyt. He also guest-starred on series such as "The X-Files," "Nash Bridges," "House," and multiple shows under the "CSI" and "Law & Order" franchises.
All told, Michael Massee had quite a career as a character actor; his ability to play bad guys, as he often did in movies and on TV, kept him employed for more than two decades after what happened on the set of "The Crow." Sadly, Massee died of stomach cancer on October 20, 2016, at Cedars-Sinai Medical Center in Los Angeles. He was 64 years old.