What Is Colin Kaepernick's Net Worth?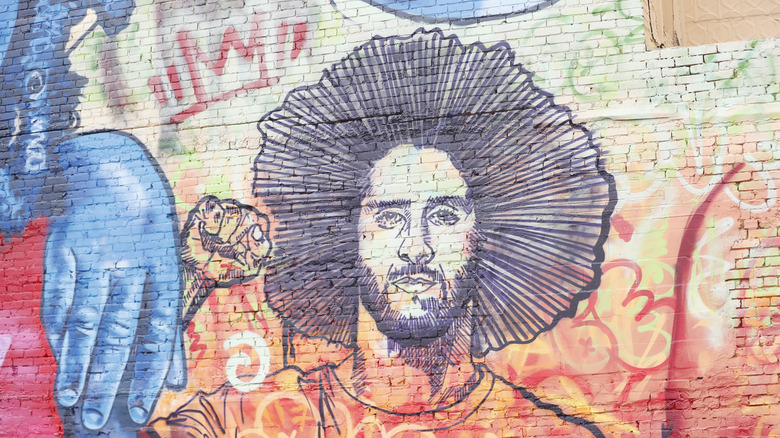 Octavio Jones/Getty Images
The first half of the 2010s saw Colin Kaepernick as one of the most successful and well-paid quarterbacks in the NFL. Originally signed as a back-up quarterback for the San Francisco 49ers, Kaepernick broke into the first-string ranks and led the 49ers to a Super Bowl appearance in 2012 (via Celebrity Net Worth). Though they narrowly lost, Kaepernick and the 49ers also reached the 2013 NFC Championship game, and the Milwaukee-born athlete had established himself as one of the top QBs in the league. This was evidenced by a record-breaking contract, with a six-year extension and a maximum value of $126 million.
That all changed when Kaepernick staged a protest during the American national anthem in 2016, refusing to stand citing the widespread racial inequality and police brutality within the United States. Debate quickly raged over Kaepernick's activism, with some claiming he was disrespecting the flag and military when choosing to kneel during "The Star-Spangled Banner," and Kaepernick was later released as a free agent. He is still without a team but legal action and sponsorships mean the former quarterback is still worth around $20 million today.
Kaepernick has been supported by sponsorships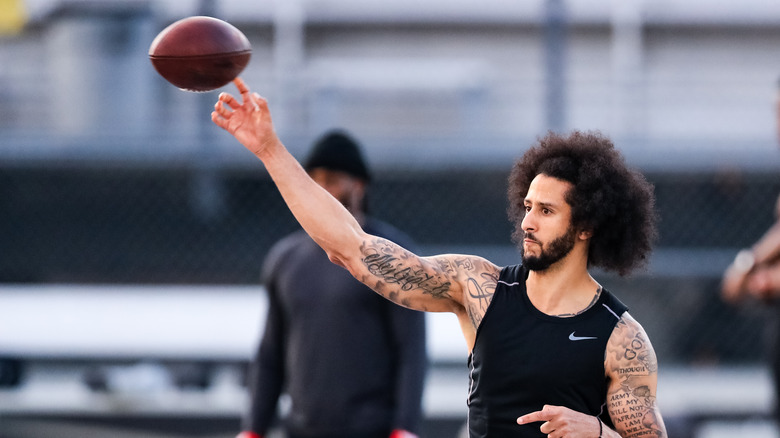 Carmen Mandato/Getty Images
The controversy surrounding his peaceful protest has prevented Kaepernick from signing with another NFL team, despite his on-field successes. According to Sportskeeda, the quarterback earned around $43 million in salary during his stint in the NFL, with $14 million of that coming in his last year after the record-breaking contract. Since he has been without a team for five years, it's no surprise to see some of that wealth has dwindled, though he has other means of income.
Nike, who has had a relationship with Kaepernick since 2011, featured the quarterback-turned-activist heavily in their ad campaigns around 2018. While the Nike deal and other endorsements help, he has also benefitted from a legal settlement after taking the NFL to court. Kaepernick claimed that there is a conspiracy to keep Kaepernick a free agent because of his activism, and the lawsuit was eventually settled out of court for a reported fee of $10 million (via Celebrity Net Worth). Activism and charity work keep Kaepernick busy these days, and while his NFL future remains unclear, the impact of his activism has been massive.