What Prince Philip Really Wrote In His Letters To Princess Diana During Her Divorce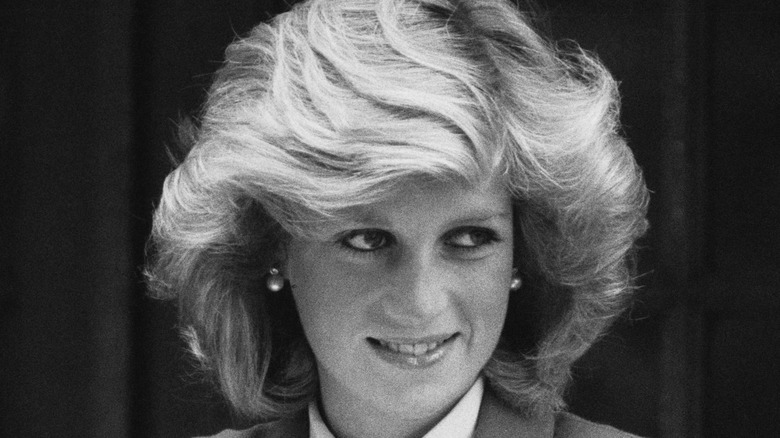 Steve Wood/Getty Images
Things had been a bit of a mess for Princess Diana and Prince Charles leading up to their formal divorce in 1996. They'd separated four years prior in 1992 while raising their two children, Prince William and then-Prince Harry. Each of them had also been carrying on affairs — Prince Charles with his now-wife Camilla Parker Bowles, and "Lady Di" with British army officer James Hewitt. All of this royal drama, perfect for engorging rabid tabloids, came to a head in a now-infamous 1995 BBC "Panorama" interview in which Princess Diana said of the situation, right out in the open, "There were three of us in this marriage, so it was a bit crowded" (per Marie Claire). In the end, media mania and strained familial relationships steered Diana in a direction that resulted in her death. Otherwise, as Diana's friend Rose Monckton said, "she would almost certainly not have been in the incapable hands of a speeding drunk driver" on August 31, 1997.
So imagine, then, what Princess Diana's father-in-law, the recently deceased Prince Philip, would have been thinking this entire time. And not just any father or prince, but World War II naval veteran and one of the most notoriously outspoken and gaffe-a-minute men in royal history. (As a small sample, he once told some British students that they'd better hurry out of "ghastly" Beijing or they'd "all be slitty-eyed," per CNN). Well, as it turns out, Philip's opinions were predictably complicated, as his letters to Diana show.
Seemingly sympathetic, but brooking no excuses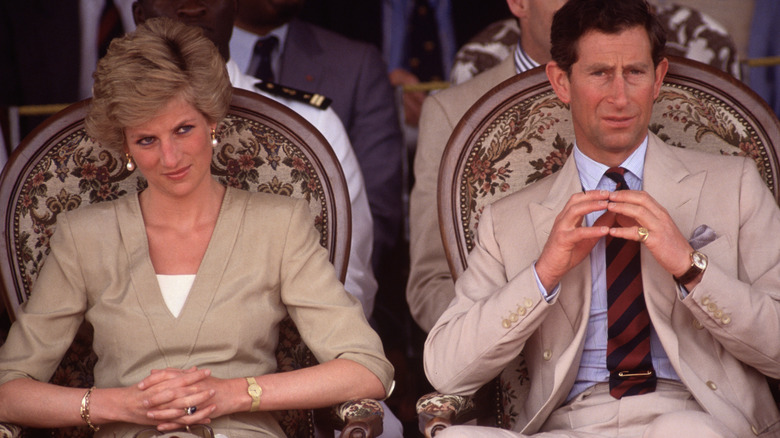 David Levenson/Getty Images
In 2018, the Mirror released scanned images of letters from Prince Philip to Princess Diana that date back to 1992. These were originally reported to the public in 2003 when royal butler Paul Burrell released his book "A Royal Duty," per CNN. On the whole, it looks like Prince Philip felt sympathetic toward Princess Diana, but over time, things turned acrimonious. Bear in mind: Given this story's absurdly entangled net of second-hand statements, gossip, innuendo, and folks looking to capitalize on the royals' woes, the reader should take things with a grain of salt. 
As CNN says, Prince Philip was apparently "unkind" to his daughter-in-law during her marriage to Prince Charles. However, by the time their marital troubles came to light, Philip wrote to her, "I cannot imagine anyone in their right mind leaving you for Camilla," continuing, "Charles was silly to risk everything with Camilla for a man in his position. We never dreamed he might feel like leaving you for her. Such a prospect never even entered our heads."
However, Prince Philip also called out both Prince Charles and Princess Diana for their behavior, stating, "We do not approve of either of you having lovers." As Pioneer Woman quotes, he went on to more or less nudge blame in Diana's direction, saying, "Can you honestly look into your heart and say that Charles's relationship with Camilla had nothing to do with your behaviour towards him in your marriage?"
Things fell apart over time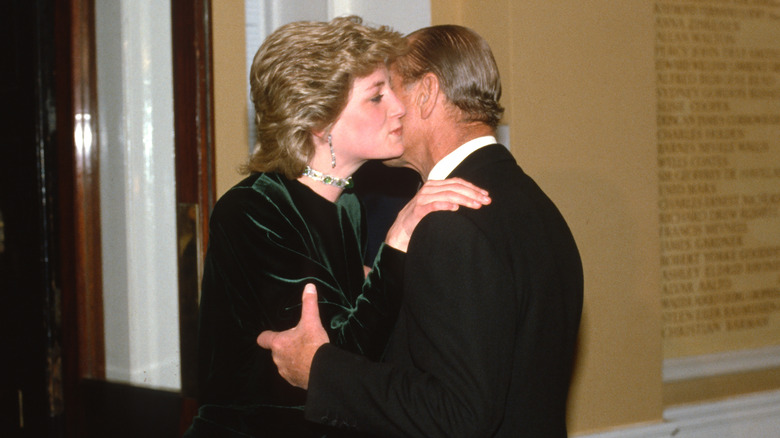 Anwar Hussein/Getty Images
After providing his point of view, as the Mirror quotes, Prince Philip went on to say, "I can only repeat what I've said before, if invited, I will always do my utmost to help you and Charles to the best of my ability," continuing, "But I am quite ready to concede that I have no talent as a marriage counsellor." He ends the letter with "fondest love, Pa." As SW Londoner says, Princess Diana was apparently happy about with letter. Her private secretary at the time, Patrick Jephson, said, "Here at last was written proof that this was acknowledged, recognised, and there was sympathy for her."
The Evening Standard reports that Princess Diana replied, "Dearest Pa, I was particularly touched by your most recent letter which proved to me, if I didn't already know it, that you really do care. You are very modest about your marriage guidance skills and I disagree with you. This latest letter of yours showed great understanding and tact and I hope to be able to draw on your advice in the months ahead."
Despite such early "tact," as Princess Diana put it, things apparently got worse over time. Subtle jabs, slights, and finger-pointing wound up "punching away at the princess's ego and spirit," as CNN quotes former royal butler Paul Burrell. Much of this came in the form of continued recrimination against Diana, blaming her for "irrational" post-natal behavior, poor parenting, and stating that jealousy was her marriage's "cancer."