The Serial Killer Who Once Worked In A Chocolate Factory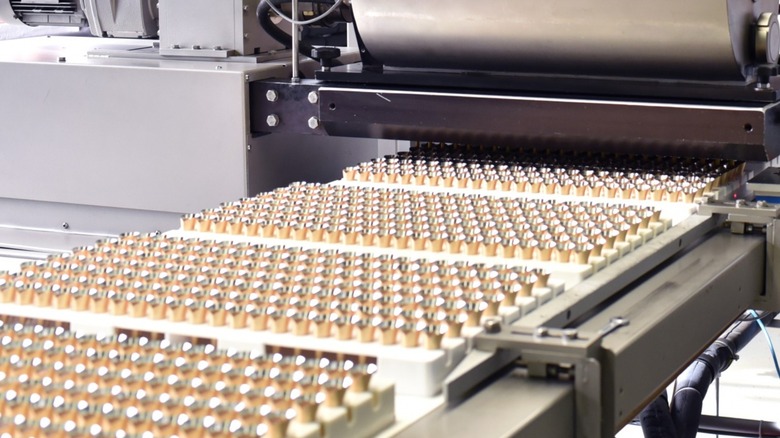 industryviews/Shutterstock
In addition to the crimes committed while walking among us, many serial killers were gainfully employed. Even though a good number of these murderers worked at low skilled jobs, some excelled in lines of work that required an education and/or business acumen. BTK murderer Dennis Raider worked as a city compliance officer, while child murderer John Wayne Gacy had his own successful contracting business (via Crime Museum). Dorothea Puente ran a boarding house.
Thinking about a serial killer that you might brush up against during your day to day can be creepy enough. But what about the idea of one of them helping to prepare the food that you put into your body? That is the case with the late Jeffrey Dahmer, who was actively employed as a mixer in a Milwaukee chocolate factory. Working the overnight shift, Dahmer labored at making sweet treats from 11 p.m. to 7 a.m., six days a week. 
Dahmer kept a human head in his work locker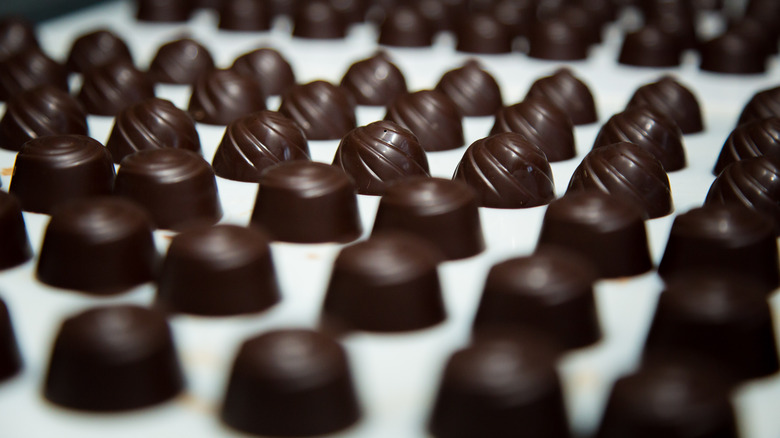 Oksana Kuznetsova Dnepr/Shutterstock
Dahmer claimed his first victim when he was 18, almost immediately after graduating from high school. While his parents were gone for the day, Dahmer picked up a young hitchhiker named Steven Hicks (via Biography). After getting Hicks drunk, Dahmer became enraged when Hicks wanted to leave. He struck Hicks over the head, and then strangled him to death with a barbell.
From the time of this murder in 1978 until he was apprehended in 1991, Dahmer took the lives of 17 young men. Thirteen of these murders took place during the two year period from 1989 to 1991. Obsessed with creating a sex slave, Dahmer experimented with the bodies of many of his victims, trying out different ways to damage their brains with the hopes of getting them into total submissions of their will. The holes that Dahmer bored into their skulls to fill with acids and cleaning solutions never had the intended results, leading to Dahmer bludgeoning or strangling them to death in the end.
While Dahmer was luring unsuspecting men into his apartment, he was employed by the Ambrosia Chocolate Factory. Beginning his career there in 1985, Dahmer perhaps felt the need to bring in reminders of his savagery to the workplace. After he was arrested, Dahmer admitted to investigators that he kept the head of one of his victims in his work locker. Co-workers recalled later that Dahmer would bring meat dishes into the workplace, which would be slathered in what Dahmer referred to as his "special gravy" (via Murderpedia). He refused to allow anyone a taste.
Arrest, conviction, and death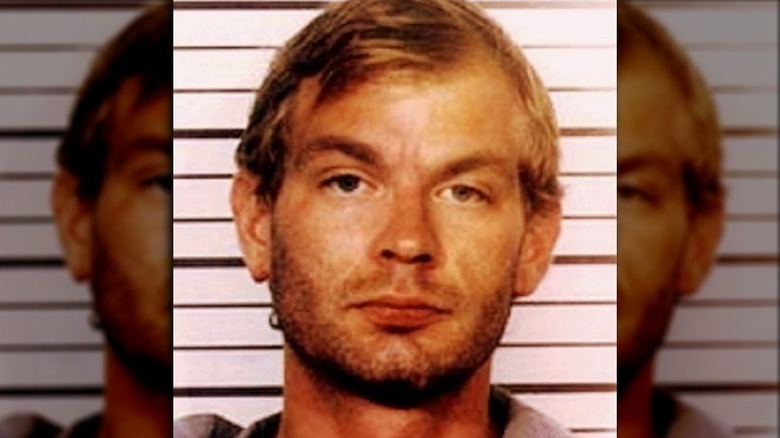 Wikimedia Commons
Dahmer (above) was fired from his job at Ambrosia Chocolate Factory in June of 1991, just before he was arrested for murder. It was reported that his employer let him go due to chronic tardiness (via Murderpedia). 
Now unemployed, Dahmer spent much of his time in his apartment, occasionally leaving to attempt to lure in new victims. Lucky to evade any suspicion up to this point, Dahmer had racked up quite an impressive body count. His luck ran out, however, on July 22, 1991. Police were alerted when witnesses reported a drugged or drunk man staggering on the streets, with handcuffs on his wrists. After questioning this man, police officers decided to look into his story about how he was drugged and assaulted by a man who lived in a nearby apartment building (via Biography).
Upon examining the apartment, they noticed horrific odors coming from several places. They placed Dahmer under arrest, and continued their search. It culminated in them finding a severed human head in the refrigerator. 
Dahmer was convicted and sentenced to 16 consecutive life terms. His stay in prison was short-lived, however. On November 28, 1994, Dahmer was found unconscious on the floor of the prison shower. He had been beaten in the head and torso by fellow inmate Christopher Scarver. Dahmer was rushed to the prison hospital, where he died a few hours later.